New Recommendations on Each Tea's Page
Wednesday, April 18th, 2018
We just added recommendations to the page for each tea! To see this feature, go to the page for one of your favorite teas and scroll to the bottom of the page. We hope this can help people discover new teas and also see how our site is structured and organized.
Our site recommends teas from the same company if that company is still in operation. For companies that have closed, we show similar teas from other brands or companies. Underneath the recommendations is a link to a page where you can browse listings of teas, making your search broader or more specific depending on what you are looking for.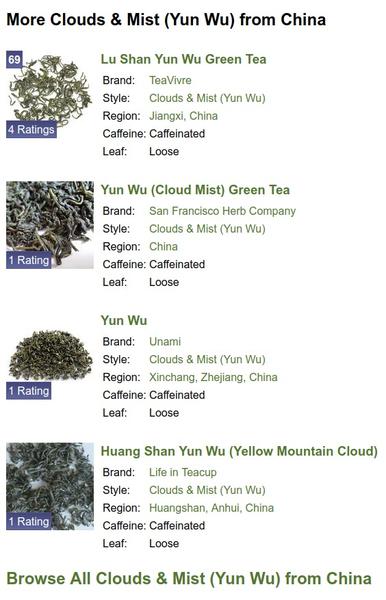 Screenshot of the new recommendations.
Find replacements when a favorite is retired!
One use for this feature is to find replacement teas when a tea is retired, such as when an individual tea is removed from a company's offerings, or when a company as a whole closes.
For example, the screenshot on the right shows recommendations for
Teavana's Emperor's Clouds and Mist Green Tea
. That tea is a
Yun Wu (Clouds & Mist)
tea, a well-defined style of green tea produced in different parts of China, but people only familiar with Teavana may not know this.
Because tea companies have different naming schemes, with some calling these teas "Yun Wu", others "Clouds & Mist", and others yet different names, it can be hard to get a full or comprehensive listing of companies selling these teas in one place. Our site solves this problem: we have already done the work of classifying these teas.
The algorithm shows four examples of closely-related teas, in this case all Yun Wu teas, and below that is a link to browse a complete listing of these teas on our site. Following that link takes you to the full tea-browsing features, which allows you to broaden or narrow your search as you see fit.
Retired teas from still-existing companies
Companies with large catalogues, such as those selling single-origin teas in limited batches, retire individual teas frequently. In this case, the same-company recommendations may be helpful. For example, on the page for
Upton Tea Imports' Balijan Hi Estate GOF
(an
Assam black tea
), we give recommendations of four different Assams carried by Upton, three from different estates in the same district.
If you want to broaden your search to include other companies, just follow the "browse all" link at the bottom of the page; you can then broaden your seach by clicking "show all brands" towards the top of the page!
Discover new teas even when a tea is still sold!
This feature isn't limited to retired teas; you can use it for any tea on our site! If there is a tea you are particularly fond of, you can locate similar teas from the same company to try out next time you order from them, or you can use the browse features in the link below the recommendations to discover other companies that sell similar teas.
Try it out!