Assam
Wikipedia: Assam_tea | Teaviews: assam-tea
Last Updated: Mar. 12, 2014
↑About Assam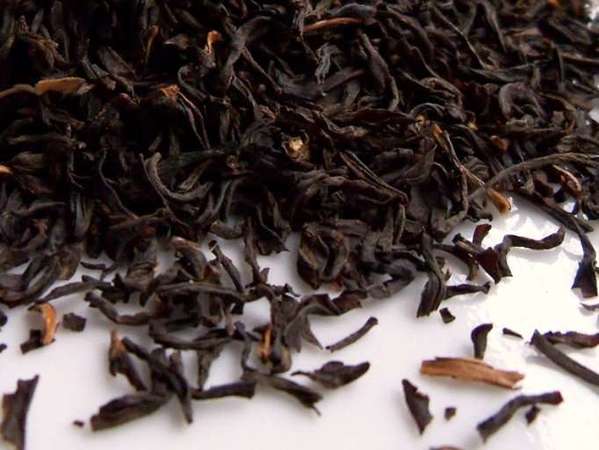 A typical-looking loose-leaf orthodox Assam black tea. Photo © A Girl With Tea,
CC BY 2.0
.
Assam
is a
region of India
and a variety and style of black tea. Although the region produces a small number of green teas, Assam green teas are very uncommon; when a tea is referred to as "Assam" it invariably means black tea.
Assam is further identified by means of production into
CTC
(Crush, Tear, Curl, a mechanical process) and
orthodox
(traditionally produced) tea. CTC tea is cheaper and infuses faster, whereas orthodox tea tends to be more expensive, more complex, and require longer brewing times.
Assam is produced from a large-leafed variety of the tea plant,
Camellia sinensis assamica
, a different variety from both Chinese teas and teas in the
Darjeeling district
of India. This variety, although associated with Assam, is sometimes grown in other regions. Assam teas have a unique flavor both due to the low altitude of the Assam region and the special variety of tea plant used.
The aroma of Assam teas is often described as malty. Most Assam teas are described as strong and powerful; Assam is one of the most common ingredients in breakfast blends and strong black tea blends, particularly
Irish Breakfast
and
Ostfriesen tea
. However, Assam teas are diverse and there are smoother and subtler black teas produced in this region as well.
↑Recent Assam Reviews — RSS
85 / 100

Half-litre pot at home. Pours nearly clear copper brown with no sediment. Clear aroma of black tea leaves, with very subtle hints of orange. Bitterish flavour of pure black tea, with very mild floral hints. Complex and lingering palate, both creamy and slightly astringent, with mild acidic hints. A smooth drink, best e...
Read Full Review
88 / 100

I was excited and curious to order from TeaSource, and this was one of the first teas I tried. I have been impressed with all of the teas I've tried, including this one.

The leaf is strongly aromatic and pleasant, mostly a malty smell, and it also gives off the sense that this tea packs a punch.

The brewed cup is...
Read Full Review
70 / 100

It was a bit of challenge to describe the aroma. I finally decided on 'sweet pine'. There is a 'wood' aroma with a definite 'sweet' under tone. The liquor is a deep amber color, malty. I'm not catching any 'peppery' after taste. A decent Assam. Good price for a good tea.
Read Full Review
85 / 100

Ahmad Tea provides some of the best values in entry-level loose leaf tea out there.

Their Kalami Assam beautifully exemplifies all that we adore about Assam teas. The leaf aroma is malty, earthy, and slightly vegetal.

I used 1 tsp per cup infused for about 4 minutes. Brew is richly brown and copper in the cup. ...
Read Full Review
90 / 100

One of my favorite non-blended teas, the base tea for breakfast teas (in my opinion.)
Read Full Review
↑Top Reviewers
Review 7 teas to get on this list!
Advertisement
↑Most-Rated Assam

55
15 Ratings

89
7 Ratings

21
5 Ratings
51
3 Ratings
↑Top-Rated Assam
95
3 Ratings

89
7 Ratings

75
3 Ratings

55
15 Ratings