Assam
Wikipedia: Assam_tea | Teaviews: assam-tea
Last Updated: Mar. 12, 2014
↑About Assam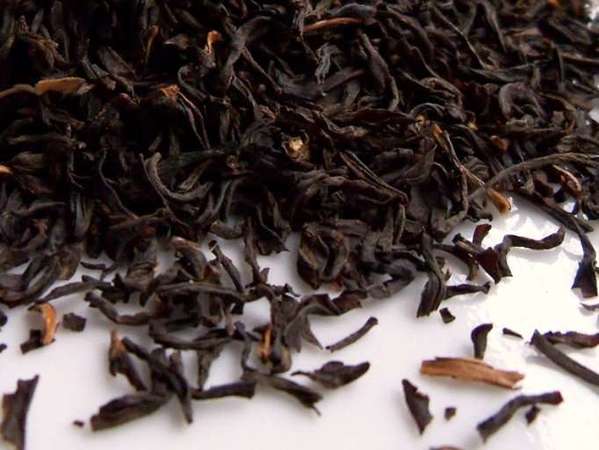 A typical-looking loose-leaf orthodox Assam black tea. Photo © A Girl With Tea,
CC BY 2.0
.
Assam
is a
region of India
and a variety and style of black tea. Although the region produces a small number of green teas, Assam green teas are very uncommon; when a tea is referred to as "Assam" it invariably means black tea.
Assam is further identified by means of production into
CTC
(Crush, Tear, Curl, a mechanical process) and
orthodox
(traditionally produced) tea. CTC tea is cheaper and infuses faster, whereas orthodox tea tends to be more expensive, more complex, and require longer brewing times.
Assam is produced from a large-leafed variety of the tea plant,
Camellia sinensis assamica
, a different variety from both Chinese teas and teas in the
Darjeeling district
of India. This variety, although associated with Assam, is sometimes grown in other regions. Assam teas have a unique flavor both due to the low altitude of the Assam region and the special variety of tea plant used.
The aroma of Assam teas is often described as malty. Most Assam teas are described as strong and powerful; Assam is one of the most common ingredients in breakfast blends and strong black tea blends, particularly
Irish Breakfast
and
Ostfriesen tea
. However, Assam teas are diverse and there are smoother and subtler black teas produced in this region as well.
↑Recent Assam Reviews — RSS
85 / 100

Ahmad Tea provides some of the best values in entry-level loose leaf tea out there.

Their Kalami Assam beautifully exemplifies all that we adore about Assam teas. The leaf aroma is malty, earthy, and slightly vegetal.

I used 1 tsp per cup infused for about 4 minutes. Brew is richly brown and copper in the cup. ...
Read Full Review
90 / 100

One of my favorite non-blended teas, the base tea for breakfast teas (in my opinion.)
Read Full Review
85 / 100

Based on the previous reviews, I bought a pound box of this tea. Most of what I could say was already said by Alex in their spot-on review. I find that I get the best cup of tea by allowing it to steep for ten minutes or so.

Even with such a long steep, the bitterness is understated for an Assam. Though the tea gets...
Read Full Review
58 / 100

My wife's acquaintance's mom, who had passed away recently, bought this tea in London but never opened it. Since we like tea, we ended up with it from her estate sale. It's odd how, since I've started reviewing here, teas seem to fall out of the sky and into my hands through a variety of fortuitous circumstances, in ...
Read Full Review
85 / 100

This is a very nice Assam with a complex and enjoyable taste. Pricey but good.
Read Full Review
↑Top Reviewers
Review 7 teas to get on this list!
Advertisement
↑Most-Rated Assam

80
15 Ratings

52
7 Ratings

42
5 Ratings

39
3 Ratings
↑Top-Rated Assam
98
3 Ratings

88
3 Ratings

80
15 Ratings
63
3 Ratings