Assam
Wikipedia: Assam_tea | Teaviews: assam-tea
Last Updated: Mar. 12, 2014
↑About Assam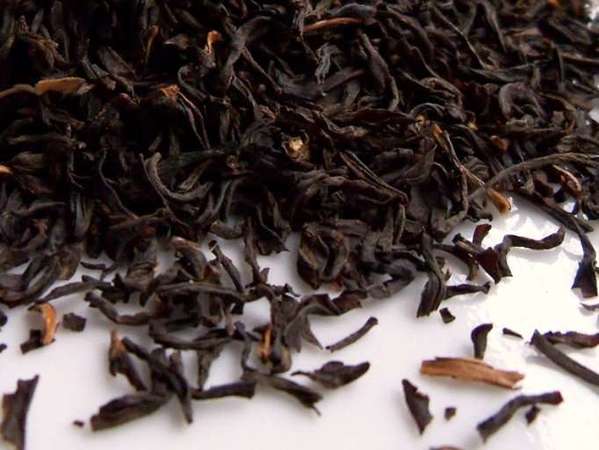 A typical-looking loose-leaf orthodox Assam black tea. Photo © A Girl With Tea,
CC BY 2.0
.
Assam
is a
region of India
and a variety and style of black tea. Although the region produces a small number of green teas, Assam green teas are very uncommon; when a tea is referred to as "Assam" it invariably means black tea.
Assam is further identified by means of production into
CTC
(Crush, Tear, Curl, a mechanical process) and
orthodox
(traditionally produced) tea. CTC tea is cheaper and infuses faster, whereas orthodox tea tends to be more expensive, more complex, and require longer brewing times.
Assam is produced from a large-leafed variety of the tea plant,
Camellia sinensis assamica
, a different variety from both Chinese teas and teas in the
Darjeeling district
of India. This variety, although associated with Assam, is sometimes grown in other regions. Assam teas have a unique flavor both due to the low altitude of the Assam region and the special variety of tea plant used.
The aroma of Assam teas is often described as malty. Most Assam teas are described as strong and powerful; Assam is one of the most common ingredients in breakfast blends and strong black tea blends, particularly
Irish Breakfast
and
Ostfriesen tea
. However, Assam teas are diverse and there are smoother and subtler black teas produced in this region as well.
↑Recent Assam Reviews — RSS
79 / 100

Really nice cup of tea! It was thick bodied and the flavor was rich and sweet. I didn't notice much of an aroma however, but I could be having sinus issues now. I'll come back and update my review if I notice more of an aroma later! But either way it still is a rly nice tea!
Read Full Review
75 / 100

Aroma is not too strong but it does smell nice and interesting too! It actually has notes of raspberry in the aroma and taste and it's rly unique and good! Otherwise it just tastes like a very classic assam tea, there is no objectionable astringentness or bitterness.
Read Full Review
79 / 100

This was a rather strong, but high-quality Assam sold for an exceptionally good price.

The dry leaf has a potent aroma, spicy and fruity. I already notice the raspberry notes even in the dry leaf. But the aroma somehow betrays a slight harshness: I can tell this is going to be a tea with a bit of an edge, even befor...
Read Full Review
82 / 100

The aroma of this tea is wonderful and bready and the aroma doesn't wear off as you drink it. The taste is very smooth and honestly very "normal." I like this tea because it is not astringent and it makes me feel good after drinking it (some teas don't fully agree with me). For how normal this tea is though, it...
Read Full Review
84 / 100

This was a smoother, higher-grade Assam that had a much lighter character than is typical for an Assam.

The dry leaf is pretty aesthetically pleasing, it actually looks much nicer than the picture S&V provided on their website: lots of tip, which looks more pale and less golden than some. Its aroma is rather fruity ...
Read Full Review
↑Top Reviewers
Review 7 teas to get on this list!
Advertisement
↑Most-Rated Assam

55
15 Ratings

6
7 Ratings

21
5 Ratings

46
3 Ratings
↑Top-Rated Assam
95
3 Ratings

75
3 Ratings

55
15 Ratings
51
3 Ratings