Assam
Wikipedia: Assam_tea | Teaviews: assam-tea
Last Updated: Mar. 12, 2014
↑About Assam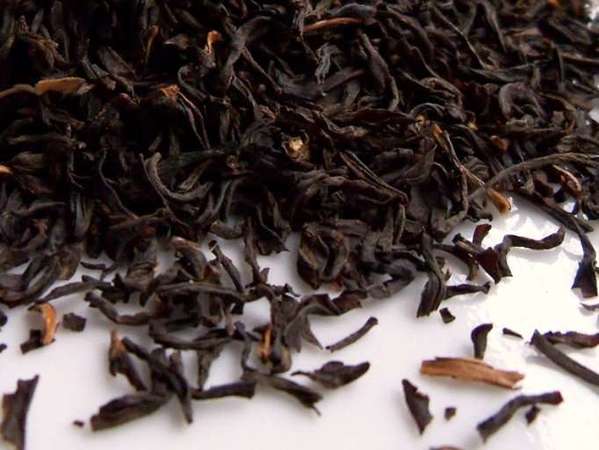 A typical-looking loose-leaf orthodox Assam black tea. Photo © A Girl With Tea,
CC BY 2.0
.
Assam
is a
region of India
and a variety and style of black tea. Although the region produces a small number of green teas, Assam green teas are very uncommon; when a tea is referred to as "Assam" it invariably means black tea.
Assam is further identified by means of production into
CTC
(Crush, Tear, Curl, a mechanical process) and
orthodox
(traditionally produced) tea. CTC tea is cheaper and infuses faster, whereas orthodox tea tends to be more expensive, more complex, and require longer brewing times.
Assam is produced from a large-leafed variety of the tea plant,
Camellia sinensis assamica
, a different variety from both Chinese teas and teas in the
Darjeeling district
of India. This variety, although associated with Assam, is sometimes grown in other regions. Assam teas have a unique flavor both due to the low altitude of the Assam region and the special variety of tea plant used.
The aroma of Assam teas is often described as malty. Most Assam teas are described as strong and powerful; Assam is one of the most common ingredients in breakfast blends and strong black tea blends, particularly
Irish Breakfast
and
Ostfriesen tea
. However, Assam teas are diverse and there are smoother and subtler black teas produced in this region as well.
↑Recent Assam Reviews — RSS
70 / 100

I bought this tea as a grey market item from a nearby Indian grocery store. Lately, I've tried and enjoyed a number of teas from Indian brands and this one is no exception.

As far as appearance, the dry CTC "crumbs" are larger and slightly lighter in color than those of most other CTC teas. The brewing tea reminds m...
Read Full Review
79 / 100
A fairly typical Assam of slightly-above-average quality. This was one of four teas we tried on our recent visit to Socra Tea Detroit, a great cafe and tea shop that I recommend checking out if you're in the area.

I've now tried three teas from Tonganagaon estate, a tea garden in upper Assam that seems to produce sm...
Read Full Review
75 / 100

A nice earthy aroma. Deep amber liquor. Strong malty flavor.
Read Full Review
70 / 100

The aroma has a slight earthy with hint of chocolate smell. Taste is clean without a strong after taste, slight hint of honey, smooth and mild. Nice amber color. I made it 'strong' with heaping teaspoons and 5 minute steep. This will be easy to drink all day. I never use milk or sugar.
Read Full Review
40 / 100

The flavor of this tea reminded me of something from my first sip, but what eluded me for quite a while. It wasn't until I actually sat down and read the official description that I finally figured out what it was. The Mana Organics website indicates that it is "a blend of malt and sweet." This description couldn't be ...
Read Full Review
↑Top Reviewers
Review 5 teas to get on this list!
Advertisement
↑Most-Rated Assam

38
15 Ratings

35
5 Ratings

19
5 Ratings

34
3 Ratings
↑Top-Rated Assam
64
3 Ratings
52
3 Ratings

40
3 Ratings

38
15 Ratings