Assam
Wikipedia: Assam_tea | Teaviews: assam-tea
Last Updated: Mar. 12, 2014
↑About Assam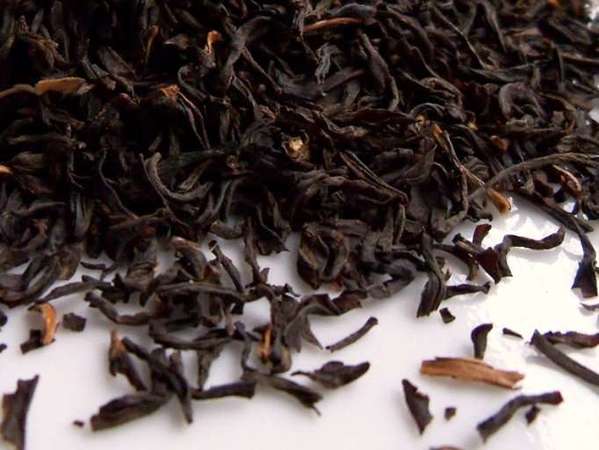 A typical-looking loose-leaf orthodox Assam black tea. Photo © A Girl With Tea,
CC BY 2.0
.
Assam
is a
region of India
and a variety and style of black tea. Although the region produces a small number of green teas, Assam green teas are very uncommon; when a tea is referred to as "Assam" it invariably means black tea.
Assam is further identified by means of production into
CTC
(Crush, Tear, Curl, a mechanical process) and
orthodox
(traditionally produced) tea. CTC tea is cheaper and infuses faster, whereas orthodox tea tends to be more expensive, more complex, and require longer brewing times.
Assam is produced from a large-leafed variety of the tea plant,
Camellia sinensis assamica
, a different variety from both Chinese teas and teas in the
Darjeeling district
of India. This variety, although associated with Assam, is sometimes grown in other regions. Assam teas have a unique flavor both due to the low altitude of the Assam region and the special variety of tea plant used.
The aroma of Assam teas is often described as malty. Most Assam teas are described as strong and powerful; Assam is one of the most common ingredients in breakfast blends and strong black tea blends, particularly
Irish Breakfast
and
Ostfriesen tea
. However, Assam teas are diverse and there are smoother and subtler black teas produced in this region as well.
↑Recent Assam Reviews — RSS
85 / 100

Nice deep amber liquor, very pleasant aroma and taste. This is a great every day tea. Good flavor makes it easy to sip all day. I will be buying more in the future.
Read Full Review
74 / 100

I specifically sought this tea out because it was from a region of Assam that is a little higher-altitude, and from where I hadn't previously tried any teas. Interestingly, it did taste a little more like a Darjeeling and other high-grown Himalayan region teas. Although I thought it was a very good tea, I liked it less...
Read Full Review
91 / 100

This was a wonderfully smooth-flavored Assam, yet with good strength and complexity, and a great price. Thank you to Simpson & Vail for this sample!

Dry leaf, which is fine, curly, and has a moderate amount of golden tip, has an interesting aroma, initially there's a slight burned quality, suggestive of candle wax, ...
Read Full Review
75 / 100

A subdued but rather strange Assam tea, muted in flavor and with a few off qualities.

This tea was kind of fascinating to review because I just tried a tea of a higher grade, from the same estate, from a different company, Simpson & Vail. I was surprised at how different the teas were. The difference of adding that ...
Read Full Review
75 / 100

Nutty and flavorful, but still pleasantly smooth. A good Assam imo.
Read Full Review
↑Top Reviewers
Review 5 teas to get on this list!
Advertisement
↑Most-Rated Assam

75
15 Ratings

39
5 Ratings

88
5 Ratings

36
3 Ratings
↑Top-Rated Assam
96
3 Ratings

88
5 Ratings

83
3 Ratings

75
15 Ratings