Assam
Wikipedia: Assam_tea | Teaviews: assam-tea
Last Updated: Mar. 12, 2014
↑About Assam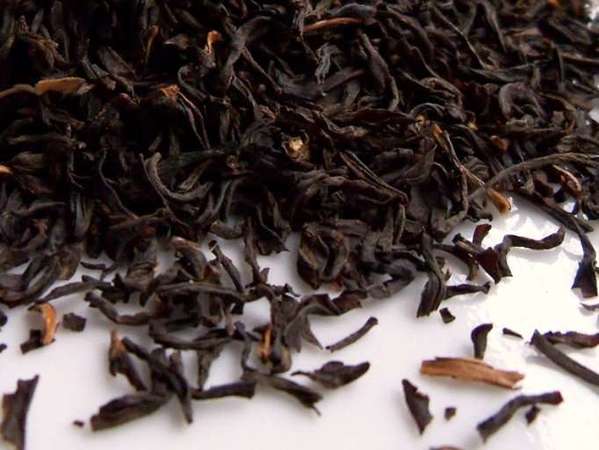 A typical-looking loose-leaf orthodox Assam black tea. Photo © A Girl With Tea,
CC BY 2.0
.
Assam
is a
region of India
and a variety and style of black tea. Although the region produces a small number of green teas, Assam green teas are very uncommon; when a tea is referred to as "Assam" it invariably means black tea.
Assam is further identified by means of production into
CTC
(Crush, Tear, Curl, a mechanical process) and
orthodox
(traditionally produced) tea. CTC tea is cheaper and infuses faster, whereas orthodox tea tends to be more expensive, more complex, and require longer brewing times.
Assam is produced from a large-leafed variety of the tea plant,
Camellia sinensis assamica
, a different variety from both Chinese teas and teas in the
Darjeeling district
of India. This variety, although associated with Assam, is sometimes grown in other regions. Assam teas have a unique flavor both due to the low altitude of the Assam region and the special variety of tea plant used.
The aroma of Assam teas is often described as malty. Most Assam teas are described as strong and powerful; Assam is one of the most common ingredients in breakfast blends and strong black tea blends, particularly
Irish Breakfast
and
Ostfriesen tea
. However, Assam teas are diverse and there are smoother and subtler black teas produced in this region as well.
↑Recent Assam Reviews — RSS
85 / 100

This is a very nice Assam with a complex and enjoyable taste. Pricey but good.
Read Full Review
87 / 100

A remarkably smooth tea able to be brewed super strongly. This tea reminded me of Kenyan teas: it was strong and smooth, and not terribly aromatic, but with some of the qualities I like best in a tea.

This was the lowest grade of the three teas I tried from this company, and it was still surprisingly good. The leaf ...
Read Full Review
80 / 100

A brisk Assam with a slight harshness, but also more interesting than most.

Thank you to my friend Janina for bringing this back to me from Germany! This was one of three Assams I sampled from Teekörbchen Gelnhausen, and it was good, and aptly described. It's also the first tea I've sampled from Nagaon, a district ...
Read Full Review
75 / 100

A very nice assam - flavorful nutty (walnuts) and well balanced.
Read Full Review
60 / 100

Solid Assam, with a woody flavor and some ironic tannins, but still smooth. Certainly worth the bargain price.
Read Full Review
↑Top Reviewers
Review 7 teas to get on this list!
Advertisement
↑Most-Rated Assam

80
15 Ratings

42
5 Ratings

93
5 Ratings

39
3 Ratings
↑Top-Rated Assam
98
3 Ratings

93
5 Ratings

88
3 Ratings

80
15 Ratings