Clouds & Mist (Yun Wu)
Wikipedia: Cloud_tea
Last Updated: Aug. 23, 2017
↑About Clouds & Mist (Yun Wu)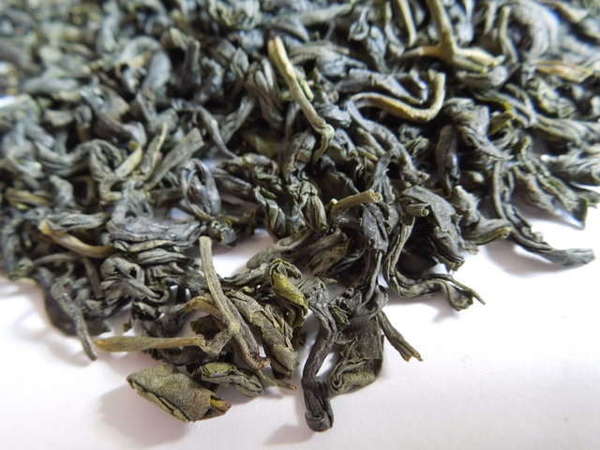 Yun Wu (Cloud Mist) Green Tea, San Fransisco Herb Company, © Alex Zorach,
CC BY-SA 4.0
.
Clouds & Mist
, or
Yún Wù
(云雾) in Mandarin Chinese, sometimes called "Cloud Mist" or just "Cloud Tea", is a style of Chinese green tea produced in a number of different regions.
The leaf has a curved appearance that ranges from wiry and wavy to irregularly twisted. It tends to be more curved than chun mee and less regularly curved than bi luo chun. There are, however, examples of this tea tightly rolled into small pellets or spiral-shapes.
The flavor tends to be fresh and brisk. This tea tends to be one of the more popular and accessible green teas in the West. Teas of this style of good quality are often available for affordable prices.
↑Recent Clouds & Mist Reviews — RSS
75 / 100

One of my favourite green teas. Doesn't go bitter (leave for less than two minutes) and it tastes so smooth and nice. It is my go to tea in Starbucks these days.
Read Full Review
65 / 100

I took the dégustation comparée (comparative tasting) of three green teas of a higher quality. This is one of the three I was served.
I got a zhong with dry leaves in it, a small cup, and a thermos of water.

It has beautiful bright green leaves and liqueur, and a bright and sweetish aroma.
First steeping: Vegeta...
Read Full Review
90 / 100

This is a very nice tea. The trick is to rein in it's flavor, because it is VERY strong.

I typically brew half the amount of leaf I would normally. Cast iron, 1.5 - 2 minutes. Keep water cooler (75-80*C).

1st steep: Vegetal and grassy with a hint of sweetness and a touch of smokiness. An intense freshness.

2n...
Read Full Review
63 / 100

The best Starbucks has to offer anyway, my go to tea. A little honey helps to smooth out some of the bitter taste.
Read Full Review
13 / 100

Awful taste Doesn't taste like green tea. Smells bad
Read Full Review
↑Top Reviewers
Review 2 teas to get on this list!
Advertisement
↑Most-Rated Clouds & Mist
↑Top-Rated Clouds & Mist