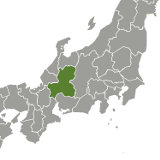 Gifu, Japan
Wikipedia: Gifu_Prefecture | Official Government Website: www.pref.gifu.lg.jp/English
Updated: Mar. 8, 2012
About Gifu, Japan
Gifu
(岐阜県) is a landlocked prefecture in the interior of Japan's largest island, Honshū. Gifu has a diverse topography, ranging from tall mountains in the north through hilly regions to a plain in the south. Much of Gifu is too cold for growing tea, but tea is grown in some areas of the region.
Styles of Tea Produced in Gifu, Japan
This is a selection, not an exhaustive listing, of the styles of tea most commonly produced in Gifu, Japan.