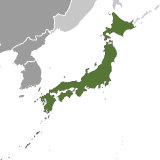 Most Reviewed By:

Japan
Wikipedia: Japan | Official Government Website: www.kantei.go.jp/foreign/index-e.html
Updated: Oct. 23, 2017
About Japan
Japan
, known in Japanese as
Nippon
(日本国) (the official name) or
Nihon
(日本) (a more casual name), both written 日本, is a major tea-producing and consuming region, especially of
green tea
. Japan is in the top 10 tea-producing countries in the world. Tea plays an integral role in Japanese culture. Japan exports a relatively small portion of its tea; in 2006 it was the 8th largest producer but exported less than 2% of its production.[1]
In Japan, most tea consumed is green tea, and in Japanese culture, tea is usually synonymous with green tea. Furthermore, most Japanese green teas (with the notable exceptions of
kamairicha
and
mushi-guricha
) are steamed, rather than pan-fired in the style of most green teas from
China
. In spite of largely being limited to steamed green teas, Japanese tea culture is astonishingly diverse; many innovative styles of green tea originated in Japan, and most of these styles are still produced primarily in Japan.
The basic Japanese green tea is called
bancha
. Less common, but more well-known in the west, is
sencha
. While some Japanese green teas resemble varieties of green tea produced in other countries, such as China, many of them, such as
genmaicha or brown-rice tea
or
hojicha
are unique and unlike any other teas.
Three of the four major islands of Japan, Honshū, Shikoku, and Kyūshū, grow tea; the northern parts of Honshū, and the major island, Hokkaidō, are located too far north and are too cold to produce tea commercially. Small amounts of tea are also produced in some of the smaller outlying islands of Japan, which extend quite far to the south. According to
ITO EN
, a major Japanese tea company, the three largest tea-producing prefectures are, in order,
Shizuoka
,
Kagoshima
, and
Mie
.[2]
Tea-Producing Regions of Japan
Styles of Tea Produced in Japan
This is a selection, not an exhaustive listing, of the styles of tea most commonly produced in Japan.
Best Japanese Teas
The notion of the "best" Japanese teas is subjective, because different people have different tastes. We present the most often-rated and highest-rated teas produced in Japan, and allow you to draw your own conclusions.