Sencha
Wikipedia: Sencha | Teaviews: sencha-tea
Last Updated: Mar. 12, 2014
↑About Sencha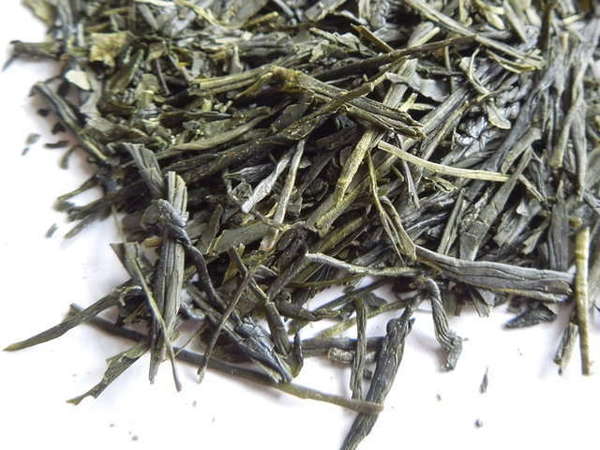 Typical loose-leaf sencha, showing mostly intact leaves, long and narrow.
Sencha
(煎茶), also sometimes called
honcha
, is a
Japanese
style of
green tea
that is widespread and well-known not only in Japan, but worldwide. It is the variety of Japanese green tea that is most commonly available in the United States, in contrast to
bancha
, which is a common tea in Japan, but less known in the U.S. Sencha is widely produced not only in Japan but in
China
and other countries as well.
Brewed sencha often has a more intense green color than pan-fired (Chinese) green teas, but less green than
gyokuro
. Sencha is diverse in both flavor and aroma, but it often tends to have a bold, sharp flavor and an aroma which is often described as grassy and vegetal, sometimes even seaweed-like.
Sencha is produced by steaming the leaves before drying, and then firing them afterwards, in contrast to teas which are pan-fired before drying. The characters for sencha (煎茶) literally translate as "pan-fired tea", which can be confusing because the term "pan-fired" usually refers to green teas (including many Chinese varieties) which are pan-fired before drying, at the stage at which sencha is steamed.
↑Recent Sencha Reviews — RSS
80 / 100

A colleague left this on the "freebie" table at work, so naturally I indulged some. One of the best green teas I've had so far, this offering competes well with a couple of bagged generic (unbranded) green-tea specimens containing a little matcha powder that my daughter brought back from her honeymoon in Japan.

D...
Read Full Review
87 / 100

I don't have a lot of experience with brewing Japanese green tea, so I probably didn't brew this as well as it deserved. I brewed it in my gaiwan, figuring that shouldn't be too much different from brewing it in a shiboridashi. I ended up with a lot of small pieces of tea in my cup because I didn't have any kind of fil...
Read Full Review
75 / 100

Surprisingly good for a tea bag. I feel like I've been saying that a lot lately (which reminds me that I have a couple reviews to add), but with all the terrible tea bags out there, it's still a surprise when a bagged tea taste much like the loose leaf version.

I'm not going to describe this in detail for two reaso...
Read Full Review
75 / 100

Sencha Scent of Mountains is a very aptly named tea. It has the most wonderful aroma of any tea I've ever had (beyond Lapsang Souchong) and it truly is an amazing sencha.

The scent can be described as vaguely forest-y with the rich buttery background of a proper sencha. It's quite difficult to describe, but it is tr...
Read Full Review
42 / 100

Had a teabag stashed in my work bag - and lo and behold it was Twinings Green tea - not even sure where I got it from - not from home - likely from an office or an event I had been to

So I was hankerin' for something OTHER that the Lipton "Wake dat a$$ up" black tea in the office so i brewed up the Twinings Green. ...
Read Full Review
↑Top Reviewers
Review 5 teas to get on this list!
Advertisement
↑Most-Rated Sencha
99
5 Ratings

44
5 Ratings

63
4 Ratings

77
4 Ratings
↑Top-Rated Sencha
99
5 Ratings

77
4 Ratings

63
4 Ratings

44
5 Ratings
↑Varieties, Kinds, or Types of Sencha