Sencha
Wikipedia: Sencha | Teaviews: sencha-tea
Last Updated: Mar. 12, 2014
↑About Sencha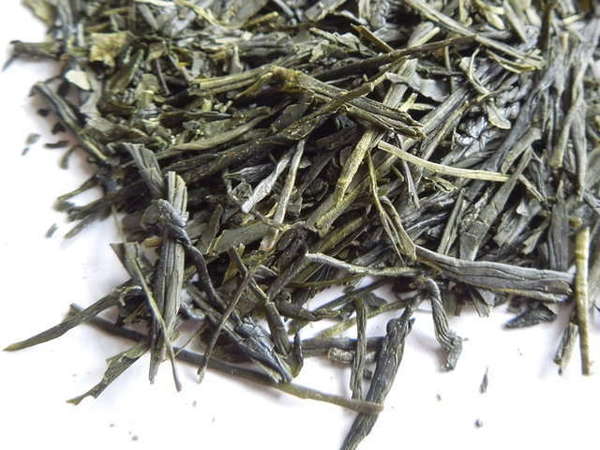 Typical loose-leaf sencha, showing mostly intact leaves, long and narrow.
Sencha
(煎茶), also sometimes called
honcha
, is a
Japanese
style of
green tea
that is widespread and well-known not only in Japan, but worldwide. It is the variety of Japanese green tea that is most commonly available in the United States, in contrast to
bancha
, which is a common tea in Japan, but less known in the U.S. Sencha is widely produced not only in Japan but in
China
and other countries as well.
Brewed sencha often has a more intense green color than pan-fired (Chinese) green teas, but less green than
gyokuro
. Sencha is diverse in both flavor and aroma, but it often tends to have a bold, sharp flavor and an aroma which is often described as grassy and vegetal, sometimes even seaweed-like.
Sencha is produced by steaming the leaves before drying, and then firing them afterwards, in contrast to teas which are pan-fired before drying. The characters for sencha (煎茶) literally translate as "pan-fired tea", which can be confusing because the term "pan-fired" usually refers to green teas (including many Chinese varieties) which are pan-fired before drying, at the stage at which sencha is steamed.
↑Recent Sencha Reviews — RSS
65 / 100

This is an unexciting but perfectly drinkable sencha, that is offered at a fair price by Upton. There is a little iron and spinach in the flavor, but not enough to be irritating. It wouldn't hurt to some of this in your cupboard.
Read Full Review
77 / 100

Half-litre cup at home, made from organic Sencha leaves. Pours clear pale olive green / lemon juice yellow (against white china) with no sediment. Mild aroma of Sencha leaves. Ditto flavour, with delicate malty notes. Mildly astringent aftertaste with leafy and malty touches. Well, a very decent Sencha, I suppose, alth...
Read Full Review
40 / 100

Half-litre pot at home, made from a sample included in the tea company's Advent Tea Calendar (2020) and consisting of very fine Sencha leaves, some of them even pulverised - not a good sign in a tea from a respectable company selling quality products. Pours clear very pale green (against white china), with no sediment....
Read Full Review
70 / 100
Update:
I found a way to brew it better. 80ºC water, 110ml water per 2 tsp of tea, 20 seconds for the first cup, 20-25 seconds for the second cup... The tea is very, very grassy. It's more grassy than any other sencha I've ever had (or any green tea, for that matter). It's not buttery. It's more like brewing a nice, ...
Read Full Review
88 / 100

I was surprised, but also not, about this super premium shincha. You see, I know my tastes and I know that I've loved some "cheap" teas because even though they were inexpensive, they were great teas. I've also had some disappointing experiences with really expensive teas. So, I purchased this with that knowledge somew...
Read Full Review
↑Top Reviewers
Review 6 teas to get on this list!
Advertisement
↑Most-Rated Sencha
4
6 Ratings

73
4 Ratings

38
4 Ratings

6
4 Ratings
↑Top-Rated Sencha

73
4 Ratings

38
4 Ratings

6
4 Ratings
4
6 Ratings

3
4 Ratings
↑Varieties, Kinds, or Types of Sencha