Sencha
Wikipedia: Sencha | Teaviews: sencha-tea
Updated: Mar. 12, 2014
About Sencha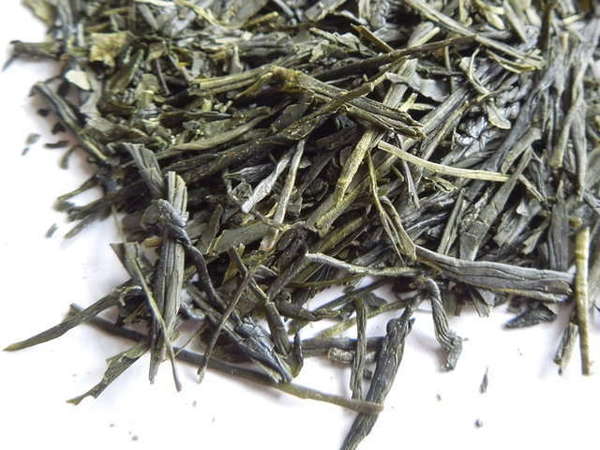 Typical loose-leaf sencha, showing mostly intact leaves, long and narrow.
Sencha
(煎茶), also sometimes called
honcha
, is a
Japanese
style of
green tea
that is widespread and well-known not only in Japan, but worldwide. It is the variety of Japanese green tea that is most commonly available in the United States, in contrast to
bancha
, which is a common tea in Japan, but less known in the U.S. Sencha is widely produced not only in Japan but in
China
and other countries as well.
Brewed sencha often has a more intense green color than pan-fired (Chinese) green teas, but less green than
gyokuro
. Sencha is diverse in both flavor and aroma, but it often tends to have a bold, sharp flavor and an aroma which is often described as grassy and vegetal, sometimes even seaweed-like.
Sencha is produced by steaming the leaves before drying, and then firing them afterwards, in contrast to teas which are pan-fired before drying. The characters for sencha (煎茶) literally translate as "pan-fired tea", which can be confusing because the term "pan-fired" usually refers to green teas (including many Chinese varieties) which are pan-fired before drying, at the stage at which sencha is steamed.
Varieties, Kinds, or Types of Sencha
Best Sencha
The notion of the "best" Sencha is subjective, because different people have different tastes. We present the most often-rated and highest-rated teas in this category, and allow you to draw your own conclusions.
Most Often-Rated Teas
Top-Rated Teas