Sencha
Wikipedia: Sencha | Teaviews: sencha-tea
Last Updated: Mar. 12, 2014
↑About Sencha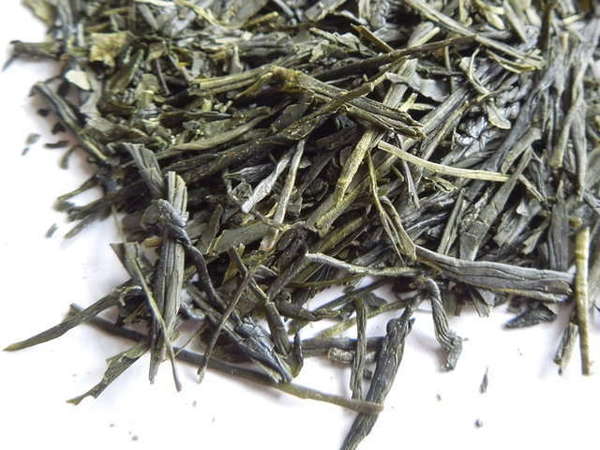 Typical loose-leaf sencha, showing mostly intact leaves, long and narrow.
Sencha
(煎茶), also sometimes called
honcha
, is a
Japanese
style of
green tea
that is widespread and well-known not only in Japan, but worldwide. It is the variety of Japanese green tea that is most commonly available in the United States, in contrast to
bancha
, which is a common tea in Japan, but less known in the U.S. Sencha is widely produced not only in Japan but in
China
and other countries as well.
Brewed sencha often has a more intense green color than pan-fired (Chinese) green teas, but less green than
gyokuro
. Sencha is diverse in both flavor and aroma, but it often tends to have a bold, sharp flavor and an aroma which is often described as grassy and vegetal, sometimes even seaweed-like.
Sencha is produced by steaming the leaves before drying, and then firing them afterwards, in contrast to teas which are pan-fired before drying. The characters for sencha (煎茶) literally translate as "pan-fired tea", which can be confusing because the term "pan-fired" usually refers to green teas (including many Chinese varieties) which are pan-fired before drying, at the stage at which sencha is steamed.
↑Recent Sencha Reviews — RSS
70 / 100
Update:
I found a way to brew it better. 80ºC water, 110ml water per 2 tsp of tea, 20 seconds for the first cup, 20-25 seconds for the second cup... The tea is very, very grassy. It's more grassy than any other sencha I've ever had (or any green tea, for that matter). It's not buttery. It's more like brewing a nice, ...
Read Full Review
88 / 100

I was surprised, but also not, about this super premium shincha. You see, I know my tastes and I know that I've loved some "cheap" teas because even though they were inexpensive, they were great teas. I've also had some disappointing experiences with really expensive teas. So, I purchased this with that knowledge somew...
Read Full Review
95 / 100
This is a great, fresh fukamushi-cha. I really enjoyed it. I actually got three cups out of 2tsp of leaves, rather than just two cups (the typical amount for this kind of tea). It's very full-bodied, has the typical cloudiness and rich flavor of fukamushi (which is extra steamed).

I went with a lower temperature bec...
Read Full Review
100 / 100
This is, easily, the most striking tea that I've ever had in my life -- and I've had hundreds.

First of all, the scent was lightly fruity at the same time that it exhibited notes similar to the umami gyokuro green tea. The color was the most rich green I'd ever seen. I think the description had said that it leans to...
Read Full Review
80 / 100

I know this might sound like a strange criticism, but I think that the worst thing about this tea is that it's been labeled "sencha." I say this because the profile of this tea in terms of taste and scent doesn't match the ideal for a sencha. But, it has a very good, very unique profile, in my opinion. The disappointme...
Read Full Review
↑Top Reviewers
Review 6 teas to get on this list!
Advertisement
↑Most-Rated Sencha
4
6 Ratings

38
4 Ratings

73
4 Ratings

6
4 Ratings
↑Top-Rated Sencha

73
4 Ratings

38
4 Ratings

6
4 Ratings
4
6 Ratings

3
4 Ratings
↑Varieties, Kinds, or Types of Sencha