Sencha
Wikipedia: Sencha | Teaviews: sencha-tea
Last Updated: Mar. 12, 2014
↑About Sencha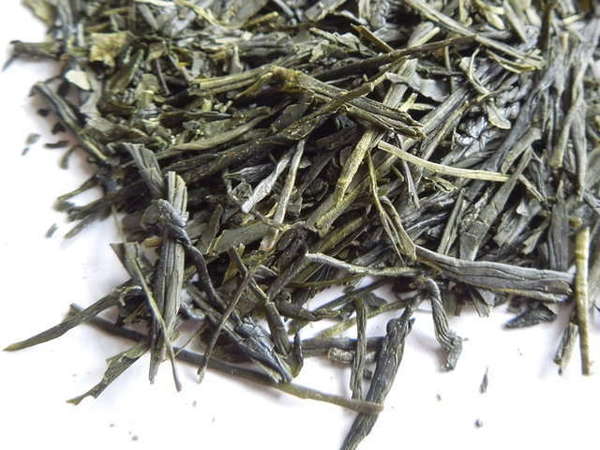 Typical loose-leaf sencha, showing mostly intact leaves, long and narrow.
Sencha
(煎茶), also sometimes called
honcha
, is a
Japanese
style of
green tea
that is widespread and well-known not only in Japan, but worldwide. It is the variety of Japanese green tea that is most commonly available in the United States, in contrast to
bancha
, which is a common tea in Japan, but less known in the U.S. Sencha is widely produced not only in Japan but in
China
and other countries as well.
Brewed sencha often has a more intense green color than pan-fired (Chinese) green teas, but less green than
gyokuro
. Sencha is diverse in both flavor and aroma, but it often tends to have a bold, sharp flavor and an aroma which is often described as grassy and vegetal, sometimes even seaweed-like.
Sencha is produced by steaming the leaves before drying, and then firing them afterwards, in contrast to teas which are pan-fired before drying. The characters for sencha (煎茶) literally translate as "pan-fired tea", which can be confusing because the term "pan-fired" usually refers to green teas (including many Chinese varieties) which are pan-fired before drying, at the stage at which sencha is steamed.
↑Recent Sencha Reviews — RSS
70 / 100
A remarkably long finish for a tea
without astringency. very nice color fishy note flavor.
perfect cup for green tea lovers.
Read Full Review
70 / 100
This tea is not bad but it isn't overwhelming. I generally prefer loose leaf anyway, as a cup of bagged tea often isn't as strong as I like. It's fairly easy to avoid bitterness in this tea, but it's still good not to brew the tea too hot or too long — as is generally true for green teas. Not bad as a potenti...
Read Full Review
80 / 100

A colleague left this on the "freebie" table at work, so naturally I indulged some. One of the best green teas I've had so far, this offering competes well with a couple of bagged generic (unbranded) green-tea specimens containing a little matcha powder that my daughter brought back from her honeymoon in Japan.

D...
Read Full Review
87 / 100

I don't have a lot of experience with brewing Japanese green tea, so I probably didn't brew this as well as it deserved. I brewed it in my gaiwan, figuring that shouldn't be too much different from brewing it in a shiboridashi. I ended up with a lot of small pieces of tea in my cup because I didn't have any kind of fil...
Read Full Review
75 / 100

Surprisingly good for a tea bag. I feel like I've been saying that a lot lately (which reminds me that I have a couple reviews to add), but with all the terrible tea bags out there, it's still a surprise when a bagged tea taste much like the loose leaf version.

I'm not going to describe this in detail for two reaso...
Read Full Review
↑Top Reviewers
Review 5 teas to get on this list!
Advertisement
↑Most-Rated Sencha
4
6 Ratings

41
5 Ratings

38
4 Ratings

73
4 Ratings
↑Top-Rated Sencha

79
3 Ratings

73
4 Ratings

41
5 Ratings

38
4 Ratings
4
6 Ratings
↑Varieties, Kinds, or Types of Sencha