Sencha
Wikipedia: Sencha | Teaviews: sencha-tea
Last Updated: Mar. 12, 2014
↑About Sencha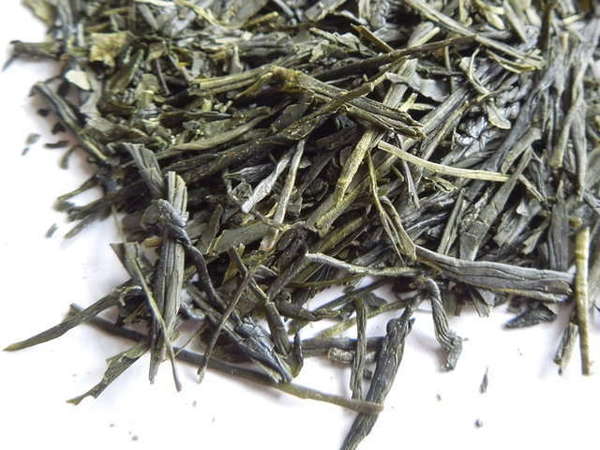 Typical loose-leaf sencha, showing mostly intact leaves, long and narrow.
Sencha
(煎茶), also sometimes called
honcha
, is a
Japanese
style of
green tea
that is widespread and well-known not only in Japan, but worldwide. It is the variety of Japanese green tea that is most commonly available in the United States, in contrast to
bancha
, which is a common tea in Japan, but less known in the U.S. Sencha is widely produced not only in Japan but in
China
and other countries as well.
Brewed sencha often has a more intense green color than pan-fired (Chinese) green teas, but less green than
gyokuro
. Sencha is diverse in both flavor and aroma, but it often tends to have a bold, sharp flavor and an aroma which is often described as grassy and vegetal, sometimes even seaweed-like.
Sencha is produced by steaming the leaves before drying, and then firing them afterwards, in contrast to teas which are pan-fired before drying. The characters for sencha (煎茶) literally translate as "pan-fired tea", which can be confusing because the term "pan-fired" usually refers to green teas (including many Chinese varieties) which are pan-fired before drying, at the stage at which sencha is steamed.
↑Recent Sencha Reviews — RSS
70 / 100

Half-litre pot at home. Pours clear pale straw with no sediment. Mild aroma of green tea leaves, with hints of pine. Clean, bitterish flavour of green tea, leaving a slightly rough and astringent palate. Refreshing, well-balanced and evoking memories from my short trip to Japan eight years ago. Not in the cheap end (50...
Read Full Review
74 / 100

Despite having a wide spectrum of experiences with TJ's teas (from excellent to revolting...but mostly good), I somehow thought this would be a cheap knockoff and not very high quality. Somewhat surprisingly, while not the best bagged green I've had (that would be an unbranded tea my daughter brought back from Japan)...
Read Full Review
50 / 100

Standard decaf green tea. I would not distinguish this as a special "sencha" one might look for. I was hoping Yamamotoyama's decaf sencha would taste like sencha, but it just tastes like standard chinese decaf bulk cheap teabag tea. The taste of every decaf green tea I have tried is the same. The process of de-caffeina...
Read Full Review
71 / 100

I had this tea at a local restaurant (in a bag) and got 2 cups out of 1 bag - even though the restaurant offered me a second bag. It had a slight grassy note but also a pleasant roasted flavor vaguely reminiscent of a barley or genmaicha. I really enjoyed this tea - hot - no lemon - no dairy - no sweetener.
Read Full Review
70 / 100
A remarkably long finish for a tea
without astringency. very nice color fishy note flavor.
perfect cup for green tea lovers.
Read Full Review
↑Top Reviewers
Review 5 teas to get on this list!
Advertisement
↑Most-Rated Sencha
4
6 Ratings

3
4 Ratings

38
4 Ratings

73
4 Ratings
↑Top-Rated Sencha

73
4 Ratings

38
4 Ratings

6
4 Ratings
4
6 Ratings

3
4 Ratings
↑Varieties, Kinds, or Types of Sencha