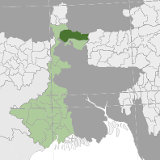 Jalpaiguri, India
Wikipedia: Jalpaiguri_district | Official Government Website: www.jalpaiguri.gov.in
Updated: Jul. 15, 2013
About Jalpaiguri, India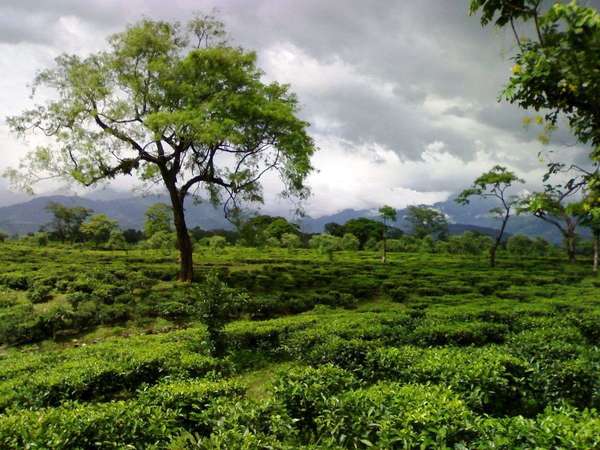 Hila Estate, A Tea Garden in the Dooars region of Jalpaiguri, © Rajibnandi (Wikimedia Commons),
CC BY-SA 3.0
.
Jalpaiguri
is a district located in the north part of West Bengal,
India
, neighboring the
Darjeeling district
which lies to the west, and to neighboring regions of
Bangladesh
, which lie to the southwest.
Although not as well-known, Jalpaiguri produces teas that are similar in characteristics to teas from the surrounding regions, and tea is an important part of the local economy. The district as a whole is among one of the poorest regions of India.
A large portion of the Dooars, a low altitude floodplain region at the foothills of the Himalayas, is situated within the Jalpaiguri district. The lower altitude is associated with very high humidity and hot temperatures, and the distinct
climate in this region influences the qualities of the tea
. This region tends to produce teas that have a richer, darker character than the nearby higher-altitude areas in Darjeeling.
A local tea auction struggling economically
Much of the tea produced in Jalpaiguri is sold elsewhere, including at large tea auctions in Siliguri and Calcutta. In 2005, a local auction center opened in Jalpaiguri; the first year had higher sales, but sales declined as farmers realized they could get a higher price for their teas at larger, more distant auctions. The auction was closed in 2009 but reopened in 2012.[1]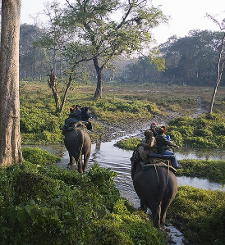 An elephant safari through the Jaldapara national park. Photo by
Jayanta Debnath
, Licensed under
CC BY 2.0
.
Ecology, biodiversity, and nature preserves
Jalpaiguri is home to many nature preserves, including
Buxa Tiger Reserve
,
Gorumara National Park
,
Chapramari Wildlife Sanctuary
, and
Jaldapara National Park
. The area is rich in biodiversity, and has many wild areas, supporting numerous endangered and threatened species. A
leopard
, a species considered to be
near threatened
but not endangered, has even been found in a tea garden in the region, where it was preying on goats and chickens.[2]
Poverty, child trafficking, and other human rights issues
Many tea workers in Jalpaiguri live in harsh conditions and have few opportunities available to them. Many workers suffer from malnourishment and disease. Several tea gardens have closed, and unemployment is high.[3] Infrastructure and government support, including safe drinking water, health care, education, and electricity are "practically nonexistent" in the rural areas.[4]
There is a problem with child trafficking in the tea gardens of Jalpaiguri. Children of the
Adivasi
people, girls, and children from larger or poorer families are most vulnerable. The child trafficking is fueled by poverty among laborers in the tea gardens, which is compounded by a lack of availability of education, health care, and transportation.[5]
References
Styles of Tea Produced in Jalpaiguri, India
This is a selection, not an exhaustive listing, of the styles of tea most commonly produced in Jalpaiguri, India.