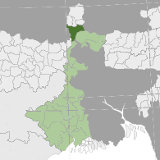 Most Reviewed By:

Darjeeling, India
Wikipedia: Darjeeling_district | Official Government Website: darjeeling.gov.in
Updated: Jan. 24, 2015
About Darjeeling, India
Darjeeling
is a district in West Bengal, India, which is famous for producing tea. The map above shows Darjeeling's (dark green) location in West Bengal (light green). Darjeeling is most famous for its
black teas
, but it has recently started producing more
green
and
white teas
, and even a few
oolong teas
.
Located on the edge of the Himalayan mountain range, Darjeeling is a high-altitude region, and its teas are often described as "high-grown"; the altitude imparts a unique flavor and aroma to the teas.
The high altitude, combined with the seasonality of precipitation produces a unique phenomenon in some of the teas grown here, particularly
first flush black teas
produced after the first spring rains. At this time of year, the air is still dry, owing to a combination of the dry season in winter, and the thinner, high-altitude air, which is still cool in early spring. These conditions allow the leaf to dry out quickly during processing, effectively halting
oxidation
and retaining a greener character to the leaf, much as happens in green tea production.
Neighboring Regions Producing Darjeeling-like Tea
The Darjeeling district is quite small, but it exists within a broad band of regions with more or less similar climate. Many of these areas, especially those directly adjacent to Darjeeling, grow tea as well. These teas can be very similar to Darjeeling teas in overall qualities. Neighboring regions of India include the
Jalpaiguri district
to the southeast, and
Sikkim
to the North. Parts of
Nepal
to the west also produce teas with similar qualities. Darjeeling also shares a narrow border with Bhutan to the east, and with
Bangladesh
to the southeast.
There has been a problem with counterfeit tea labeled as being from the Darjeeling region: because teas from this region fetch a premium price on the global market, similar teas (and sometimes less similar ones) from other regions are falsely labeled as "Darjeeling".[1]
There is currently no standard term used for teas produced in the style of Darjeeling. Some companies refer to teas from this region as Himalayan teas. Because of the geographic reference, we only classify teas as Darjeeling if they are actually grown in this region.
Styles of Tea Produced in Darjeeling, India
This is a selection, not an exhaustive listing, of the styles of tea most commonly produced in Darjeeling, India.
Best Darjeeling Teas
The notion of the "best" Darjeeling teas is subjective, because different people have different tastes. We present the most often-rated and highest-rated teas produced in Darjeeling, India, and allow you to draw your own conclusions.