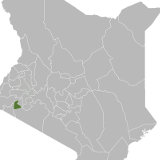 Most Reviewed By:

Kisii, Kenya
Wikipedia: Kisii_District
Updated: Apr. 18, 2012
About Kisii, Kenya
Kisii
is a district in Western Kenya, located in Nyanza Province.
Kisii is hilly and relatively high altiude, reaching up to around 2000m in several places; most of the district is heavily developed for agriculture, and has a high population density for such a rural area. Less than 10% of the population of well over a million people lives in urban areas, yet the area has a population density nearly twice that of New Jersey, the densest U.S. state. The area was originally entirely forested, but there are only small, isolated fragments of forests left in the region, owing to the expansion of agriculture.
Nyansiongo Tea Factory is located in Kisii; black tea produced in this factory is available through
Ajiri tea
.
Styles of Tea Produced in Kisii, Kenya
This is a selection, not an exhaustive listing, of the styles of tea most commonly produced in Kisii, Kenya.
Best Teas
The notion of the "best" teas is subjective, because different people have different tastes. We present the most often-rated and highest-rated teas produced in Kisii, Kenya, and allow you to draw your own conclusions.
Most Often-Rated Teas
Top-Rated Teas