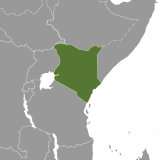 Most Reviewed By:

Kenya
Wikipedia: Kenya
Updated: Oct. 29, 2017
About Kenya
Kenya
, in East Africa, is the third-largest (fourth in some past years) producer of tea worldwide, and is the only country in Africa to produce a substantial amount of tea for the world market. It also has recently emerged as a major source of innovation in new varieties of tea and
single-origin
artisan teas.
Unlike
India
and
Sri Lanka
, where most tea is grown on large plantations, 90% of tea in Kenya is grown on farming operations of 1 acre or less.[1] Tea is central to Kenya's economy; tea exports represent 26% of total export earnings and about 4% of GDP.[1]
Tea farmers in Kenya have become strained due to competition; rather than move towards larger operations, Kenya has decided to invest money in research and development of new varieties of tea that have the potential to have higher yield and more resilience to variable climactic conditions.
Kenya's climate and tea production
Kenya is bordered on the south by
Tanzania
, another important tea-producing country in Africa.
Artisan teas, specialty teas, and single-estate teas in Kenya
Even though it is a major player in the global market, Kenya is less well known as a source of tea in the United States. Most of the tea produced in Kenya is bulk
black tea
used in blends. However, Kenya's specialty tea industry has been blossoming in recent years, and there are now
green teas
and
white teas
being produced in Kenya, including novel styles of tea such as
white matcha
. Kenya is also the site of development of new varietals of the tea plant, including
purple tea
, a tea plant rich in purple-colored anthocyanins, the same pigments in blueberries and raspberries.
Tea-Producing Regions of Kenya
Styles of Tea Produced in Kenya
This is a selection, not an exhaustive listing, of the styles of tea most commonly produced in Kenya.
Best Kenyan Teas
The notion of the "best" Kenyan teas is subjective, because different people have different tastes. We present the most often-rated and highest-rated teas produced in Kenya, and allow you to draw your own conclusions.