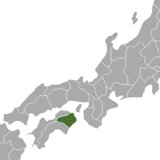 Tokushima, Japan
Wikipedia: Tokushima_Prefecture
Updated: Jul. 21, 2017
About Tokushima, Japan
Tokushima
(徳島), which could be translated "virtue island", is a prefecture located on Shikoku island in Japan, the smallest and least-populated of the four main islands of Japan.
Although agriculture is the most important aspect of Tokushima's economy, and the prefecture does produce a small amount of tea, tea is only a negligible part of its economy, and its teas are not widely available in the West.
Styles of Tea Produced in Tokushima, Japan
This is a selection, not an exhaustive listing, of the styles of tea most commonly produced in Tokushima, Japan.