Bancha
Wikipedia: Bancha
Updated: Jul. 19, 2017
About Bancha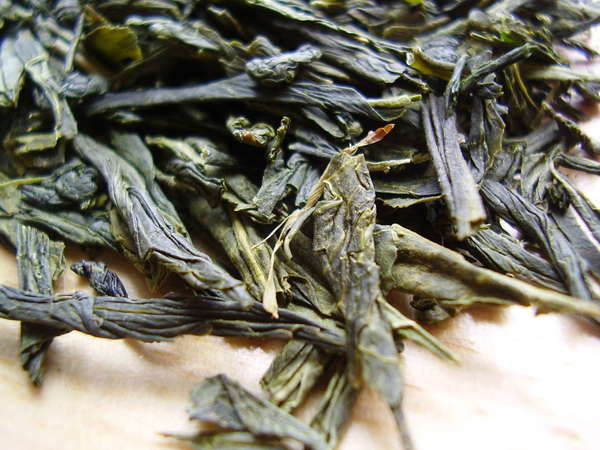 Loose-leaf bancha, showing the large leaf size. Photo ©
Borya (Flickr)
,
CC BY-SA 2.0
.
Bancha
(番茶), sometimes improperly called
bancha tea
, is a common type of Japanese
green tea
. It is often considered the "basic" or "default" green tea in Japan, although in the West,
sencha
is more widely available.
Bancha is produced similarly to sencha, but is harvested later in the season. It tends to be made of larger, more mature leaves; it often contains stem or twigs, although it is not made predominately from twigs like
kukicha or twig tea
. For these reasons bancha is sometimes described as a coarse tea, and tends to have a lower
caffeine content
.
Like most Japanese green teas, bancha is steamed rather than pan-fired as most Chinese green teas are. Bancha is a lower grade of tea than sencha, and tends to be less expensive. However, it is hard to generalize about the quality or price of bancha; some bancha exceeds some sencha in both price and quality.
Bancha is sold plain, and is also frequently roasted to produce
hojicha
, and is also often combined with toasted brown rice to make
genmaicha
. Although bancha is ubiquitous in Japan, it is not as well-known in the west, possibly owing to the commercial focus on varieties of tea that are perceived as higher-quality.
Best Bancha
The notion of the "best" Bancha is subjective, because different people have different tastes. We present the most often-rated and highest-rated teas in this category, and allow you to draw your own conclusions.
Most Often-Rated Teas
Top-Rated Teas
We need at least 3 ratings for a tea to calculate a percentile ranking. You can help us out by rating more teas of this style.