Bancha
Wikipedia: Bancha
Last Updated: Jul. 19, 2017
↑About Bancha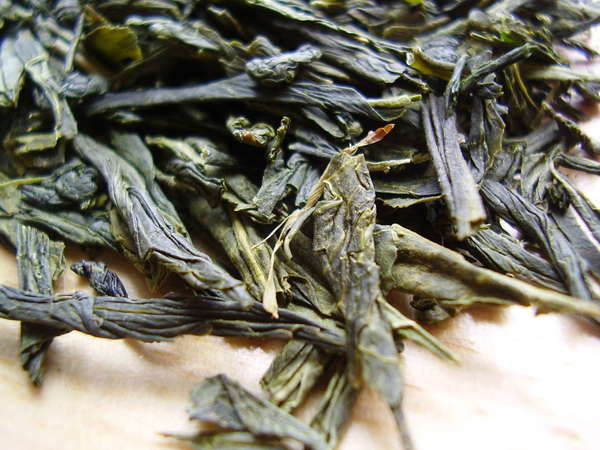 Loose-leaf bancha, showing the large leaf size. Photo ©
Borya (Flickr)
,
CC BY-SA 2.0
.
Bancha
(番茶), sometimes improperly called
bancha tea
, is a common type of Japanese
green tea
. It is often considered the "basic" or "default" green tea in Japan, although in the West,
sencha
is more widely available.
Bancha is produced similarly to sencha, but is harvested later in the season. It tends to be made of larger, more mature leaves; it often contains stem or twigs, although it is not made predominately from twigs like
kukicha or twig tea
. For these reasons bancha is sometimes described as a coarse tea, and tends to have a lower
caffeine content
.
Like most Japanese green teas, bancha is steamed rather than pan-fired as most Chinese green teas are. Bancha is a lower grade of tea than sencha, and tends to be less expensive. However, it is hard to generalize about the quality or price of bancha; some bancha exceeds some sencha in both price and quality.
Bancha is sold plain, and is also frequently roasted to produce
hojicha
, and is also often combined with toasted brown rice to make
genmaicha
. Although bancha is ubiquitous in Japan, it is not as well-known in the west, possibly owing to the commercial focus on varieties of tea that are perceived as higher-quality.
↑Recent Bancha Reviews — RSS
65 / 100

This came recommended by RT leader Alex as a good budget bancha. And the price was very reasonable, about as little as anyone could expect to pay for a decent tea. It has a pleasant, earthy aroma, but the flavor is a little insipid. I wasn't expecting perfection tho - this is a reliable everyday green tea.
Read Full Review
65 / 100

I have purchased this a number of times, and the quality varies from year to year. This 2018 batch is not the best, but it is still a pleasant green tea, with a light vegetal flavor. The price has steadily increased over the years.
Read Full Review
82 / 100

This may be the best bancha I've ever tried. It's better than a number of lower-end sencha's I've bought in the U.S.

The dry leaf is green for bancha and has the most delightful aroma, the best yet of any bancha I've tried. It smells a lot like coffee cake, a sort of sweet, baked good smell with hints of cinnamon,...
Read Full Review
77 / 100

This is truly an "upgraded" Bancha, picked just after first flush from the larger, thicker base of the leaves. More astringent than sencha, but well balanced in flavor and aroma. I love the grassy flavor and feel it leaves in your mouth.

Den's Bancha Suruga is wonderfully refreshing when brewed as per their instruct...
Read Full Review
63 / 100

A drinkable and inexpensive green tea with a mild flavor. I tried this shortly after Wegmans' bancha; the leaf of this tea is more intact, but the dry leaf is not particularly aromatic. I prefer Wegmans' offering even though it is more broken.

Brews a golden color cup with a lot of dust at the bottom. Mild aroma....
Read Full Review
↑Top Reviewers
Review 2 teas to get on this list!
Advertisement
↑Most-Rated Bancha

2 Ratings

1 Rating

1 Rating

1 Rating

1 Rating
↑Top-Rated Bancha
We need at least 3 ratings for a tea to calculate a percentile ranking. You can help us out by rating more teas of this style.