This tea has been retired/discontinued.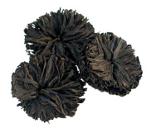 Member since Feb, 2012

✓ 15 teas reviewed
✓ 13 of Black Tea
✓ 13 of Pure Tea (Camellia sinensis)
✓ 3 of ITO EN
✓ 1 from Anhui, China
✓ 1 from China
February 29th, 2012
Aroma
Flavor
Value
Total
8

of 10

4

of 5

3

of 5

77

of

100

Excellent
Good

Reasonable
Similar to Red Peony - I just had an Invoice from Gopaldhara and Rohini Tea estates and I had an opportunity to taste the hand made Peony Rosette. Indeed very special mystical and mesmerizing mouth lingering taste as we go along from first cup to second cup. This is one of my favorite tea, The tea is medium bodied and there is no tinge of bitternes and astringency. The notes of honey and long lasting biscuity notes is the feature. This Beautiful Tea can be brewed directly in a tea pot without a strainer. The leaves blossoms in the pot like a flower, a sight to remember. The aroma, taste and flavour lasts longer in the palate. Indeed an oppulance.
Login or Sign Up to comment on this review.