A Jasmine Tea from Adagio Teas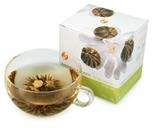 Member since Apr, 2015

✓ 13 teas reviewed
✓ 1 of Jasmine Tea
✓ 6 of Flavored Tea
✓ 3 of Adagio Teas
✓ 5 from ?????
May 6th, 2015
Aroma
Flavor
Value
Total
9

of 10

4

of 5

4

of 5

87

of

100

Superb
Good

Good Value
Each individual cluster is so well packaged that one can throw an envelope into one's bag and carry magic around with them everywhere, just in case they want to delight an audience with good, fragrant tea and a really beautiful bloom.

The green tea itself can be overpowered by the jasmine in the first steep, but it's hard to mind. Later there's a good, crisp vegetable flavor with just a bit of bitterness that I really do enjoy.

This is not an everyday tea, but it does provide a way to make any day a special one.


Login or Sign Up to comment on this review.