Jasmine Tea
Wikipedia: Jasmine_tea | Teaviews: jasmine-tea
Last Updated: May. 4, 2018
↑About Jasmine Tea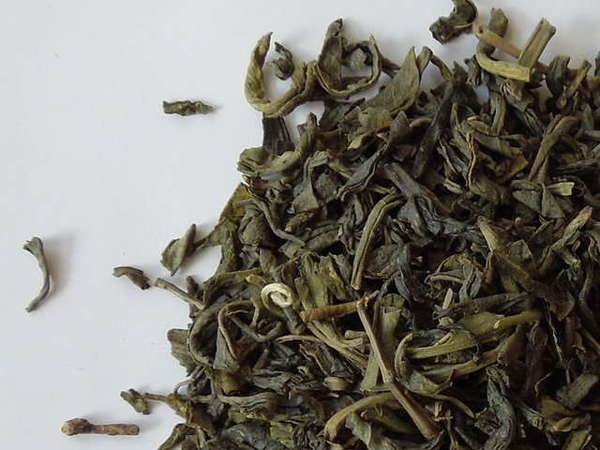 Jasmine tea usually does not contain jasmine flowers; after scenting, the flowers are removed. The appearance here, looking just like a green tea, is typical.
Jasmine tea
, in Chinese
mòlì huāchá
(茉莉花茶), is a scented tea produced by mixing the leaves of the tea plant (
Camellia sinensis
) with jasmine blossoms (
Jasminum sp.
). Jasmine tea is frequently made out of
green tea
, although it can be made of
black tea
,
white tea
, or
pouchong (bao zhong)
as well.
Jasmine tea has a floral aroma that is sometimes described as perfume-like.
Although it is usually associated with Chinese tea culture, jasmine tea is one of the most well-known of the traditional scented teas, and is popular and widely-available in Western countries as well, and is one of several
teas commonly served in Chinese restaurants
.
Regions of production
An overwhelming majority of jasmine tea is produced in
China
, where it originated, with small amounts made in Taiwan. The largest producer is
Fujian province
, but some jasmine tea is made in at least 9 different provinces.
Other countries, including
India
and
Boliiva
, have produced Jasmine tea but only in limited batches that are not regularly available.
Traditionally-scented jasmine tea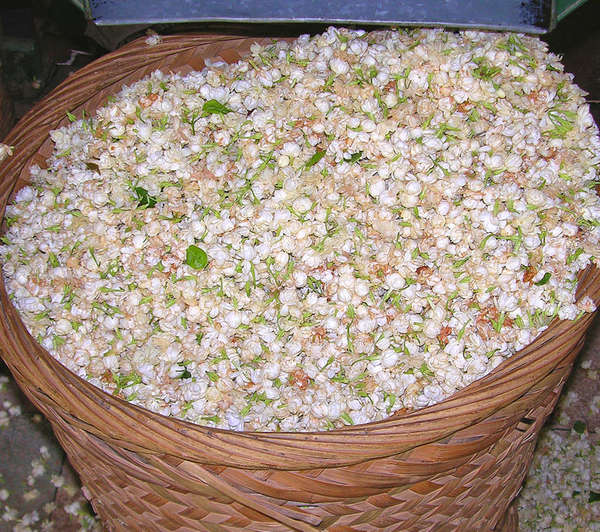 Jasmine blossoms combined with tea leaves in a basket; the blossoms will be separated, usually blown away with a fan as they are lighter than the tea leaves, before the tea is finished. Public domain photo by Daqve Dahl.
Tea connoisseurs and specialty tea companies make an important distinction between
traditionally scented jasmine tea
and modern "shortcut" methods. Traditionally, jasmine tea is produced by placing jasmine blossoms together with the tea leaf in a closed area, shortly after the blossoms open. After most of the aroma has left the blossoms, these blossoms are removed, and new, fresh blossoms are added.
The number of scentings differs greatly from tea to tea; because this process is time-consuming and labor intensive, it greatly adds to the cost of the tea. Some high grades of jasmine use as many as 7 or more scentings in their production. In contrast, some tea companies just add an oil or extract to the tea leaves. If this oil is naturally produced (or even organic), the resulting jasmine tea will be considered all natural (or organic) by western standards, but such teas have been produced by a shortcut, from the perspective of traditional processing methods.
Rather than listing jasmine teas under the headings of flavored green, black, etc. teas, RateTea lists all jasmine teas under its own category or sub-categories because they tend to have much more in common with each other aroma-wise than they do with their base teas.
Health benefits and effects specific to jasmine tea
Some studies have examined the health effects of jasmine tea or chemicals isolated from jasmine tea. However, most of these studies have focused on the catechins,
antioxidants
originating in the tea plant, and not the jasmine flowers. One study, however, examined the aroma of jasmine tea and found that it had a sedative effect. The odor of jasmine tea was compared to lavender, a scent known to also promote relaxation, and found to have a similar effect. The chemical,
(R)-(–)-linalool
, originating in the jasmine plant, was found to be responsible for some of these effects. [1]
↑Recent Jasmine Reviews — RSS
85 / 100

This tea has a beautiful jasmine smell and taste. You have to really love jasmine to like this tea; as the other reviewer mentioned, the jasmine aroma and taste is very overpowering, even with minimal steep time. I really enjoy this tea. It reminds me a great deal of Republic of Tea's Twilight Rose, which is a chamom...
Read Full Review
65 / 100

One of my kids gave me this for Christmas, having bought it at an Asian food store for an unknown price, so I'm basing the value rating off the mostly reasonable online costs for a 120g tin. The packaging of this tea confused me a bit at first, as it was branded just like one of the same title on RateTea, but in a tin...
Read Full Review
77 / 100

This was a peculiar yet pleasant jasmine-tea experience, stem to stern. The jasmine scent in both the dry bag and steeped cup were stronger than the tea, and than it asserted in the flavor. Instead, the flavor overall is very well-balanced between jasmine and tea. That's good, because the green tea tastes like a ver...
Read Full Review
59 / 100

I'm not entirely sure how to understand Chinese branding, but "Fujian Tea Import & Export Co., Ltd.," itself a subsidiary of "China Tea Co., Ltd." seems to be a state-run company that handles international trade for a number of smaller Chinese tea companies in the Fujian province. This jasmine tea is further branded wi...
Read Full Review
86 / 100

I ordered this tea loose and brewed it exactly to Harney & Sons directions (1 tsp per cup at 175F for 3 minutes). The aroma is sublime. The color is very light golden straw. The flavor is soft, fragrant, not bitter at all. Compared to Harney and Son's "Jasmine" and "Organic Jasmine" the Dragon Pearl Jasmine is more sub...
Read Full Review
↑Top Reviewers
Review 6 teas to get on this list!
Advertisement
↑Most-Rated Jasmine

55
8 Ratings

66
6 Ratings

14
5 Ratings

92
5 Ratings

4
4 Ratings
↑Top-Rated Jasmine

92
5 Ratings

84
4 Ratings

82
3 Ratings

66
6 Ratings
↑Varieties, Kinds, or Types of Jasmine Tea