A Pu-erh Tea from Numi Organic Tea -

Organic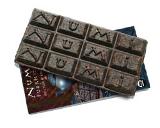 Member since Apr, 2020

✓ 5 teas reviewed
✓ 1 of Pu-erh Tea
✓ 1 of Dark Tea
✓ 1 of Numi Organic Tea
✓ 1 from Yunnan, China
✓ 1 from China
February 12th, 2023
Aroma
Flavor
Value
Total
6

of 10

2

of 5

3

of 5

44

of

100

Good
Mediocre

Reasonable
So, I am going to generalize with this review as there is not a lot going with this offering from Numi.

After breaking the first bar piece off I actually put this in the back of my cupboard, a few years later it has resurfaced, and I decided to give it a go.

No matter the water temp, steep time, serving temp (hot or cold) I just couldn't get a lot of flavor out of this blend. There is a pleasant earthy nose while still in bar format and dry. I broke up either one or even two bars into smaller pieces and brewed Western style in a teapot with brew basket in the middle, beginning with a 30 second rinse while "waking" the leaves. I tried up to boiling hot water and my steep times ranged anywhere from 2-10 minutes.

I originally bought this to get a feel for pu-er as I had a cake on order from China and didn't want to keep it if I have no taste for the tea at all. There is just no feeling to it! I couldn't pull more than a bit of mineral flavor and light earthy black tea leaf through. The aroma is pretty good so it's a shame that none of that malty body comes through once brewed.

I appreciate the format but will not be buying again. One saving grace is that it is high in caffeine. Maybe I can make a light iced tea out of this with some other flavors or citrus added in for a pick me up? I would not present this to guests.
Login or Sign Up to comment on this review.