Pu-erh Tea
Wikipedia: Pu-erh_tea | Teaviews: puer-tea
Updated: Jul. 12, 2017
About Pu-erh Tea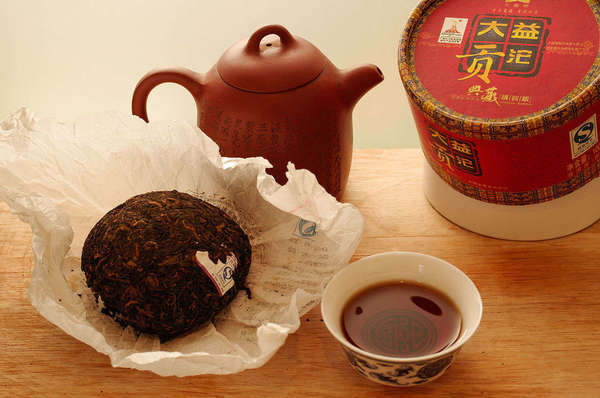 Shou (Ripened) Pu-erh from Menghai Tea Factory, showing a typical dark color. Photo © Copypaiste, Wikimedia Commons,
CC BY-SA 3.0
.
Pu-erh tea
(普洱茶), called
bo nay (or po lei, or po lai) tea
in Cantonese, and sometimes spelled
Puer
or
Pu'er
, is a type of dark tea, a tea that is usually aged.
Although it can be consumed immediately after production, Pu-erh is often aged, in a process called post-fermentation. This process involves active bacteria and fungal cultures. In China, post-fermented tea is also called
hei cha
(黑茶), meaning black tea; what westerners call "black tea" the Chinese call "red tea".
Shou (ripened or black) vs. sheng (raw or green)
Pu-erh comes in
fully oxidized
varieties (a little like
black teas
), called
shou
or
shu(熟)
, usually translated as
ripe
,
ripened
, or
cooked
pu-erh, and
green
varieties, called
raw
or
sheng(生) pu-erh
. Both ripe and raw versions can be aged, but the aging is more central to the raw teas, which are produced with a very strong flavor, intended to mellow with age. Originally, only the raw version was produced; ripe Pu-erh was developed to imitate the aging process.
Sheng Pu-erh is frequently aged for very long time-periods. Sheng cakes in the 10-15 year age range are often still referred to as "young sheng".
Preferences for age and style of Pu-erh are largely a matter of personal taste. It is common for people to like only one or two of the classifications of fresh (unaged) sheng Pu-erh, young sheng, older sheng, or shou Pu-erh. Some people may find the strong flavors of fresh or young sheng to be objectionable, whereas other people find the aromatic qualities of older Pu-erh or shou Pu-erh to be unappealing. As the different ages and styles of Pu-erh can different considerably from each other, it is worth trying at least one example of the different ages and production types before drawing a conclusion about your opinion of Pu-erh as a whole.
Origins and production regions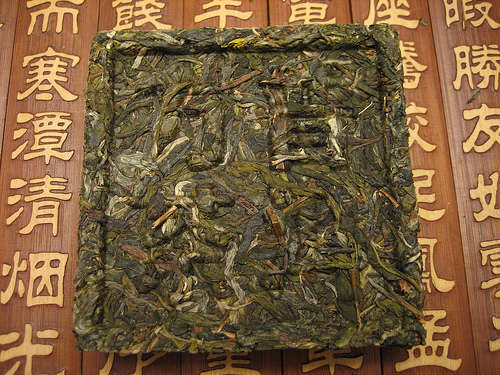 Raw Pu-erh typically shows a color more similar to that of green tea. Photo © Jason Fasi,
CC BY-SA 2.5
.
Pu-erh tea originated in Yunnan province in China. Although the term Pu-erh usually only refers to teas from Yunnan, a few other regions produce small quantities of tea in a similar style. The Suối Giàng ancient tea forest in northern
Vietnam
, neighboring Yunnan, produces tea similar to Pu-erh. A few other regions have produced teas in the style of Pu-erh. Disputes have arisen over whether or not it is honest to label such teas produced outside of Yunnan province as "pu-erh".
Within Yunnan, there are many important production regions. On RateTea, we classify these regions to the county level, when such information is provided by the seller. Important counties in Yunnan province include
Fengqing
,
Menghai
,
Yongde
, and
Lancang
(home of the Jing mai region).
Compressed vs loose-leaf
Unlike most teas which are usually sold loose, pu-erh is commonly sold both in loose and compressed forms. Pu-erh is compressed into different shapes, including bricks, cakes or disks (called
bing
or
beeng
), and a common form called
tuo cha
, which means bowl-shaped. These compressed teas must be broken apart prior to brewing, except for a few ones that are pressed into small single-serving shapes, like "mini tuo cha".
Most of the highest-quality Pu-erhs, and most raw or sheng Pu-erhs are only available compressed into large cakes. Most of the loose-leaf Pu-erh on the market is ripened or cooked, and of relatively lower quality, and similarly, most of the single-serving compressed teas are also of lower quality.
Tea bags of Pu-erh, with a few exceptions, are usually ripened Pu-erh.
Health benefits of pu-erh tea
Pu-erh tea is often touted for its cholesterol-lowering properties, or for promoting weight loss. Experimental studies on rats have verified that it does lower cholesterol, by inhibiting the synthesis of cholesterol.[1][2] However, the chemicals, polyphenols, that inhibit cholesterol synthesis, GCG, EGCG, and other catechins[1], are not limited to pu-erh tea, but also occur in most types of tea, and are not necessarily highest in pu-erh. Similar results have been found for green tea.[3]
Pu-erh also has also been found to have antimutagenic and antimicrobial activity.[4] However, other types of tea have these properties as well, and it has not yet been thoroughly established whether or not there are any health benefits or medicinal properties which are unique to Pu-erh.
Read more about the health benefits of tea.
New to Pu-erh?
Pu-erh can be intimidating and complex to get into. We recommend
New to Pu'er?
and
Pu'er by Appearance: Types & Storage
on
bearsblog
if you are interested in getting seriously into this type of tea.
References:
1. Chi-Hua Lua, Lucy Sun Hwang, Polyphenol contents of Pu-Erh teas and their abilities to inhibit cholesterol biosynthesis in Hep G2 cell line, Food Chemistry, Vol. 111, No. 1, (Nov. 1, 2008), pp. 67-71.
2. Chiang, Chun-Te et al., Pu-erh Tea Supplementation Suppresses..., Oncology Research Featuring Preclinical and Clinical Cancer Therapeutics'', Vol. 16, No. 3, (2006), pp. 119-128(10).
3. C.A. Bursill, M. Abbey, P.D. Roach, A green tea extract lowers plasma cholesterol ..., Atherosclerosis. 2007 Jul;193(1):86-93.
4. She-Ching Wu et al., Antimutagenic and antimicrobial activities of pu-erh tea, LWT - Food Science and Technology, Vol. 40, No. 3, (Apr. 2007), pp. 506-512.
Varieties, Kinds, or Types of Pu-erh Tea
Best Pu-erh Tea
The notion of the "best" Pu-erh Tea is subjective, because different people have different tastes. We present the most often-rated and highest-rated teas in this category, and allow you to draw your own conclusions.
Most Often-Rated Teas
Top-Rated Teas