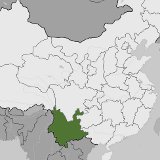 Most Reviewed By:

Yunnan, China
Wikipedia: Yunnan | Official Government Website: www.yn.gov.cn
Updated: Apr. 2, 2018
About Yunnan, China
Yunnan
(云南) is the southwesternmost province of China, and is known for being the origin of a number of rich and diverse styles of tea. Yunnan borders
Guangxi
,
Guizhou
,
Sichuan
, and Tibet in China, and also borders
Vietnam
, Laos, and Burma.
Yunnan's climate and topography is diverse, with many mountains, but the climate tends to be mild, and tends to have strongly seasonal rainfall in keeping with the pattern of the Asian monsoon, with very wet summers and very dry winters. In the warmest parts of the province, the climate is closer to a tropical wet-dry climate, with only slightly cooler winters; the cooler areas have more of a subtropical climate with cool, dry winters.
Yunnan is best known for
Pu-erh tea
, a type of
dark tea
that originated in the region and is still produced primarily in the region. Yunnan also produces black teas (such as
Yunnan red / dian hong
), and green teas, many of which have unique qualities setting them apart from teas produced elsewhere.
There is also plenty of plantation-style cultivation as well.
Tea-Producing Regions of Yunnan, China
Styles of Tea Produced in Yunnan, China
This is a selection, not an exhaustive listing, of the styles of tea most commonly produced in Yunnan, China.
Best Yunnan Teas
The notion of the "best" Yunnan teas is subjective, because different people have different tastes. We present the most often-rated and highest-rated teas produced in Yunnan, China, and allow you to draw your own conclusions.