A Lapsang Souchong from Numi Organic Tea -

Organic -

Fair Trade
This tea has been retired/discontinued.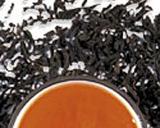 Member since Sep, 2009

✓ 33 teas reviewed
✓ 2 of Lapsang Souchong
✓ 5 of Black Tea
✓ 2 of Numi Organic Tea
✓ 1 from Wuyi, Fujian, China
✓ 3 from Fujian, China
October 13th, 2010
Aroma
Flavor
Value
Total
6

of 10

2

of 5

5

of 5

60

of

100

Good
Mediocre

Outstanding
I always get excited when I see brands carry Lapsang Souchong, mostly because I can't imagine their consumer base for it is very large.

Numi's always tends to be pretty satisfying if not a bit thin and their Smoky Tarry blend is no exception. They really play up the smokey-ness in the aroma but then you take a sip and it doesn't come through, I get bored after about a cup. But hey, for something you can get at a supermarket it's a great buy.
Comments:
I don;t care for Lapsang Souchong/Smoked teas - but this one is very inexpensive.

Login or Sign Up to comment or reply.