Lapsang Souchong
Wikipedia: Lapsang_souchong | Teaviews: lapsang-souchong-tea
Last Updated: Mar. 12, 2014
↑About Lapsang Souchong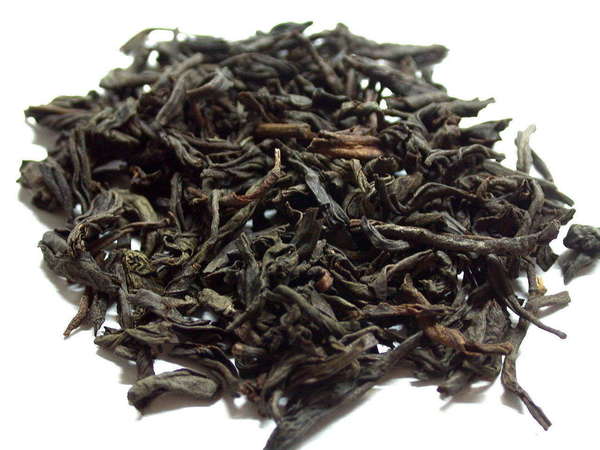 Lapsang souchong looks similar to other black teas; the main notable feature is its larger-than-normal leaves. Photo © (Assumed) Sjhan81, Wikimedia Commons,
CC BY-SA 3.0
.
Lapsang souchong
, in Chinese
zhèng shān xiǎo zhǒng
(正山小种), is a smoked
black tea
. It is produced like black tea, but is dried over pine fires, allowing the smoke to impart a unique aroma to the tea. Lapsang souchong originated in the
Wuyi Mountains
, in China's Fujian province, but is also produced in
Taiwan
. There is great demand for this tea, which has led to its being produced widely in different regions.
Because it is made of larger leaves rather than top leaves and buds, and the buds and top leaves contain more caffeine, lapsang souchong (and other souchongs) tend to be significantly lower in caffeine than other similar teas.
Lapsang souchong has a strong smoky quality; the varieties produced in Taiwan are often described as being more smoky. Although the smoky aroma can be dominant, lapsang souchong is often described as mellow, mild, and subtle in comparison to other black teas. Tea drinkers desiring a slightly less smokiness but a stronger tea often prefer
Russian caravan tea
, a blend that includes lapsang souchong among other black teas.
↑Recent Lapsang Souchong Reviews — RSS
60 / 100
Prep: 4tsp, 200F, 4 minute steep. Going strong on this guy. First infusion notes.

Aroma: No one will question you that this is Lapsang Souchong. Huge smoky note, a little tobacco. Super inviting and warming.

Flavor: I expected this to be more aggressive than it turned out to be. This has a nice balance of rich...
Read Full Review
78 / 100

Half-litre pot at home, made from smoked Chinese black tea leaves. Pours clear dark amber (against white china) with no sediment. Clear aroma of smoke, with notes of black tea. Bitter, leafy flavour of black tea, enhanced by pronounced smoky notes. Astringent and leafy palate, with smoky notes and malty touches in the ...
Read Full Review
95 / 100

This is an excellent tea. I am not normally a lapsang souchong enthusiast, but this one is quite compelling. Smokey, but not overpoweringly so. It's rich but mellow, with a natural sweetness. Hints of cinnamon. I have tried both the loose leaf and teabags and they are equally fine. Highly recommended.
Read Full Review
80 / 100

As expected the aroma is similar to a pine forest on fire, or a freshly paved road. For those new to lapsing souchong, it might be a bit intimidating. Those who are adverse to trying because of the aroma are missing out on a wonderful cup of tea. The liquor is a deep amber color. The flavor is nice. Once brewed, the bu...
Read Full Review
75 / 100
I'm not much of a fan of smoky teas. It's really a matter of personal history. It takes me back to a house filled with fire smoke or cigarette smoke, and my frantically opening windows, choking just to breathe. Now, somehow, this tea managed to clear that all away and elicit only my positive memories of smoke -- clean,...
Read Full Review
↑Top Reviewers
Review 3 teas to get on this list!
Advertisement
↑Most-Rated Lapsang Souchong

32
8 Ratings

97
6 Ratings

93
3 Ratings

2 Ratings
↑Top-Rated Lapsang Souchong

97
6 Ratings

93
3 Ratings

32
8 Ratings