Lapsang Souchong
Wikipedia: Lapsang_souchong | Teaviews: lapsang-souchong-tea
Updated: Mar. 12, 2014
About Lapsang Souchong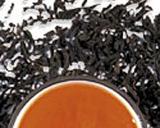 Lapsang Souchong
from
Numi Organic Tea
Lapsang souchong
, in Chinese
zhèng shān xiǎo zhǒng
(正山小种), is a smoked
black tea
. It is produced like black tea, but is dried over pine fires, allowing the smoke to impart a unique aroma to the tea. Lapsang souchong originated in the
Wuyi Mountains
, in China's Fujian province, but is also produced in
Taiwan
. There is great demand for this tea, which has led to its being produced widely in different regions.
Because it is made of larger leaves rather than top leaves and buds, and the buds and top leaves contain more caffeine, lapsang souchong (and other souchongs) tend to be significantly lower in caffeine than other similar teas.
Lapsang souchong has a strong smoky quality; the varieties produced in Taiwan are often described as being more smoky. Although the smoky aroma can be dominant, lapsang souchong is often described as mellow, mild, and subtle in comparison to other black teas. Tea drinkers desiring a slightly less smokiness but a stronger tea often prefer
Russian caravan tea
, a blend that includes lapsang souchong among other black teas.
Best Lapsang Souchong
The notion of the "best" Lapsang Souchong is subjective, because different people have different tastes. We present the most often-rated and highest-rated teas in this category, and allow you to draw your own conclusions.
Most Often-Rated Teas
Top-Rated Teas

100
3 Ratings

97
3 Ratings

47
7 Ratings