Lapsang Souchong
Wikipedia: Lapsang_souchong | Teaviews: lapsang-souchong-tea
Last Updated: Mar. 12, 2014
↑About Lapsang Souchong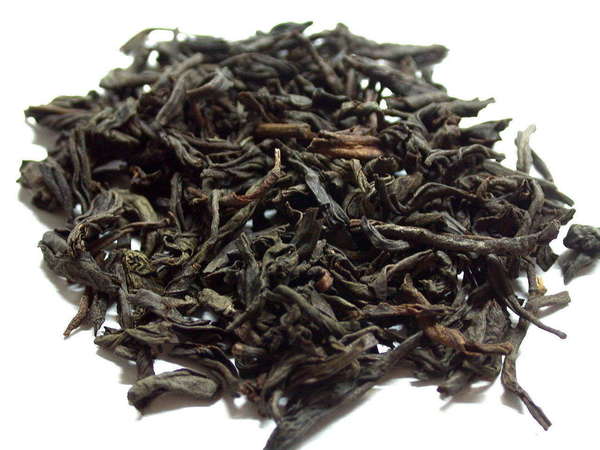 Lapsang souchong looks similar to other black teas; the main notable feature is its larger-than-normal leaves. Photo © (Assumed) Sjhan81, Wikimedia Commons,
CC BY-SA 3.0
.
Lapsang souchong
, in Chinese
zhèng shān xiǎo zhǒng
(正山小种), is a smoked
black tea
. It is produced like black tea, but is dried over pine fires, allowing the smoke to impart a unique aroma to the tea. Lapsang souchong originated in the
Wuyi Mountains
, in China's Fujian province, but is also produced in
Taiwan
. There is great demand for this tea, which has led to its being produced widely in different regions.
Because it is made of larger leaves rather than top leaves and buds, and the buds and top leaves contain more caffeine, lapsang souchong (and other souchongs) tend to be significantly lower in caffeine than other similar teas.
Lapsang souchong has a strong smoky quality; the varieties produced in Taiwan are often described as being more smoky. Although the smoky aroma can be dominant, lapsang souchong is often described as mellow, mild, and subtle in comparison to other black teas. Tea drinkers desiring a slightly less smokiness but a stronger tea often prefer
Russian caravan tea
, a blend that includes lapsang souchong among other black teas.
↑Recent Lapsang Souchong Reviews — RSS
85 / 100
Found this in a Chinese market at the mall in Arcadia, CA. They had a huge selection of teas. I picked up a couple of ounces of this. It was priced at $30 per pound.

It is a very dark tea, black actually, and it has a heavy, smoky smell. However, after brewing the flavor is not as intense as you would expect. The br...
Read Full Review
75 / 100

This is a perfectly good Lapsang Souchong. Smoky and lightly bitter, but not harsh. Slightly aromatic finish.
Read Full Review
41 / 100

This tea sorely disappointed me and left me feeling sad and empty. I thought from the description that I was going to like it, but the description was somewhere between severely misleading and blatantly wrong. Thank you to Organic Herbie for the free sample. But PLEASE, update the description for this tea because it is...
Read Full Review
95 / 100

I call Lapsang Souchong "campfire tea" and I love its smokey aroma. Sometimes smoke is all you taste, but not with this tea -- it has a lovely flavour behind the smoke. I don't usually buy tea on-line but this was worth the trouble.
Read Full Review
85 / 100

Smells and tastes like a firepit. That's all I need to say. But that ain't all I'm sayin'... So, this tea, if you've got a rough demeanor, is just for you. Me and my few biker friends will enjoy this stuff now and then. We all may sit by the firepit after a ride, smoke some cigars, and drink some burnt wood tea ("BWT" ...
Read Full Review
↑Top Reviewers
Review 3 teas to get on this list!
Advertisement
↑Most-Rated Lapsang Souchong

32
8 Ratings

97
4 Ratings

93
3 Ratings
↑Top-Rated Lapsang Souchong

97
4 Ratings

93
3 Ratings

32
8 Ratings