Lapsang Souchong
Wikipedia: Lapsang_souchong | Teaviews: lapsang-souchong-tea
Last Updated: Mar. 12, 2014
↑About Lapsang Souchong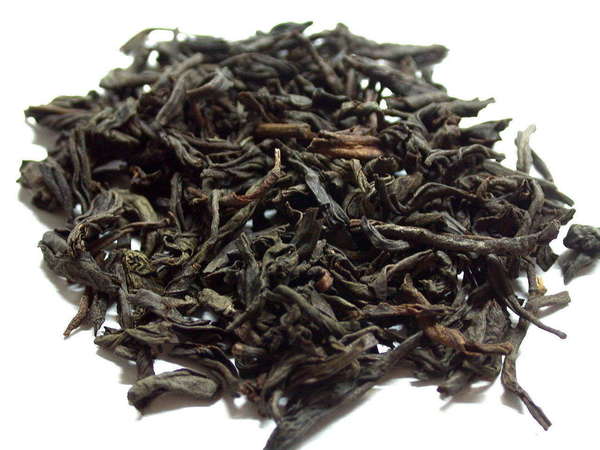 Lapsang souchong looks similar to other black teas; the main notable feature is its larger-than-normal leaves. Photo © (Assumed) Sjhan81, Wikimedia Commons,
CC BY-SA 3.0
.
Lapsang souchong
, in Chinese
zhèng shān xiǎo zhǒng
(正山小种), is a smoked
black tea
. It is produced like black tea, but is dried over pine fires, allowing the smoke to impart a unique aroma to the tea. Lapsang souchong originated in the
Wuyi Mountains
, in China's Fujian province, but is also produced in
Taiwan
. There is great demand for this tea, which has led to its being produced widely in different regions.
Because it is made of larger leaves rather than top leaves and buds, and the buds and top leaves contain more caffeine, lapsang souchong (and other souchongs) tend to be significantly lower in caffeine than other similar teas.
Lapsang souchong has a strong smoky quality; the varieties produced in Taiwan are often described as being more smoky. Although the smoky aroma can be dominant, lapsang souchong is often described as mellow, mild, and subtle in comparison to other black teas. Tea drinkers desiring a slightly less smokiness but a stronger tea often prefer
Russian caravan tea
, a blend that includes lapsang souchong among other black teas.
↑Recent Lapsang Souchong Reviews — RSS
95 / 100

I call Lapsang Souchong "campfire tea" and I love its smokey aroma. Sometimes smoke is all you taste, but not with this tea -- it has a lovely flavour behind the smoke. I don't usually buy tea on-line but this was worth the trouble.
Read Full Review
84 / 100

This is a weird tea. The dry leaves smell like chocolate and flowers, but as soon as water is added it smells like baked potatoes. It takes a while to brew: I usually end up brewing it for 6-7 minutes the first time and even longer for the next two infusions for a total of three cups.

The flavor is somewhat unusual...
Read Full Review
90 / 100

I am a bit of a connoisseur of Lapsang Souchong. I have tried them from many different brands, and I think that the H&S offering of it is by far the best. The smokiness of it is beyond fantastic and I think that it's just amazing.

As a previous reviewer said, Lapsang Souchong isn't really a tea for everyone - it sme...
Read Full Review
86 / 100

Very nice tea! It has a strong chocolate taste/aroma and also has some sweet potato hints as well. Pretty good tea for the price also.
Read Full Review
80 / 100

Lapsang Souchong is not a tea for everybody, and this one is especially strong and smoky, a great beverage for a gloomy winter afternoon. You can almost feel woodsmoke in it. It's too aggressive for me to enjoy very often -- I have to be in a mood for it. But I could imagine a bit of it blended with another tamer bl...
Read Full Review
↑Top Reviewers
Review 3 teas to get on this list!
Advertisement
↑Most-Rated Lapsang Souchong

49
7 Ratings

97
4 Ratings

94
3 Ratings

2 Ratings
↑Top-Rated Lapsang Souchong

97
4 Ratings

94
3 Ratings

49
7 Ratings