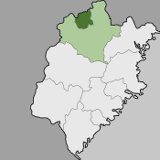 Most Reviewed By:

Wuyi, Fujian, China
Wikipedia: Wuyi_Mountains
Updated: Mar. 23, 2012
About Wuyi, Fujian, China
Wuyi
is a region in
Fujian province
in China that is one of the most important tea producing regions worldwide.
Wuyi
can refer to
Wuyishan city
(武夷山市), a county-level division of Nanping(南平), which is a prefecture-level city, highlighted in light green on the map.
Wuyi
can also refer to the
Wuyi Mountains
or
Wuyi shan
(武夷山), a mountain range located in the region. The mountain range extends outside of Fujian province, into the northeasternmost part of
Jiangxi
province as well.
Wuyi is one of the two regions of Fujian, together with
Anxi county
, which are most well-known for producing oolong teas. Tea from the Wuyi mountains is sometimes referred to as
Wuyi tea
; when not specified,
Wuyi tea
usually refers to oolong.
Some of the most famous varieties of Wuyi oolong include
shui hsien (water sprite)
,
rou gui (cinnamon oolong)
, and
da hong pao (big red robe)
. Some of the Wuyi oolongs are called
wuyi rock tea
, reflecting the fact that they are grown on exposed, rocky areas where the poor soil and exposure to weather create a unique flavor of the finished tea.
Wuyi also produces black teas and green teas. The black teas produced in Wuyi include
lapsang souchong
, and
golden monkey
.
Wuyi and weight loss hype
Unfortunately, Wuyi tea has been heavily hyped as a weight-loss product. The companies that sell Wuyi tea under this guise typically sell very low-quality tea at unreasonably high prices. RateTea does not list teas from these companies. If you want to buy Wuyi tea, buy from a legitimate tea company that focuses on flavor and aroma. There is some evidence that tea may slightly aid weight loss, but there is no evidence that teas from Wuyi have any special weight loss properties; our page on
tea and weight loss
explains in more depth.
Styles of Tea Produced in Wuyi, Fujian, China
This is a selection, not an exhaustive listing, of the styles of tea most commonly produced in Wuyi, Fujian, China.
Best Teas
The notion of the "best" teas is subjective, because different people have different tastes. We present the most often-rated and highest-rated teas produced in Wuyi, Fujian, China, and allow you to draw your own conclusions.