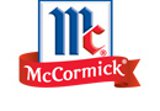 McCormick


Web: www.mccormick.com/DiscontinuedProducts.aspx


(800) 632-5847
Last Updated: Aug. 13, 2018
* Amazon links are sponsored and help support RateTea financially.
↑About McCormick
McCormick is a well-known spice company. Although it is not well-known for tea, McCormick used to have its own brand of black tea in tea bags, distributed in the US. According to McCormick's website, these tea bags were discontinued in 2009.

However, McCormick continues to market its own brand of tea in tea bags, which is available in other countries. These teas are sometimes available in the US, where they are sold in stores that carry imported products. These products can also purchased online in the U.S.
Browse by region of production: ????? (4) • Blend (1)
Browse by region of production: ????? (4) • Blend (1)
Browse by style (type or variety); Herbal Tea (4) • Black Tea (1) • Pure Tea (Camellia sinensis) (1)
Browse by style (type or variety); Herbal Tea (4) • Black Tea (1) • Pure Tea (Camellia sinensis) (1)
The following is a selection of the 5 teas from McCormick in our database.


83 / 100

Though tagged here as retired, it seems McCormick has unretired it, for as of late October 2019, it is available in 10- or 25-count boxes on Amazon, and the web presences of big brick-and-mortar store chains like Wal-Mart, Safeway, Kroger and H-E-B. I got some in person at a regional Oklahoma chain today, for a little...
Read Full Review
95 / 100

As the other reviewers stated, this tea lacks the bite of Lipton and other commercial teas. And if you want a solid, strong tea that holds up to milk and sugar, this one is hard to beat. This only seems to be available in two places: at the Mccormick Spice Shop in Baltimore's Inner Harbor and online at a Baltimore gour...
Read Full Review
100 / 100

I grew up on this tea. It's wonderful, nothing else comes close. We used it for hot tea in the winter and iced tea in the summer. Never bitter. I used to drink 4 - 5 cups of tea a day. Since it has become almost impossible to find, I've given up drinking tea.
Read Full Review
50 / 100

subtle lemongrass smell...VERY light flavor....would probably need 3 bags to get as strong as I like...but the flavor is good and pure of lemongrass...doesn't seem to have any off flavors...just wish it was stronger x2
Read Full Review
83 / 100

McCormick tea never gets bitter like Lipton does, for instance, when you brew it strong so that you can add milk. So if you like strong tea with milk it is the best ever!!
I'm sooo sorry to hear that it was discontinued. I had a lot earlier because I couldn't get it in Colorado and now I'm out totally. It has alway...
Read Full Review
↑Top Reviewers
Review 2 teas to get on this list!
Advertisement
↑Most-Rated Teas

1 Rating

1 Rating
↑Top-Rated Teas
You can also add a new tea. Please search or browse this company's teas first, to avoid adding duplicates.