Lemongrass
Wikipedia: Cymbopogon | Teaviews: lemon-grass-tea
Last Updated: May. 13, 2014
↑About Lemongrass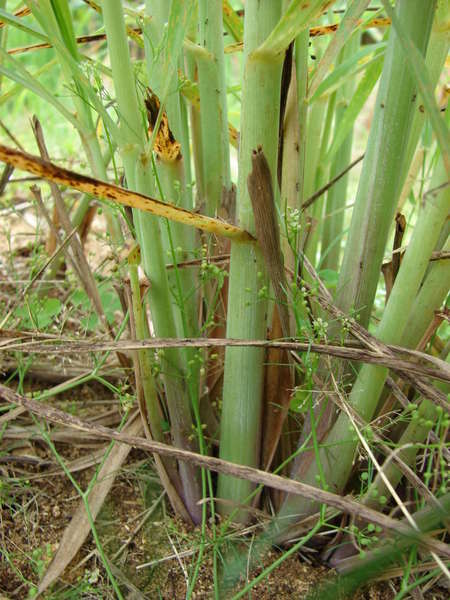 Lemongrass Plant, photo ©
Forest & Kim Starr
,
CC BY 3.0
.
Lemongrass
, sometimes written
lemon grass
is a genus (
Cymbopogon sp.
) of species of
grass
used as an herb. Native to
India
, lemongrass is widely grown throughout south and southeast Asia, the middle east, and central America. Lemongrass has a strong aroma resembling lemon.
Lemongrass has an aroma closely resembling that of lemons, as well as other lemon-scented herbs such as
lemon balm
,
lemon verbena
, and
lemon myrtle
. Although none of these plants are closely related to lemongrass, they contain many of the same chemical constituents, including citral, citronellol and geraniol.
As a dried herb, lemongrass is a common ingredient in herbal teas and is also sometimes blended with true teas. It can be blended with green or black tea to produce a lemony aroma without adding the sourness resulting from adding lemon juice. As a fresh herb, it is also used in cooking, especially in Thai, Vietnamese, and Malaysian cuisine.
Health Benefits & Medicinal Uses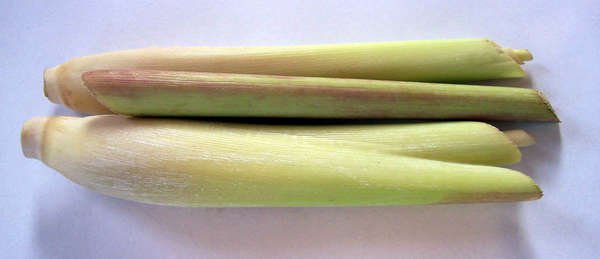 Lemongrass stalks ready for use in cooking. Before use in herbal teas or blending with tea, the stems are usually further cut up and dried. Public domain photo.
There is significant evidence pointing to anti-cancer, antiviral, and antifungal activity of the essential oil of lemongrass. There is also some evidence of analgesic (pain-relieving) effects. However, as with many herbal teas, human studies of the health effects of lemongrass are sparse. It remains uncertain the degree to which these benefits carry through to tea drinkers.
A mixture of chemicals, called
citral
, found in lemongrass as well as lemon balm, lemon verbena, and also lemon and other citrus fruit, was found to induce cell death in cancer cells, leading people to consume lemongrass tea as a treatment for cancer.[1] In vitro experiments have found the essential oil of lemongrass was shown to have strong antiviral activity, both against human viruses[2] and plant viruses such as tobacco mosaic virus.[3] In vitro studies have also found significant antifungal activity.[4]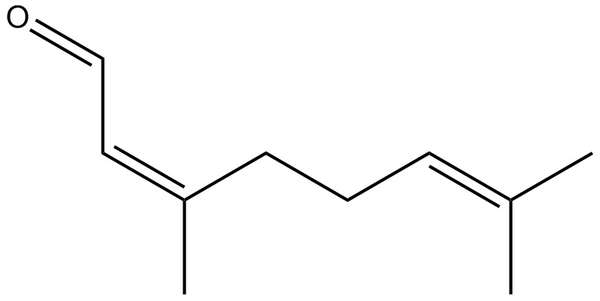 Neral Molecule or Citral-B, the Z-Isomer of Citral by Manderson198, English Wikipedia, Public Domain.
One study on rats found an infusion of lemongrass leaves to have analgesic (pain-killing) properties due to the chemical
myrcene
; this chemical was found to act by a mechanism different from that of aspirin-like drugs.[5]
As many of the active ingredients in lemongrass are shared in common among other lemon-scented herbs, it is likely that the health benefits of lemongrass overlap somewhat with these other herbs.
References:
1. Allison Kaplan Sommer, Fresh lemon grass fields in Israel become mecca for cancer patients, Israel 21c, Apr. 02, 2006.
2. M. Minami et. al., The inhibitory effect of essential oils on herpes simplex virus type-1 replication in vitro., Microbiology and immunology., Vol. 47, No. 9, 2003, pp.681-4.
3. M.P. Pandey et. al., Antiviral effect of the essential oils from lemon grass (Cymbopogon flexuosus ), mentha (Mentha arvensis ) and vetiver (Vetiveria zizanoides ) (Unable to find current link), csa.com, 1988.
4. Cristiane de Bona da Silva et. al., Antifungal activity of the lemongrass oil and citral against Candida spp., Brazilian Journal of Infectious Diseases, Vol. 12, No. 1, Feb. 2008.
5. Berenice B. Lorenzetti et. al., Myrcene mimics the peripheral analgesic activity of lemongrass tea, Journal of Ethnopharmacology, Vol. 34, No. 1, Aug. 1991, pp. 43-48.
Further Reading:
↑Recent Lemongrass Reviews — RSS
83 / 100

Another tea I was a bit apprehensive about, I love lemongrass in food and I can kinda tolerate it in tea blends when I feel it belongs (no idea, but for a while it seemed that lemongrass was in everything, drove me crazy) but just straight lemongrass as a tea, never had it! Giving the bag a sniff I was pleased, I love ...
Read Full Review
50 / 100

subtle lemongrass smell...VERY light flavor....would probably need 3 bags to get as strong as I like...but the flavor is good and pure of lemongrass...doesn't seem to have any off flavors...just wish it was stronger x2
Read Full Review
80 / 100

Lemongrass is lemongrass, and the difference- between various lemongrasses (for tea) that I've tried have been very subtle. That said, this is without a doubt the best lemongrass I've ever tried.

This isn't the most lemony version of this herb that I've had, but it has a smoothness that is hard to find. Lemongrass...
Read Full Review
70 / 100

It wasn't too strong and had a pleasant taste, almost sweet, but not too much.
Read Full Review
67 / 100

Tastes...like lemongrass. There's a fair amount of astringency, which I could do without, but the aroma is wonderful and very strong. I've never had straight lemongrass tea before, although I've enjoyed it when it has been an ingredient in other teas, so it's hard to know what to compare this to...but I like it!

T...
Read Full Review
↑Top Reviewers
Review 2 teas to get on this list!
Advertisement
↑Most-Rated Lemongrass

2 Ratings

2 Ratings

1 Rating
↑Top-Rated Lemongrass
We need at least 3 ratings for a tea to calculate a percentile ranking. You can help us out by rating more teas of this style.