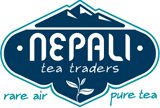 Most Reviewed By:
No one has reviewed any teas from this company yet!
Search Nepali Tea Traders's teas:
Nepali Tea Traders
Web: www.nepaliteatraders.com
Last Updated: Apr. 7, 2014
Nepali Tea Traders is a tea company, based in Colorado and founded by Maggie Le Beau, which specializes in single-estate artisan teas from Nepal. The mission of the company is to help the people of Nepal through the tea industry, promoting both environmental and economic sustainability.

Nepali Tea Traders carries some unusual offerings which are rarely available among Nepalese tea selections in the West, including green teas, oolong, white-tea, and "Pu-erh"-style teas (hei cha or dark teas) produced in Nepal.
Teas From Nepali Tea Traders
The following is a complete listing of the 4 teas from Nepali Tea Traders in our database.
If you want to review a tea not listed, you can add a new tea.
You can also add a new tea. Please search or browse this company's teas first, to avoid adding duplicates.