Dark Tea
Wikipedia: Fermented_tea
Last Updated: Jul. 19, 2017
↑About Dark Tea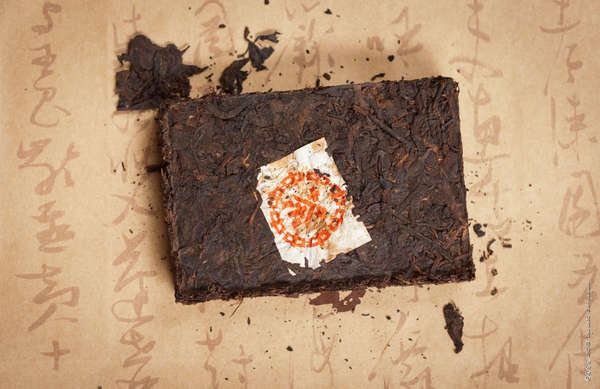 Dark tea is often compressed into bricks or other shapes. Photo ©
Ignat Gorazd
,
CC BY-SA 2.0
.
Dark tea
, also called
post-fermented tea
, is tea that has undergone microbial fermentation. In Chinese, dark tea is referred to as
hēichá
(黑茶), literally meaning "black tea", which is distinct from what is referred to as black tea in English, which is called hongcha or "red tea" in Chinese.
Although there are many types of Dark tea originating in China, the most well-known type,
Pu-erh
, makes up the overwhelming majority of the production. Dark teas other than Pu-erh remain esoteric and not widely available in the West.
Outside of Pu-erh, which is produced in
Yunnan
province, dark tea is produced in
Hunan
and
Guangxi
provinces. You can use our search and browse features to locate and list
Hunan dark teas
or
Guangxi dark teas
in our database.
Dark tea and health
Dark teas are sometimes touted for probiotic effects, because they contain active bacterial and mold cultures. Extensive research has been carried out on Pu-erh tea specifically. There is little research studying dark tea as a broader category and seeing whether or not the research on Pu-erh generalizes to other dark teas or whether there are any differences in their health effects.
↑Recent Dark Tea Reviews — RSS
80 / 100

The smell reminds me of a more "pure" version of the hazelberry pu erh tea from Adagio, and is very "woodsy" But with a more mineral of rocky taste, it is a very good value too, especially for a tea from almost 10 years ago.
Read Full Review
69 / 100

This is my first unflavored puerh, so I don't have anything to compare it to. Mine was aged for 3 years so it might be slightly different from the normal version, but probably not that much. I had to air it out for a week to get rid of the smell of fish. Once that went away, the aroma of the dry leaves became earthy in...
Read Full Review
70 / 100

Temperature: 100ºC
Amount of tea: 8g
Amount of water: 110ml
Brewing times: 5-10s rinse, 15s, 15s...

My first experience with this tea wasn't good. The taste was off and the effect it had on me was bad. I notified the seller I bought it from and got a replacement. While the experience with the replacement was bet...
Read Full Review
95 / 100

If you could brew the experience of sitting in a lush pine forest after a light rain, with a distant, vague scent of wood fire smoke on the air, this would be it. This tea has a clean, dark, wet earth note that underlies a pine note with an almost menthol-like quality to it, and a touch of smoke that comes in at times....
Read Full Review
78 / 100

Okay, third time's a charm... Finally, I got something more drinkable out of this one! In the end, it actually reminded me quite a bit of TeaVivre's organic gunpowder green tea, with its smoky, almost pepper-like flavor. Here are the measurements that worked for me:

Temperature: 100ºC
Water: 110ml
Instrument: gai...
Read Full Review
↑Top Reviewers
Review 5 teas to get on this list!
Advertisement
↑Most-Rated Dark Tea
↑Top-Rated Dark Tea
↑Varieties, Kinds, or Types of Dark Tea