Dark Tea
Wikipedia: Fermented_tea
Last Updated: Nov. 27, 2018
↑About Dark Tea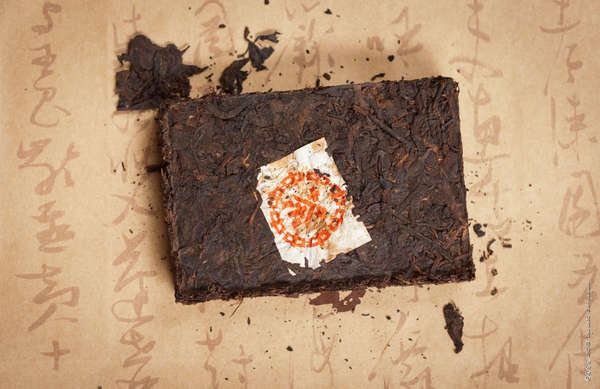 Dark tea is often compressed into bricks or other shapes. Photo ©
Ignat Gorazd
,
CC BY-SA 2.0
.
Dark tea
, also called
post-fermented tea
, is tea that has undergone microbial fermentation. In Chinese, dark tea is referred to as
hēichá
(黑茶), literally meaning "black tea", which is distinct from what is referred to as black tea in English, which is called hongcha or "red tea" in Chinese.
Although there are many types of Dark tea originating in China, the most well-known type,
Pu-erh
, makes up the overwhelming majority of the production. Dark teas other than Pu-erh remain esoteric and not widely available in the West.
Outside of Pu-erh, which is produced in
Yunnan
province, dark tea is produced in
Hunan
and
Guangxi
provinces. You can use our search and browse features to locate and list
Hunan dark teas
or
Guangxi dark teas
in our database.
In Japan,
bancha
, a green tea, can be processed using a fermentation step, producing Batabatacha. We classify atabancha as a dark tea as well.
Dark tea and health
Dark teas are sometimes touted for probiotic effects, because they contain active bacterial and mold cultures. Extensive research has been carried out on Pu-erh tea specifically. There is little research studying dark tea as a broader category and seeing whether or not the research on Pu-erh generalizes to other dark teas or whether there are any differences in their health effects.
↑Recent Dark Tea Reviews — RSS
75 / 100

This is definitely a young sheng (raw) pu-erh and that's really about all I know about this tea. I'd yet to try sheng pu-erh (young or old), so when I saw it in an Asian, mom-and-pop grocery for $4, I had to try it. There's no date anywhere on the package, so I've no idea what year it's from, but it can't be very old b...
Read Full Review
85 / 100

I'm not sure how others determine their point ratings for tea, but for me, an 85 is an above-average everyday tea. At first, when I tried this, I didn't like it. Something about the notes just didn't appeal to me. It took getting more used to rougher, young raw pu-erh for me to really start to appreciate this one. It ...
Read Full Review
82 / 100

When the holidays came around (and the holiday sales) and I was treating myself to one of the more expensive cakes, I picked this one out of all of those available on TeaVivre. The reason that I picked this one was that it's drinkable now, it tastes like it has potential for the future (not all currently drinkable cake...
Read Full Review
80 / 100

I'd rate this one pretty high, but most of the flavor is in the breath, not in the taste itself. I think it's a matter of personal preference as to whether one prefers one, the other, or both. I prefer both because it gives more of a rounded experience. This just doesn't have enough in the taste to appeal to me. There ...
Read Full Review
42 / 100
I'm rewriting this review because I just gave the Dog Year tea another try and I was happier with it this time. Months ago, it was too smoky and unpalatable. It tasted nothing like the Monkey Year tea. But, after time, it's evolved. I had a sample and for part of the past few months, it was in the sample pouch. I event...
Read Full Review
↑Top Reviewers
Review 6 teas to get on this list!
Advertisement
↑Most-Rated Dark Tea
↑Top-Rated Dark Tea
↑Varieties, Kinds, or Types of Dark Tea