Dark Tea
Wikipedia: Fermented_tea
Last Updated: Jul. 19, 2017
↑About Dark Tea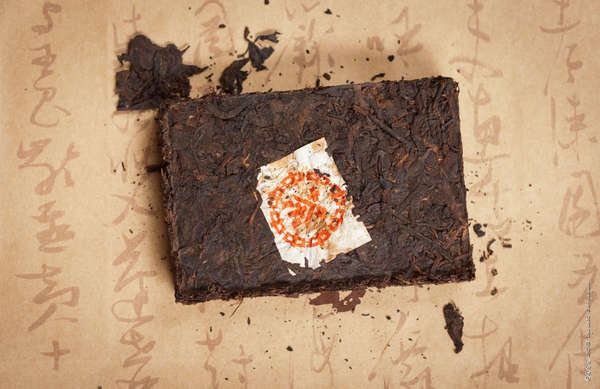 Dark tea is often compressed into bricks or other shapes. Photo ©
Ignat Gorazd
,
CC BY-SA 2.0
.
Dark tea
, also called
post-fermented tea
, is tea that has undergone microbial fermentation. In Chinese, dark tea is referred to as
hēichá
(黑茶), literally meaning "black tea", which is distinct from what is referred to as black tea in English, which is called hongcha or "red tea" in Chinese.
Although there are many types of Dark tea originating in China, the most well-known type,
Pu-erh
, makes up the overwhelming majority of the production. Dark teas other than Pu-erh remain esoteric and not widely available in the West.
Outside of Pu-erh, which is produced in
Yunnan
province, dark tea is produced in
Hunan
and
Guangxi
provinces. You can use our search and browse features to locate and list
Hunan dark teas
or
Guangxi dark teas
in our database.
Dark tea and health
Dark teas are sometimes touted for probiotic effects, because they contain active bacterial and mold cultures. Extensive research has been carried out on Pu-erh tea specifically. There is little research studying dark tea as a broader category and seeing whether or not the research on Pu-erh generalizes to other dark teas or whether there are any differences in their health effects.
↑Recent Dark Tea Reviews — RSS
82 / 100

The dry leaves still have a little wet pile odor, but fortunately, this doesn't make it into the cup. I mostly taste wood and earthy flavors. My preference with shou is for sweeter notes of cherry, dried fruit, chocolate, vanilla, etc. I'll let this air out for a few weeks and see if it changes, but it's pretty mediocr...
Read Full Review
76 / 100

I'll be surprised if I ever give more than 3 stars for aroma in a ripe puerh review. They all smell the same to me, excluding the odors of too fresh, poorly made, or improperly stored examples. The taste, though, is something else. Each one tastes noticably different in both subtle and obvious ways. What they all seem ...
Read Full Review
78 / 100

At first, this mostly smells and tastes like generic ripe pu-erh: wood, leaves, earth. It's sweet and syrupy, but the interesting flavors aren't immediately obvious. It does have subtle, non-generic-shou flavors that can be brought out depending on how you brew, though: caramel, cherry cola, dried fruit. Typical gaiwan...
Read Full Review
86 / 100

While the dry leaves have a rather muted scent, the wet leaves and brewed tea both have an amazingly sweet aroma, like if flowers were candy. Like the Daily Drinker, this is on the mellow side, but this one can be pushed further if you can tolerate bitterness. Brewed normally, the first couple steeps are grassy and veg...
Read Full Review
77 / 100

This tea has a wonderfully bright, fresh, floral fragrance, and a light bittersweet (more sweet than bitter) taste. It's moderately astringent, so be careful with brew times. As the name suggests, this won't be the greatest tea you've ever tasted; it's called Daily Drinker for a reason. It is quite good for the price, ...
Read Full Review
↑Top Reviewers
Review 6 teas to get on this list!
Advertisement
↑Most-Rated Dark Tea
↑Top-Rated Dark Tea
↑Varieties, Kinds, or Types of Dark Tea