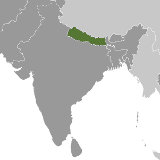 Most Reviewed By:

Nepal
Wikipedia: Nepal | Official Government Website: www.nepalgov.gov.np
Updated: Dec. 31, 2014
About Nepal
Nepal
is a country which is a small but important producer of tea, ranking 19th (0.34%) in world production in 2008.[1] Nepal has a diverse topography and climate relative to its small size. Mount Everest, the highest point on earth, is located in Nepal along the border with
China
; the country also contains low-lying areas with a warm subtropical climate.
The country is affected by the seasonal monsoon pattern affecting south and southeast Asia, and receives most of its precipitation in the warmest months. The climate zones in Nepal mostly run east-west, corresponding to altitude changes. There are thus climates suitable for growing tea across the entire east-west length of the country.
Although much of the country is suitable for growing tea, for historical reasons, most of the tea grown in Nepal is grown in the eastern regions of Dhankuta, Illam, Jhapa, Therathum, and Panchthar.[2] Nepal contains one of the highest tea estates in the world, Meghma estate, located at an elevation of 7000 feet [3], although an old source claimed that India has an estate near Ooty (Ootacamund, in
Nilgiri
) at an elevation of 8000 feet.[4]
Darjeeling district
of
India
, and has a similar climate. Teas from this region are very similar to Darjeeling tea, both in terms of flavor and aroma, and in that they are harvested and classified according to the same system of flushes (first flush, second flush, autumnal flush, etc.). The production of teas in this region has been directly influenced by the culture and practices of tea production in neighboring Darjeeling.
Like India, Nepal produces mostly black tea, but in recent years, more oolong and green teas have started to be produced by some Nepalese tea estates.
Styles of Tea Produced in Nepal
This is a selection, not an exhaustive listing, of the styles of tea most commonly produced in Nepal.
Best Nepalese Teas
The notion of the "best" Nepalese teas is subjective, because different people have different tastes. We present the most often-rated and highest-rated teas produced in Nepal, and allow you to draw your own conclusions.