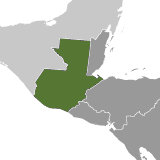 Most Reviewed By:

Guatemala
Wikipedia: Guatemala | Official Government Website: www.guatemala.gob.gt
Updated: Dec. 31, 2014
About Guatemala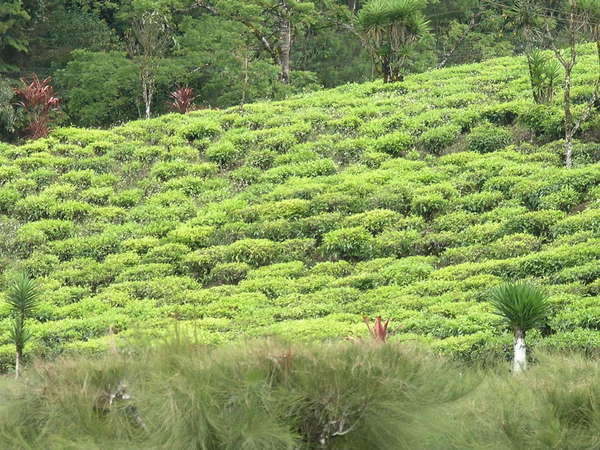 Tea Plantation in Guatemala, © Lowell Hendrix,
CC BY 2.0
.
Guatemala
is a small country in central America bordering Mexico, Belize, El Salvador, and Honduras.
Guatemala produces some herbs used in herbal teas, including
chamomile
(manzanilla in Spanish) and
lemongrass
. Guatemala is also a major coffee producer; coffee makes up the bulk of the country's agricultural exports.
In addition, Guatemala produces some tea, although the country is relatively unimportant in the global market; in 2008 it was estimated as being the 39th largest tea-producing country, producing about 0.01% of total world production.[1] Much of the tea produced in Guatemala is sold locally, and tea from this region has only become available in the United States recently.
Los Andes estate
in Guatemala doubles as a commercial garden and nature preserve, growing organic tea and other crops on the slopes of volcanic mountains, on a preserve in which 60% of the land is left as original cloud forest.[2] Another commercial operation is the Chirrepec Tea Cooperative, located in Coban.
Geography and Climate
Guatemala has a mostly humid, tropical climate, although the mountains, through the rain shadow effect, create some semi-arid regions in the interior of the country. Precipitation is strongly seasonal, following the pattern of the North American monsoon in much of the country, with heavy rainfall in the summer months, and some regions having a few months without any rain. Guatemala is far enough into the tropics that seasonal temperature changes are small.
Economic Factors in Tea Production
Although Guatemala's climate is well-suited for growing tea, the cost of production of black tea in Guatemala in 2002 was roughly 3.5 times greater than that in other regions such as India, Sri Lanka, and Africa, which explains the low volume of production.[3]
Coffee production is also more lucrative here, making it the crop of choice.
Styles of Tea Produced in Guatemala
This is a selection, not an exhaustive listing, of the styles of tea most commonly produced in Guatemala.
Best Guatemalan Teas
The notion of the "best" Guatemalan teas is subjective, because different people have different tastes. We present the most often-rated and highest-rated teas produced in Guatemala, and allow you to draw your own conclusions.
Most Often-Rated Teas

87
3 Ratings
Top-Rated Guatemalan Teas

87
3 Ratings