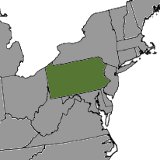 Most Reviewed By:

Pennsylvania, United States
Wikipedia: Pennsylvania | Official Government Website: www.pa.gov
Updated: Apr. 10, 2012
About Pennsylvania, United States
Pennsylvania
, meaning
Penn's woods
(named after William Penn) is a large state in the eastern United States. Located inland, most of Pennsylvania is covered in forested mountains. The climate ranges from the colder zone of a subtropical climate in the southeast of the state to a continental climate in the west of the state. Precipitation averages are relatively constant throughout the year, and only small variation across the state, although with great variability from one year to another.
Pennsylvania is too cold to grow the tea plant commercially, but, with care, the tea plant can be grown as a garden specimen in sheltered areas in the warmest parts of the state. The state is ideal for growing a large number of herbs native to temperate climates, such as mint. The state has ample rainfall, and the flatter areas, especially in the southeast of the state, have fertile soils which make gardening and agriculture easy for nutrient-loving crops.
Although few herbs grown in Pennsylvania are commercially available on the global or national market, local farm stands and farmer's markets sometimes sell herbs produced locally in Pennsylvania.
Styles of Tea Produced in Pennsylvania, United States
This is a selection, not an exhaustive listing, of the styles of tea most commonly produced in Pennsylvania, United States.
Best Teas
The notion of the "best" teas is subjective, because different people have different tastes. We present the most often-rated and highest-rated teas produced in Pennsylvania, United States, and allow you to draw your own conclusions.
Most Often-Rated Teas

1 Rating
Top-Rated Teas
We need at least 3 ratings for a tea to calculate a percentile ranking. You can help us out by rating more teas of this style.