Lemon Verbena
Wikipedia: Aloysia_citrodora
Last Updated: Aug. 26, 2013
↑About Lemon Verbena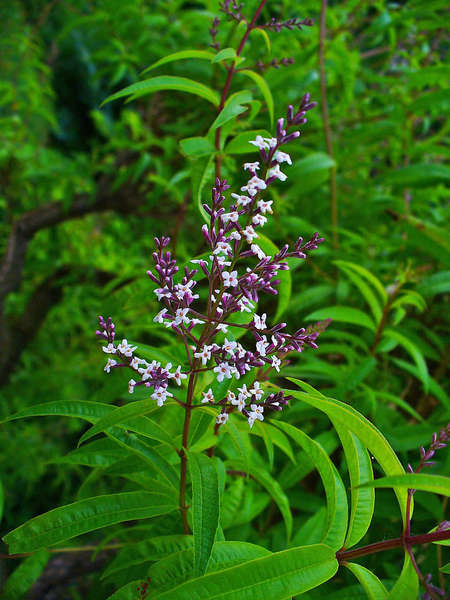 Lemon verbena plant in bloom. Photo © H. Zell (Wikimedia Commons),
CC BY-SA 3.0
.
>
Lemon verbena
(
Aloysia triphylla
) is a plant with a strong lemon scent, similar to
lemon balm
,
lemongrass
, and
lemon myrtle
. Not closely related to lemongrass and lemon myrtle, it is only a distant relative of lemon balm, both being in different families in the order
Lamiales
.
Lemon verbena is the most well-known of the verbenas, a family which includes a number of plants which mimic the aromas of various other plants, such as pineapple verbena (
Nashia inaguensis
), or Bushy Lippia (
Lippia alba
), a verbena native to Texas with many of the same chemical components of lemon verbena. Other verbenas are also used in herbal teas.
Lemon verbena is frequently consumed as a tea on its own, and also blended as an ingredient in other teas, sometimes together with lemon balm and/or lemongrass. Although its aroma is in many respects similar to lemon balm and lemongrass, it nevertheless has its own distinct qualities. Lemon verbena, and other verbenas, in addition to their uses in tea, are also used to flavor a liqueur called
verveine
; because of this, teas sometimes reference the presence of verbena with the name "verveine".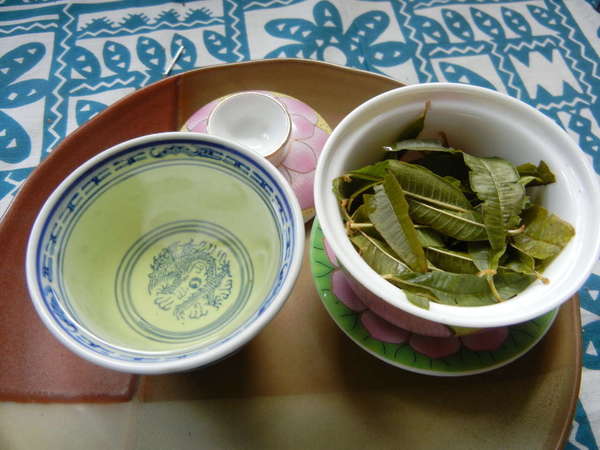 Whole-leaf lemon verbena after steeping in a gaiwan, and the infusion it produces. Photo © Alex Zorach,
CC BY-SA 4.0
.
Most lemon verbena is sold in broken-leaf form, but whole-leaf lemon verbena is sometimes commercially available. Lemon verbena is easy to grow in temperate climates, and can also be used to brew a fresh herbal tea, without drying the herb.
Health benefits & chemical constituents
Lemon verbena is commonly used in Brazilian herbal medicine.[1] It has been found to inhibit the growth of
Candida albicans
, a type of yeast that can sometimes cause infections in humans.[1,2] It also was found to inhibit the growth of several potentially harmful species of bacteria.[2]
One study found the three main chemical constituents to be geranial, nerol, and limonene.[2] These chemicals occur in lemongrass, lemon balm, and in lemons, although in very different proportions, which explains the similar but distinct aromas. The chemical citral, present in all three plants, has shown some promise for its potential to kill cancer cells.[3]
References:
1. Anti-Candida activity of Brazilian medicinal plants, Journal of Ethnopharmacology, Vol. 97, No. 2, pp.305-311, Feb. 28, 2005.
2. Composition and antimicrobial activity of essential oils from aromatic plants used in Brazil, Brazilian Journal of Microbiology, Vol.35, No.4, Oct./Dec. 2004.
3. Allison Kaplan Sommer, Fresh lemon grass fields in Israel become mecca for cancer patients, Israel 21c, Apr. 02, 2006.
↑Recent Lemon Verbena Reviews — RSS
73 / 100

Used about 2 tsp for my small pot..smell is like lemongrass..good and solid..the flavor has a strong mouthfeel...it covers the tongue... unique..finishes with a light sweetness that is pleasant. Very nice tea! :)
Read Full Review
67 / 100

I like lemon verbena very much, and I find it a pleasant change of pace from other lemon-scented herbal teas. This batch was unusually bold in flavor, but its aroma was similar to other lemon verbena: lemony without being overwhelmingly so.

Aroma suggests lemon, gingerbread, and is also mildly vegetal and herbaceou...
Read Full Review
67 / 100

I love lemon verbena...this was pleasant, but pales in comparison to the whole-leaf herb or even broken-leaf variants.

Moderately lemony, light-bodied for lemon verbena. Flavor mild, pleasing. Dusty finish.

Not as smooth as the whole-leaf herb I've brewed, but not as astringent as some finely-broken herbs that ...
Read Full Review
77 / 100

It's very smooth on the tongue and not overwhelmingly lemon flavored. Two thumbs up!
Read Full Review
100 / 100

Wow. And I thought I'd tried lemon verbena before. This is the first herbal tea that I've given a perfect rating, and only my second perfect rating.

This whole-leaf lemon verbena from the ANC Farm is better than anything I've tried fresh or dried. This is to lemon verbena what a high grade Jade Oolong or Tie Guan...
Read Full Review
↑Top Reviewers
Review 2 teas to get on this list!
Advertisement
↑Most-Rated Lemon Verbena

77
3 Ratings

1 Rating

1 Rating

1 Rating
↑Top-Rated Lemon Verbena

77
3 Ratings