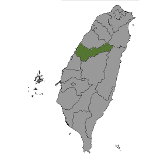 Most Reviewed By:

Taichung, Taiwan
Wikipedia: Taichung_City
Updated: Aug. 30, 2013
About Taichung, Taiwan
Taichung
(嘉義) is a county in
Taiwan
. Taichung stretches mostly east-west, in a narrow band reaching from the west coast, well over halfway across Taiwan. It shares a long border with
Nantou
to the south.
In December of 2010, Taichung county merged with
Taichung City
, the largest city in the county, to form a single unit of governance. The tea world has still been referring to the region as Taichung county.
The eastern part of Taichung county is home to
Li Shan
(梨山), or pear mountain. The Li Shan region produces Li Shan Oolong, a high mountain oolong. This tea is distinct from Alishan Oolong, which is produced at
Ali Shan
, in
Chiayi county
, a county farther south that does not border Taichung.
Styles of Tea Produced in Taichung, Taiwan
This is a selection, not an exhaustive listing, of the styles of tea most commonly produced in Taichung, Taiwan.
Best Taichung Teas
The notion of the "best" Taichung teas is subjective, because different people have different tastes. We present the most often-rated and highest-rated teas produced in Taichung, Taiwan, and allow you to draw your own conclusions.
Most Often-Rated Teas

57
5 Ratings
Top-Rated Taichung Teas

57
5 Ratings