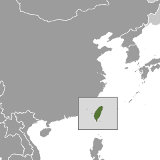 Most Reviewed By:

Taiwan / Formosa
Wikipedia: Taiwan
Updated: Oct. 29, 2017
About Taiwan / Formosa
Taiwan
, often known in tea circles as
Formosa
, is an important producer of teas, especially
oolong teas
. Taiwan is governed by the Republic of China, Zhonghua Minguo(中華民國), the government that fled mainland
China
following the Chinese civil war.
Taiwan does not produce a very high volume of tea, but its teas are well-represented in specialty tea stores and are well-known among tea connoisseurs. The vast majority of tea produced in Taiwan is consumed in Taiwan. Taiwan has a strong tea culture, and the Taiwanese tea market is considered highly demanding; Taiwan imports some of the highest-quality oolong teas from other countries.
Compared to mainland China, Taiwan has a relatively short history of tea cultivation, starting in the mid-19th century. Although Taiwan does produce green, black, and white teas, it is most famous for the production of oolongs and
pouchong
teas, and is the origin of many well-known oolongs, including Tung Ting (Dong Ding), and Alishan oolong.
Geography and climate
As Taiwan lies on the northern border of the tropics, the climate has a well-defined cooler winter and hotter summer, with the seasons more pronounced farther north, farther inland, and at higher elevations. Total rainfall and humidity is high everywhere in Taiwan, but, echoing the overall pattern of the Asian monsoon, the summer months have heavier rainfall and the winter months are drier. Higher elevations, where much of the tea is grown, have cooler winters and more variable temperatures, and much higher total rainfall.
Tea-Producing Regions of Taiwan / Formosa
Styles of Tea Produced in Taiwan / Formosa
This is a selection, not an exhaustive listing, of the styles of tea most commonly produced in Taiwan / Formosa.
Best Taiwanese Teas
The notion of the "best" Taiwanese teas is subjective, because different people have different tastes. We present the most often-rated and highest-rated teas produced in Taiwan / Formosa, and allow you to draw your own conclusions.