A Darjeeling Oolong from Fresh Darjeeling Tea
This tea has been retired/discontinued.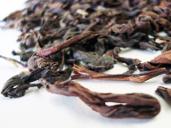 Member since Mar, 2011

✓ 215 teas reviewed
✓ 2 of Darjeeling Oolong
✓ 7 of Oolong Tea
✓ 1 of Fresh Darjeeling Tea
✓ 15 from Darjeeling, India
✓ 36 from India
December 3rd, 2011
Aroma
Flavor
Value
Total
8

of 10

3

of 5

3

of 5

67

of

100

Excellent
Fair

Reasonable
I don't know how to describe this tea. It tastes a little bit fruity, kind of peach-like maybe. It has a sort of smoky aroma. I don't think it's quite my cup of tea. It's a little too weird.
Login or Sign Up to comment on this review.