A Darjeeling Oolong from Fresh Darjeeling Tea -

Organic
This tea has been retired/discontinued.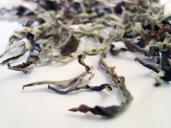 Member since Sep, 2009

✓ 1448 teas reviewed
✓ 6 of Darjeeling Oolong
✓ 143 of Oolong Tea
✓ 3 of Fresh Darjeeling Tea
✓ 78 from Darjeeling, India
✓ 206 from India
December 29th, 2009
Aroma
Flavor
Value
Total
9

of 10

5

of 5

4

of 5

83

of

100

Superb
Excellent

Good Value
This tea is unlike any other I have tried!

Cup is very light in color, and aroma very vegetal and somewhat floral, with a clean, honey-like fragrance. Tones of asparagus and spice. Certain aspects of the aroma are reminiscent of a Tung Ting, but overall the tea is crisper, cooler in quality, more bitter, and less sweet. Thin-bodied overall, but this is more than made up for by the rich, complex, and unique aroma. Until trying this tea, I had been disappointed with Darjeeling oolongs...although not as full-bodied as Chinese or Taiwanese oolongs, this tea has definitely convinced me that Darjeeling can produce serious and high-quality oolongs.

I experimented a bit with the brewing. I found a single infusion of five minutes produced the results I liked best--this tea acquires a bitterness but it is a pleasant one. Be sure to use enough leaf--the leaves take up a lot of space. People desiring a more delicate tea might enjoy multiple briefer infusions.
Login or Sign Up to comment on this review.