A Darjeeling Oolong from Fresh Darjeeling Tea
This tea has been retired/discontinued.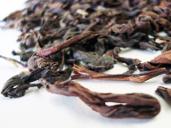 Member since Sep, 2009

✓ 1447 teas reviewed
✓ 6 of Darjeeling Oolong
✓ 143 of Oolong Tea
✓ 3 of Fresh Darjeeling Tea
✓ 78 from Darjeeling, India
✓ 206 from India
December 30th, 2009
Aroma
Flavor
Value
Total
6

of 10

5

of 5

5

of 5

67

of

100

Good
Excellent

Outstanding
Like the other teas I've tried from Fresh Darjeeling Tea, this tea is completely unlike anything I've ever tried! It is also the only Darjeeling oolong I've had that is rich and full-bodied.

Brews a dark color, darker than some Darjeelings I've seen classified as "black" teas. Malty, with a savory quality to it, and a faint hint of smokiness. Gentle flavor, with very little bitterness or astringency. Robust and full-bodied, but oddly, I find the cup gets lighter and fresher tasting as I drink it. A few vegetal tones emerge in the aroma.

I enjoyed this tea much more when making multiple brief infusions. If you steep it too long it can be a bit overwhelming even though it is not bitter. I like using a first infusion of one and a half minutes or less, and subsequent ones slightly longer. This tea retains an astonishing strength of aroma with each subsequent infusion, and thus offers outstanding value.

I can see this tea quickly becoming a favorite for people who enjoy teas with a savory quality.
Login or Sign Up to comment on this review.