A Darjeeling Autumnal Flush from Fresh Darjeeling Tea
This tea has been retired/discontinued.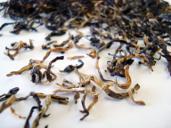 Member since Sep, 2009

✓ 1447 teas reviewed
✓ 8 of Darjeeling Autumnal Flush
✓ 66 of Darjeeling Black Tea
✓ 3 of Fresh Darjeeling Tea
✓ 78 from Darjeeling, India
✓ 206 from India
January 2nd, 2010
Aroma
Flavor
Value
Total
7

of 10

4

of 5

5

of 5

77

of

100

Very Good
Good

Outstanding
Like the other teas I've tried from Fresh Darjeeling tea, this is totally unlike any other black tea I've ever tried.

Aroma very complex...malty, and much more vegetal than most black teas, and with some savory qualities, a hint of smokiness. Reminds me of a tippy assam more than any other Darjeeling I've tried. I detected only a hint of fruitiness in the initial aroma, but none upon drinking the tea, in contrast to the commercial description. The flavor is smooth, with almost a hint of saltiness. Very rich and full-bodied.

Also, it seems fairly highly caffeinated!

I find this tea is less picky about how its brewed than the other teas from Fresh Darjeeling Tea. Briefer steepings, as recommended, bring out the vegetal aspect and result in a lighter cup. A single longer steeping results in a bolder cup...it depends what you prefer; I can't say I prefer one way to the other!

Very reasonable price, especially given the uniqueness, and that you don't need much leaf and it's good for multiple infusions.
Login or Sign Up to comment on this review.