Darjeeling Autumnal Flush
Last Updated: Mar. 18, 2014
↑About Darjeeling Autumnal Flush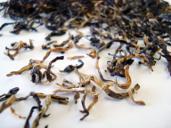 Tippy Autumnal Flush
Autumnal flush Darjeeling
, often just called
autumnal Darjeeling
,
Darjeeling Autumnal Flush
, or less commonly,
third flush
, is
Darjeeling tea
that has been harvested after the autumn rainy season. It is often described as having a full-bodied and robust character, especially relative to the more delicate first and second flush teas, and tends to be darker in color, although it is lighter and more delicate than the monsoon/rains teas gathered between the second and autumnal flushes. The harvest dates of these teas are generally in October and November.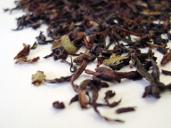 Autumnal Flush Darjeeling
Autumnal flush tends to have larger leaves than the teas from the first two flushes, although this difference can be slight relative to other teas, as most Darjeeling is still made out of small-leafed cultivars of the tea plant.
Compared to teas of a similar grade and from similar gardens, Darjeeling tea from the autumnal flush tends to be less expensive than
first
or
second flush
teas, but more so than monsoon or rains teas or blends of tea from different flushes. However, it is hard to generalize about either price or quality; autumnal flushes of higher grades or from certain estates often fetch higher prices than first- or second-flush teas from others.
↑Recent Autumnal Flush Reviews — RSS
80 / 100

This tea is subtly different from other Darjeelings. The leaf is big and looks more like a Wuyi oolong than anything from Darjeeling. The aroma is rich and deep, notes of caramel and malt, a hint of the characteristic fruity/floral/vegetal notes, more typical for an autumnal flush Darjeeling.

Upon pouring the wate...
Read Full Review
77 / 100

I liked this tea, but I would not describe it as "thunder"; it's too mellow. Following the rumbling sound analogy, it would be more like "a natural-gas-powered bus goes by", but I guess that doesn't sound quite as sexy.

Dry leaf has a strong aroma, mostly nutty, suggesting sweetness. The aroma suggests warmth.

...
Read Full Review
83 / 100

This was a dark, rich, smooth, and naturally sweet tea with a mysterious pungent aroma, which changed its character a lot resteeping.

Dry leaf is a fairly uniform brown, and has a strong and intriguing aroma, malty and suggesting sweetness, but very fresh and light.

As I pour the water, immediately a strong fruit...
Read Full Review
97 / 100

Wow. Udyan tea recently sent me some samples, and they are of impressive quality. This is the first sample I'm reviewing, and only the second tea I've ever tried from Castleton estate. It got my attention immediately as a top-quality tea.

The dry leaf of this tea is explosively aromatic and the aroma is extraordin...
Read Full Review
80 / 100

This second-flush Darjeeling was very different from the other one from Jungpana estate, that I just tried from this same company. I prepared them the same ways. I didn't like this tea as much, but it was still good.

The dry leaf is not quite as intensely aromatic, but has a fascinating aroma with a fleeting winte...
Read Full Review
↑Top Reviewers
Review 2 teas to get on this list!
Advertisement
↑Most-Rated Autumnal Flush

1 Rating
↑Top-Rated Autumnal Flush
We need at least 3 ratings for a tea to calculate a percentile ranking. You can help us out by rating more teas of this style.