Darjeeling Autumnal Flush
Updated: Mar. 18, 2014
About Darjeeling Autumnal Flush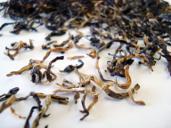 Tippy Autumnal Flush
Autumnal flush Darjeeling
, often just called
autumnal Darjeeling
,
Darjeeling Autumnal Flush
, or less commonly,
third flush
, is
Darjeeling tea
that has been harvested after the autumn rainy season. It is often described as having a full-bodied and robust character, especially relative to the more delicate first and second flush teas, and tends to be darker in color, although it is lighter and more delicate than the monsoon/rains teas gathered between the second and autumnal flushes. The harvest dates of these teas are generally in October and November.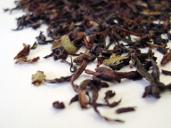 Autumnal Flush Darjeeling
Autumnal flush tends to have larger leaves than the teas from the first two flushes, although this difference can be slight relative to other teas, as most Darjeeling is still made out of small-leafed cultivars of the tea plant.
Compared to teas of a similar grade and from similar gardens, Darjeeling tea from the autumnal flush tends to be less expensive than
first
or
second flush
teas, but more so than monsoon or rains teas or blends of tea from different flushes. However, it is hard to generalize about either price or quality; autumnal flushes of higher grades or from certain estates often fetch higher prices than first- or second-flush teas from others.
Best Darjeeling Autumnal Flush
The notion of the "best" Darjeeling Autumnal Flush is subjective, because different people have different tastes. We present the most often-rated and highest-rated teas in this category, and allow you to draw your own conclusions.
Most Often-Rated Teas
Top-Rated Teas
We need at least 3 ratings for a tea to calculate a percentile ranking. You can help us out by rating more teas of this style.