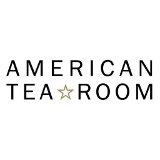 (866) 240-0600
Most Reviewed By:
No one has reviewed any teas from this company yet!
Search American Tea Room's teas:
American Tea Room





Web: www.americantearoom.com
Last Updated: Feb. 23, 2012
American Tea Room is a tea shop and online retailer of tea. American Tea Room was formerly called Le Palais Gourmet, and was started as a tea shop, located in Beverly Hills, CA. American Tea Room sells mostly loose teas, of which it has a wide variety, although it also has a small line of teabag teas packaged in high-quality pyramid bags. American Tea Room carries a large number of green and black teas, including flavored teas. They also carry rooibos and other caffeine-free herbal teas, and also have some white teas and a few oolong teas.

Their website, in addition to selling teas by mail-order, also sells teapots, teacups, and other tea-related accessories, including tea canisters for storage of loose tea.
Physical Locations
Teas From American Tea Room
The following is a selection of the 20 teas from American Tea Room in our database.
You can also add a new tea. Please search or browse this company's teas first, to avoid adding duplicates.