English Breakfast
Wikipedia: English_Breakfast_tea | Teaviews: english-breakfast
Last Updated: Mar. 13, 2014
↑About English Breakfast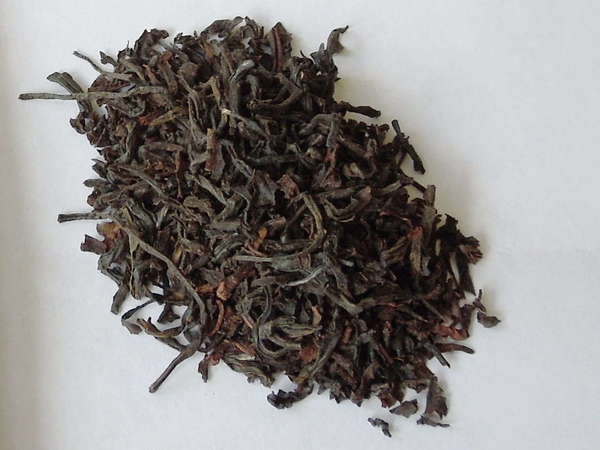 Loose-leaf English breakfast tea. This is a whole-leaf orthodox tea; English Breakfast blends can also consist of finely broken, mechanically processed CTC tea.
English Breakfast
is a style of
breakfast black tea
known for being robust and strong, such that it often goes well with milk and a large, hearty breakfast, although it tends to be less strong than
Irish Breakfast
.
English Breakfast typically combines black teas from different regions, and there is no formula defining which varieties of tea are used in it. Commonly
Assam
and
Ceylon
black teas are used, although Chinese black teas such as Keemun or Yunnan are sometimes used, as well as teas from Africa or Indonesia. A few English Breakfast teas are single-origin.
This style is defined more by its flavor and character than by the particular origin or production method of the tea. In England, this style of tea is the default style of tea and is usually what is referenced when people refer to "tea" without any other qualifiers.
There is great variety among English Breakfast teas. Some brands of tea clearly identify which varities are used in their English Breakfast blend, whereas others do not. RateTea classifies any tea as English Breakfast which is labeled or marketed as such, even if it could also be classified as another style of tea, such as Keemun or Assam.
↑Recent English Breakfast Reviews — RSS
63 / 100

The next entry from a Revolution variety pack delivered one of the strangest experiences I've had with a tea. Sniffing the dry bag (pyramid sachet) rendered an unmistakably familiar aroma that took me many tries to recall its specific origin. "Sniff, sniff, sniff...I know this...sniff, sniff, sniff...where have I sme...
Read Full Review
64 / 100

This arrived as a member of a sampler pack that I ordered, to try some Murchie's offerings not yet chugged.

While pleasant and reasonably robust, it still is probably the mildest black tea I've tried (loose or bagged) from Murchie's, which says more about the strength of their other teas than any glaring deficienc...
Read Full Review
90 / 100

This is an excellent breakfast tea. I find a bit of sugar and milk really brings out the mellowness.
Read Full Review
90 / 100

I really like this tea. It doesn't overpower with a single flavor, indicative of a good blend.
Read Full Review
56 / 100

The most notable aspect of the flavor is that it's tannic, although not overly so. Still, it lacks much else to recommend it. I'd rather it had a bit more citrus to balance it, but there's just not a lot to it.

This strikes me as a tea perhaps intended for coffee drinkers looking to switch it up. It's also mild en...
Read Full Review
↑Top Reviewers
Review 8 teas to get on this list!
Advertisement
↑Most-Rated English Breakfast

13
18 Ratings

55
12 Ratings

34
8 Ratings

16
7 Ratings

28
5 Ratings
↑Top-Rated English Breakfast

89
5 Ratings

61
3 Ratings

57
4 Ratings

55
12 Ratings