English Breakfast
Wikipedia: English_Breakfast_tea | Teaviews: english-breakfast
Last Updated: Mar. 13, 2014
↑About English Breakfast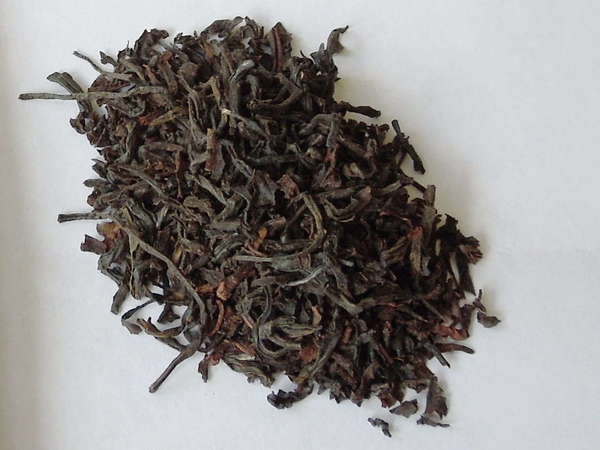 Loose-leaf English breakfast tea. This is a whole-leaf orthodox tea; English Breakfast blends can also consist of finely broken, mechanically processed CTC tea.
English Breakfast
is a style of
breakfast black tea
known for being robust and strong, such that it often goes well with milk and a large, hearty breakfast, although it tends to be less strong than
Irish Breakfast
.
English Breakfast typically combines black teas from different regions, and there is no formula defining which varieties of tea are used in it. Commonly
Assam
and
Ceylon
black teas are used, although Chinese black teas such as Keemun or Yunnan are sometimes used, as well as teas from Africa or Indonesia. A few English Breakfast teas are single-origin.
This style is defined more by its flavor and character than by the particular origin or production method of the tea. In England, this style of tea is the default style of tea and is usually what is referenced when people refer to "tea" without any other qualifiers.
There is great variety among English Breakfast teas. Some brands of tea clearly identify which varities are used in their English Breakfast blend, whereas others do not. RateTea classifies any tea as English Breakfast which is labeled or marketed as such, even if it could also be classified as another style of tea, such as Keemun or Assam.
↑Recent English Breakfast Reviews — RSS
69 / 100

One-litre pot at home, made from a mixture of leaves of various broken black teas. Pours clear dark brown (against white china) with no sediment. Clear aroma of leaves, with malty and slightly spicy touches. Bitter, leafy and malty flavour of black tea, most probably including some varieties of Assam and Ceylon. Astrin...
Read Full Review
63 / 100

Not great, but decent and tolerable: that's how I'll characterize this blend. In my relatively limited experience, many food-service black teas (including English Breakfasts) taste rather flat, hollow, sometimes excessively bitter, or often weak, as if they've either been allowed to sit out in the open for 20 years, ...
Read Full Review
65 / 100

When first opening the tin, the tea smells earthy and dusty, very much like an inexpensive Yunnan black tea. The leaves are quite large for loose leaf tea at this price, but there are more than a few twig fragments among the leaves. This also matches my experience with inexpensive Yunnan black tea.

While brewing, th...
Read Full Review
69 / 100

One-litre pot at home, made from a mixture of fine, curly dark brown leaves of Assam and Ceylon. Pours clear lightish copper brown (against white china) with no sediment. Clear, malty aroma of Assam, with milder, leafy notes of Ceylon. Bitter, leafy flavour with some malty notes. Astringent palate with a malty aftertas...
Read Full Review
90 / 100

I find it a bit weird, but I often like the taste of a good decaf better than the taste of the same regularly caffeinated drink. They can have a nice savory mouthfeel without bitterness.

This decaf is solid, especially for a teabag. For those expressly wanting a non-caffeinated bag tea, this is a strong choice!
Read Full Review
↑Top Reviewers
Review 9 teas to get on this list!
Advertisement
↑Most-Rated English Breakfast

12
20 Ratings

55
12 Ratings

34
8 Ratings

2
8 Ratings

2
6 Ratings
↑Top-Rated English Breakfast

89
5 Ratings

61
3 Ratings

57
4 Ratings

55
12 Ratings