English Breakfast
Wikipedia: English_Breakfast_tea | Teaviews: english-breakfast
Last Updated: Mar. 13, 2014
↑About English Breakfast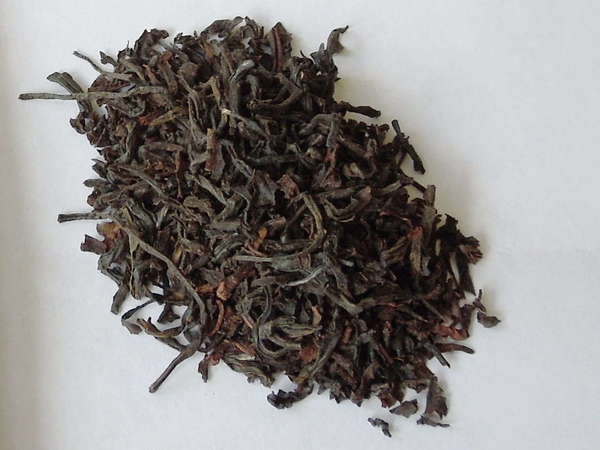 Loose-leaf English breakfast tea. This is a whole-leaf orthodox tea; English Breakfast blends can also consist of finely broken, mechanically processed CTC tea.
English Breakfast
is a style of
breakfast black tea
known for being robust and strong, such that it often goes well with milk and a large, hearty breakfast, although it tends to be less strong than
Irish Breakfast
.
English Breakfast typically combines black teas from different regions, and there is no formula defining which varieties of tea are used in it. Commonly
Assam
and
Ceylon
black teas are used, although Chinese black teas such as Keemun or Yunnan are sometimes used, as well as teas from Africa or Indonesia. A few English Breakfast teas are single-origin.
This style is defined more by its flavor and character than by the particular origin or production method of the tea. In England, this style of tea is the default style of tea and is usually what is referenced when people refer to "tea" without any other qualifiers.
There is great variety among English Breakfast teas. Some brands of tea clearly identify which varities are used in their English Breakfast blend, whereas others do not. RateTea classifies any tea as English Breakfast which is labeled or marketed as such, even if it could also be classified as another style of tea, such as Keemun or Assam.
↑Recent English Breakfast Reviews — RSS
69 / 100

For an English breakfast tea I think this one is pretty good! I'm picky about black teas in general because I don't like when they are too astringent or bitter. This tea isn't too astringent at all though! However it was a little bitter, but overall it tasted pretty decent. The aroma is good and mild and smells l...
Read Full Review
52 / 100

For a food-service tea, this seemed slightly above average...I've had worse, but wouldn't seek it out for home consumption. This is one that, if you spot it in a motel or (as I did) receive it as "hot tea" in a breakfast cafe off I-70 in Kansas, can be consumed safely and without obvious problems. I realize that's no...
Read Full Review
56 / 100

Like the others who reviewed this, I was surprised that it tastes nothing like the regular Twinings English Breakfast. I remember that tasting more woody and malty, with a bit of the usual Assam dried fruit note. This has some slightly tangy tropical fruit notes that make me think of Keemun, but it also has this weird ...
Read Full Review
70 / 100

I got a cup of this at a gas station, surprisingly. I think it's better than the average English Breakfast, though I'm comparing it to the common bagged English Breakfast blends like Twinings because I have never bought it loose leaf. It mostly tasted like Assam to me, with the hint of a bright honey flavor being the o...
Read Full Review
75 / 100

I like this tea! It's so good with a good helpin' of milk!! A good ole helpin'!!! And a little sugar. Tasty breakfast. Provided you're eating food with your breakfast. Overall, I'd say it's a distinctive black tea. Probably one of the most likeable tea's I can think of!
Read Full Review
↑Top Reviewers
Review 8 teas to get on this list!
Advertisement
↑Most-Rated English Breakfast

16
18 Ratings

21
11 Ratings

32
7 Ratings

28
7 Ratings

4
5 Ratings
↑Top-Rated English Breakfast

85
4 Ratings

50
3 Ratings

32
7 Ratings

32
4 Ratings

29
3 Ratings