English Breakfast
Wikipedia: English_Breakfast_tea | Teaviews: english-breakfast
Last Updated: Mar. 13, 2014
↑About English Breakfast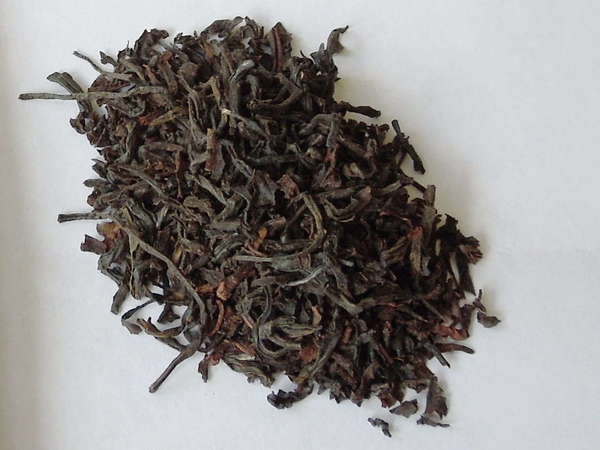 Loose-leaf English breakfast tea. This is a whole-leaf orthodox tea; English Breakfast blends can also consist of finely broken, mechanically processed CTC tea.
English Breakfast
is a style of
breakfast black tea
known for being robust and strong, such that it often goes well with milk and a large, hearty breakfast, although it tends to be less strong than
Irish Breakfast
.
English Breakfast typically combines black teas from different regions, and there is no formula defining which varieties of tea are used in it. Commonly
Assam
and
Ceylon
black teas are used, although Chinese black teas such as Keemun or Yunnan are sometimes used, as well as teas from Africa or Indonesia. A few English Breakfast teas are single-origin.
This style is defined more by its flavor and character than by the particular origin or production method of the tea. In England, this style of tea is the default style of tea and is usually what is referenced when people refer to "tea" without any other qualifiers.
There is great variety among English Breakfast teas. Some brands of tea clearly identify which varities are used in their English Breakfast blend, whereas others do not. RateTea classifies any tea as English Breakfast which is labeled or marketed as such, even if it could also be classified as another style of tea, such as Keemun or Assam.
↑Recent English Breakfast Reviews — RSS
68 / 100

After bringing this breakfast tea home from a conference, I tried it at dinnertime while eating a tub of cottage cheese. The tea brewed up very dark, quickly, such that a spoon disappeared from view below about the top two inches of liquid. This wasn't too surprising, considering how finely chopped the dry-bag leaves...
Read Full Review
76 / 100

"Devonshire" has one of the most full-bodied dry-bag aromas I've gotten from a breakfast tea, and unusually, it nearly matches the flavor for intensity. I detected virtually no difference between dry-bag scent, in-cup scent, and taste, the latter likewise being straightforwardly well-constructed within a nice, dark br...
Read Full Review
64 / 100

For a simple tea, this has to have the most convoluted backstory for any I've tried. First, the tea itself: it had remarkably weak dry-bag and wet-bag aromas for what seem to be a high-quality, single-estate tea, though in-cup, the smell was richer and fairly basic. The flavor wasn't particularly strong or bold, but ...
Read Full Review
90 / 100

Without beating around the bush, this is a really good Sri Lankan/Ceylon tea. This seems to be one of the few brands of bagged tea that selected Sri Lankan tea for its flavors rather than for simply being "mild". This tea is remarkably similar in flavor to Ahmad and Alwazah branded Ceylon teas that are available from M...
Read Full Review
69 / 100

For an English breakfast tea I think this one is pretty good! I'm picky about black teas in general because I don't like when they are too astringent or bitter. This tea isn't too astringent at all though! However it was a little bitter, but overall it tasted pretty decent. The aroma is good and mild and smells l...
Read Full Review
↑Top Reviewers
Review 8 teas to get on this list!
Advertisement
↑Most-Rated English Breakfast

61
18 Ratings

19
12 Ratings

69
7 Ratings

36
7 Ratings

66
5 Ratings
↑Top-Rated English Breakfast

96
4 Ratings

76
3 Ratings

69
7 Ratings

66
5 Ratings

64
4 Ratings