English Breakfast
Wikipedia: English_Breakfast_tea | Teaviews: english-breakfast
Last Updated: Mar. 13, 2014
↑About English Breakfast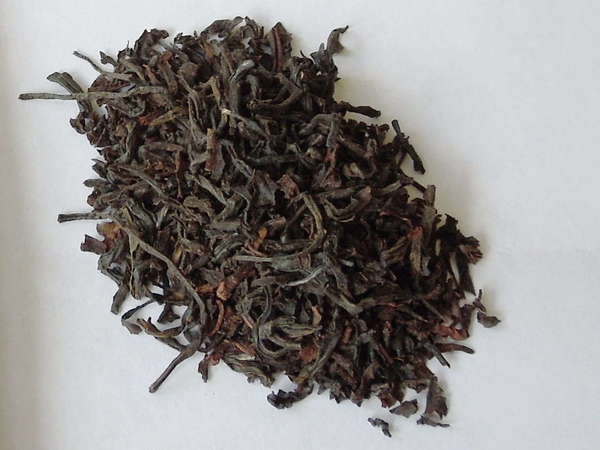 Loose-leaf English breakfast tea. This is a whole-leaf orthodox tea; English Breakfast blends can also consist of finely broken, mechanically processed CTC tea.
English Breakfast
is a style of
breakfast black tea
known for being robust and strong, such that it often goes well with milk and a large, hearty breakfast, although it tends to be less strong than
Irish Breakfast
.
English Breakfast typically combines black teas from different regions, and there is no formula defining which varieties of tea are used in it. Commonly
Assam
and
Ceylon
black teas are used, although Chinese black teas such as Keemun or Yunnan are sometimes used, as well as teas from Africa or Indonesia. A few English Breakfast teas are single-origin.
This style is defined more by its flavor and character than by the particular origin or production method of the tea. In England, this style of tea is the default style of tea and is usually what is referenced when people refer to "tea" without any other qualifiers.
There is great variety among English Breakfast teas. Some brands of tea clearly identify which varities are used in their English Breakfast blend, whereas others do not. RateTea classifies any tea as English Breakfast which is labeled or marketed as such, even if it could also be classified as another style of tea, such as Keemun or Assam.
↑Recent English Breakfast Reviews — RSS
73 / 100

Not bad, considering this is a teabag. It tastes like a basic but not bitter black tea, and I do notice some raisin-like notes as well. It'd be a good at-work tea.
Read Full Review
72 / 100

Each bag contains 2.5g of what looks like ground up CTC pellets. There's very little scent from the dry tea. It smells faintly woody, like a new newspaper.

This tea brews up dark. Before I've finished pouring the water, the tea is already darker than most black teas end up. By the time brewing's done, it's a deep br...
Read Full Review
55 / 100

Classic English Breakfast tea but I expected more from Twinings here. You aren't hit by this tea (like by Typhoo). I like a bit of a stronger note in taste. This one is unspectacular. I really tried to find something special in this tea but didn't find anything.
Read Full Review
55 / 100

A classic English breakfast tea. Not too strong, nothing extraordinary, no tea to disagree with. But no tea to get hooked on!
Read Full Review
51 / 100

Dry, this tea smells like a Lipton teabag, which is potentially promising. I've yet to find a decaffeinated black tea that actually tastes like tea.

After adding water, a hint of earthiness comes through. The dominant aroma is the same wet paper smell that I now realize is a hallmark of decaffeinated black tea. The ...
Read Full Review
↑Top Reviewers
Review 8 teas to get on this list!
Advertisement
↑Most-Rated English Breakfast

14
20 Ratings

55
12 Ratings

34
8 Ratings

2
8 Ratings

2
6 Ratings
↑Top-Rated English Breakfast

89
5 Ratings

61
3 Ratings

57
4 Ratings

55
12 Ratings