Flavored Black Tea
Last Updated: Mar. 13, 2015
↑About Flavored Black Tea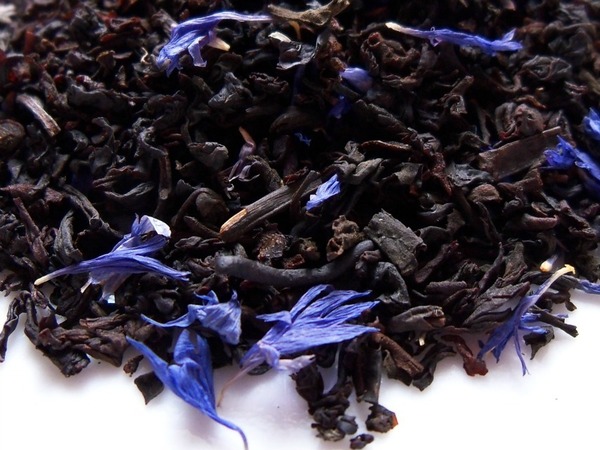 Earl Grey Creme, Loose-Leaf, from Art of Tea, Photo © A Girl With Tea,
CC BY 2.0
.
Flavored black tea
is
black tea
that has been blended, flavored, or scented with herbs, flowers, spices, or other ingredients. Because black tea is the default tea in most western countries, when people in the U.S. refer to flavored tea without specifying the type of tea, they often are talking about flavored black tea.
Virtually all countries that consume black tea have some traditions of blending or flavoring their tea. Flavored black tea blends are especially popular in Western tea cultures, especially in Great Britain, France, and the U.S.
In Western tea culture, common flavorings for black tea are fruit, especially lemon or beragmot orange (in
Earl Grey tea
), or rose petals. Among herbs, spearmint or
holy basil
are frequently blended with black tea.
Chai, or spiced tea
, a tradition that originated in India, is also usually made out of black tea, and is one of the most common forms of flavored black tea.
Vanilla black tea
is another common variety.
Because many black teas tend to have a robust, powerful flavor and aroma, they can be combined with strong flavorings which would easily overpower other types of teas. A British favorite is to flavor black tea with black currant, a berry or fruit with a strong, deep flavor. Black tea can also hold its own alongside strong herbs such as lavender. Black tea can also blend well with floral scents, especially the more powerful ones such as rose.
Jasmine tea
is less frequently made with black teas, but examples do exist.
↑Recent Flavored Black Tea Reviews — RSS
64 / 100

I got this from a restaurant hot-tea selection box and took home an extra bag to taste-test on good well water. The bergamot was somewhat feeble throughout the consumption experience. Still, it's among the better Twinings teas I've had (yes, I realize that's not saying much).

Sweetened, as I always do, this prod...
Read Full Review
74 / 100

Curiously, this line of tea isn't found on the TEAViVE website as of this writing, but I have no problem finding it in a local Dollar Tree, where I first saw it. On the bottom of the boxes, TEAViVE provides a batch number and "best before" date, as well as lists the blueberry and honey flavorings as being natural. Th...
Read Full Review
87 / 100

This is my favorite Earl Grey Cream tea yet, and that's not a knock on Murchie's excellent rendition, which is a better value but just a notch below Teavana in richness.

Teavana has undergone a remaking of its marketing and strategy under the Starbucks banner: no more stand-alone tea shops, just 15-sachet plastic t...
Read Full Review
65 / 100
More floral and perfumey than a typical EG. It is not Upton's best but it is a worthwhile tea.
Read Full Review
67 / 100

This is one of the best Earl Greys I've had. The base tea is wonderful and the bergamot is subtle. Note that I'm saying that "subtle" is a positive thing, so if you like Earl Grey with a powerful citrus flavor, then this one might not be what you're looking for.

That said, the tea is extremely mellow for an Assam in...
Read Full Review
↑Top Reviewers
Review 32 teas to get on this list!
Advertisement
↑Most-Rated Flavored Black Tea

37
38 Ratings

37
21 Ratings

40
21 Ratings

70
11 Ratings
↑Top-Rated Flavored Black Tea

100
4 Ratings

93
7 Ratings

92
3 Ratings

92
3 Ratings

90
4 Ratings
↑Varieties, Kinds, or Types of Flavored Black Tea