Flavored Black Tea
Last Updated: Mar. 13, 2015
↑About Flavored Black Tea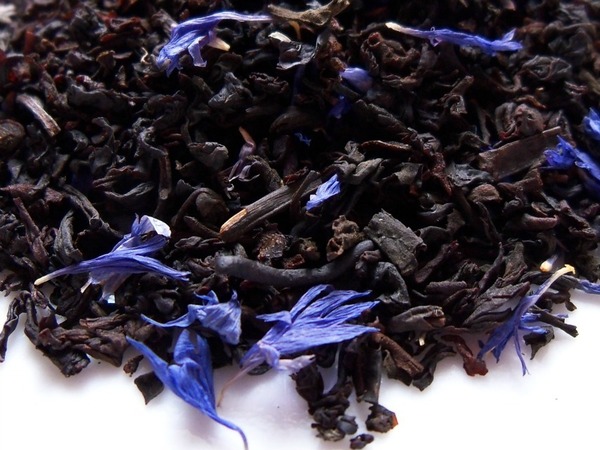 Earl Grey Creme, Loose-Leaf, from Art of Tea, Photo © A Girl With Tea,
CC BY 2.0
.
Flavored black tea
is
black tea
that has been blended, flavored, or scented with herbs, flowers, spices, or other ingredients. Because black tea is the default tea in most western countries, when people in the U.S. refer to flavored tea without specifying the type of tea, they often are talking about flavored black tea.
Virtually all countries that consume black tea have some traditions of blending or flavoring their tea. Flavored black tea blends are especially popular in Western tea cultures, especially in Great Britain, France, and the U.S.
In Western tea culture, common flavorings for black tea are fruit, especially lemon or beragmot orange (in
Earl Grey tea
), or rose petals. Among herbs, spearmint or
holy basil
are frequently blended with black tea.
Chai, or spiced tea
, a tradition that originated in India, is also usually made out of black tea, and is one of the most common forms of flavored black tea.
Vanilla black tea
is another common variety.
Because many black teas tend to have a robust, powerful flavor and aroma, they can be combined with strong flavorings which would easily overpower other types of teas. A British favorite is to flavor black tea with black currant, a berry or fruit with a strong, deep flavor. Black tea can also hold its own alongside strong herbs such as lavender. Black tea can also blend well with floral scents, especially the more powerful ones such as rose.
Jasmine tea
is less frequently made with black teas, but examples do exist.
↑Recent Flavored Black Tea Reviews — RSS
75 / 100

Given the ingredients list, here was a tea that caught both my eye and a few bucks of my credit-card balance, while stocking up at a Dallas Trader Joe's on some things I don't get in nearby Oklahoma markets.

Overall, it's not quite as high-quality as the other Earl Grey Creme tea I've tried (the bagged version from ...
Read Full Review
31 / 100

This tea pissed me off. It's a mediocre flavored tea, it's mismarketed, and it's grossly overpriced. It doesn't even taste like Earl Grey, it tastes nothing like the commercial description, not the current one listed on the site nor the one listed on my sample bag, nor is there any explanation of the discrepancy on the...
Read Full Review
59 / 100
Preparing this tea brought back a fond childhood memory from about age 8. We were poor, but my mom had bought a box of "orange pekoe" tea as a rare indulgence, and I was excited to try some, thinking it literally was orange-flavored of whatever "pekoe" tea was. Imagine my disappointment, then, when it had no flavor a...
Read Full Review
50 / 100

I don't hate this tea but I really don't like it either. It costs 24 cents per cup and I can have much better black tea for cheaper than that so it's not worth it for me. The aroma is very faint and just smells like black tea. This tea tastes smooth but its also kind of plain. The aftertaste kind of tastes like paper t...
Read Full Review
20 / 100

Smells very fruity but not in a very pleasant way, it kind of smells like grape cough syrup to me. I'm not a huge fan of the taste either, it's pretty watery and leaves an artificial after taste in my mouth. It's not astringent or bitter which is how I normally like my tea, but this tea is so bad that I wouldn't ...
Read Full Review
↑Top Reviewers
Review 30 teas to get on this list!
Advertisement
↑Most-Rated Flavored Black Tea

30
36 Ratings

28
21 Ratings

14
20 Ratings

32
10 Ratings
↑Top-Rated Flavored Black Tea

100
4 Ratings

87
4 Ratings

83
5 Ratings
↑Varieties, Kinds, or Types of Flavored Black Tea