Flavored Black Tea
Last Updated: Mar. 13, 2015
↑About Flavored Black Tea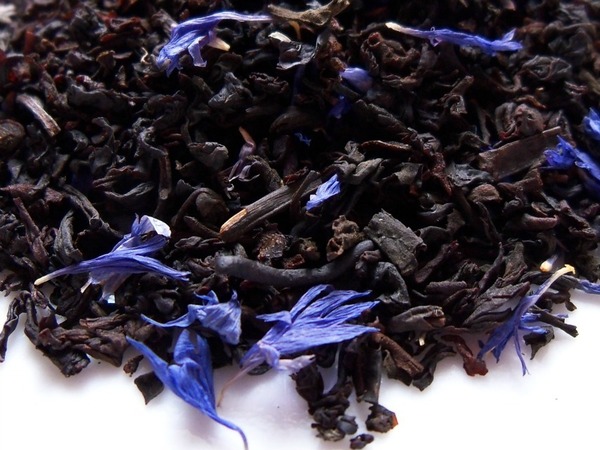 Earl Grey Creme, Loose-Leaf, from Art of Tea, Photo © A Girl With Tea,
CC BY 2.0
.
Flavored black tea
is
black tea
that has been blended, flavored, or scented with herbs, flowers, spices, or other ingredients. Because black tea is the default tea in most western countries, when people in the U.S. refer to flavored tea without specifying the type of tea, they often are talking about flavored black tea.
Virtually all countries that consume black tea have some traditions of blending or flavoring their tea. Flavored black tea blends are especially popular in Western tea cultures, especially in Great Britain, France, and the U.S.
In Western tea culture, common flavorings for black tea are fruit, especially lemon or beragmot orange (in
Earl Grey tea
), or rose petals. Among herbs, spearmint or
holy basil
are frequently blended with black tea.
Chai, or spiced tea
, a tradition that originated in India, is also usually made out of black tea, and is one of the most common forms of flavored black tea.
Vanilla black tea
is another common variety.
Because many black teas tend to have a robust, powerful flavor and aroma, they can be combined with strong flavorings which would easily overpower other types of teas. A British favorite is to flavor black tea with black currant, a berry or fruit with a strong, deep flavor. Black tea can also hold its own alongside strong herbs such as lavender. Black tea can also blend well with floral scents, especially the more powerful ones such as rose.
Jasmine tea
is less frequently made with black teas, but examples do exist.
↑Recent Flavored Black Tea Reviews — RSS
61 / 100

I don't see a point in proactively obtaining this tea, especially for money. Here's another offering I got at no cost (the best way), thanks to its being available in a tea box at a meeting, at a Holiday Inn Express. I'll rate "value" based on the prices I usually see for Bigelow teas in-store.

The best part of ...
Read Full Review
95 / 100
It is always exciting for me to see a new Earl Grey appear among Upton's line up. This one strikes a great balance, with a light bergamot presence matched with a mellow base tea. This makes for an EG that tastes lovely and never irritates or seems too aggressive.
Read Full Review
95 / 100

I really like this tea! It's a delightful sort of spicy with hints of sweetness, even without sweetener. I don't always enjoy orange flavor in tea, but in this case it blends nicely with the spices, the main one of which is cinnamon with a bit of cardamom. Overall, I agree that it is reminiscent of red hots. It als...
Read Full Review
63 / 100

The "subtle flavor of bergamot" is definitely subtle. I can't actually smell any bergamot in the dry tea. Instead, it smells entirely like a malty CTC Assam.

While the tea's brewing, I can just make out the citrus through the tea. I'm getting less malt than when dry, but much more dry, tannic, earthy leaf with a bac...
Read Full Review
70 / 100

"This tea. This tea is good... good for me." ...a tune my grandfather used to sing when he'd take his first sip of this tea... Every time I would serve it to him as a kid, he would sing it. It brought joy to my young ears. Oh my, this brings many a tear to my eye. I would ALWAYS comment in response, "Grandpa, shut up! ...
Read Full Review
↑Top Reviewers
Review 31 teas to get on this list!
Advertisement
↑Most-Rated Flavored Black Tea

27
37 Ratings

23
21 Ratings

75
21 Ratings

22
11 Ratings
↑Top-Rated Flavored Black Tea

100
4 Ratings

98
3 Ratings

98
4 Ratings

98
7 Ratings
↑Varieties, Kinds, or Types of Flavored Black Tea