Flavored Black Tea
Last Updated: Mar. 13, 2015
↑About Flavored Black Tea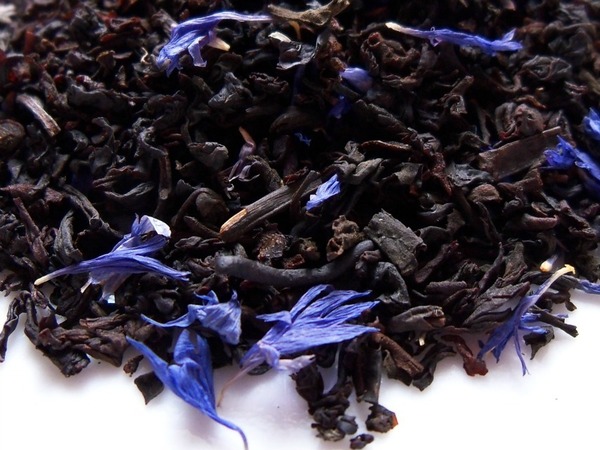 Earl Grey Creme, Loose-Leaf, from Art of Tea, Photo © A Girl With Tea,
CC BY 2.0
.
Flavored black tea
is
black tea
that has been blended, flavored, or scented with herbs, flowers, spices, or other ingredients. Because black tea is the default tea in most western countries, when people in the U.S. refer to flavored tea without specifying the type of tea, they often are talking about flavored black tea.
Virtually all countries that consume black tea have some traditions of blending or flavoring their tea. Flavored black tea blends are especially popular in Western tea cultures, especially in Great Britain, France, and the U.S.
In Western tea culture, common flavorings for black tea are fruit, especially lemon or beragmot orange (in
Earl Grey tea
), or rose petals. Among herbs, spearmint or
holy basil
are frequently blended with black tea.
Chai, or spiced tea
, a tradition that originated in India, is also usually made out of black tea, and is one of the most common forms of flavored black tea.
Vanilla black tea
is another common variety.
Because many black teas tend to have a robust, powerful flavor and aroma, they can be combined with strong flavorings which would easily overpower other types of teas. A British favorite is to flavor black tea with black currant, a berry or fruit with a strong, deep flavor. Black tea can also hold its own alongside strong herbs such as lavender. Black tea can also blend well with floral scents, especially the more powerful ones such as rose.
Jasmine tea
is less frequently made with black teas, but examples do exist.
↑Recent Flavored Black Tea Reviews — RSS
75 / 100
This is a medium strength tea with some light, woody tannins. It goes best with milk, but it works with lemon and sugar also. It has vanilla in it, and that helps give it a nice aroma, and has a subtle impact on the flavor. Overall, it is a good, versatile tea that I would buy again.
Read Full Review
85 / 100
Here is a successful marriage of black tea with cacao. When drunk with milk and sugar, a pleasant chocolate flavor emerges that blends well with the base tea, which (surpise!) one can taste. This is a nice treat from Upton.
Read Full Review
92 / 100
I'm a sucker for rich, strong, flavored black teas, and two of my very favorite flavors are peppermint and vanilla. This seasonal tea combines all three, into one of the best flavored loose-leaf blends I've ever had. The product releases a very creamy, minty aroma on opening the dry sack, which I could stand there an...
Read Full Review
80 / 100

I am happy with the 2021 version of this. The amount of spices hits the spot, and they blend well with the base tea. It is a little on the mild side, with vanilla, clove, almond, and a touch of citrus. I like it best with honey and milk, but other combinations also get the job done. Very reasonably priced too.
Read Full Review
80 / 100

One-litre pot at home, made from a mixture of black tea leaves, pieces of dried apple, almond flakes, as well as a variety of spices, including cloves, cinnamon, and allspice, all sprinkled with orange flavouring. Pours clear copper brown (against white china) with no sediment. Intense aroma of almonds, apples, and cin...
Read Full Review
↑Top Reviewers
Review 42 teas to get on this list!
Advertisement
↑Most-Rated Flavored Black Tea

31
42 Ratings

21
22 Ratings

17
22 Ratings

33
12 Ratings
↑Top-Rated Flavored Black Tea

100
4 Ratings

93
7 Ratings

92
3 Ratings

92
3 Ratings
↑Varieties, Kinds, or Types of Flavored Black Tea