Flavored Black Tea
Last Updated: Mar. 13, 2015
↑About Flavored Black Tea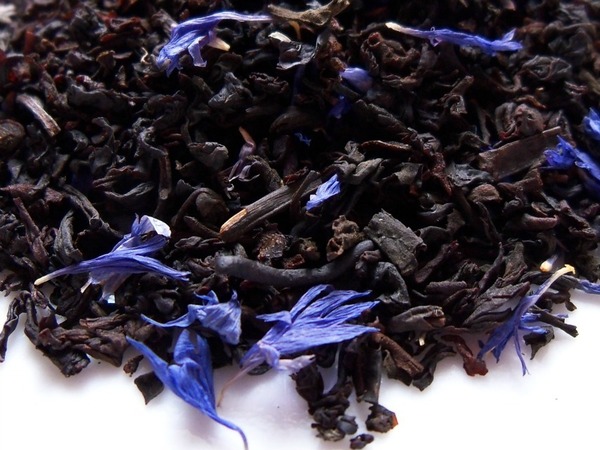 Earl Grey Creme, Loose-Leaf, from Art of Tea, Photo © A Girl With Tea,
CC BY 2.0
.
Flavored black tea
is
black tea
that has been blended, flavored, or scented with herbs, flowers, spices, or other ingredients. Because black tea is the default tea in most western countries, when people in the U.S. refer to flavored tea without specifying the type of tea, they often are talking about flavored black tea.
Virtually all countries that consume black tea have some traditions of blending or flavoring their tea. Flavored black tea blends are especially popular in Western tea cultures, especially in Great Britain, France, and the U.S.
In Western tea culture, common flavorings for black tea are fruit, especially lemon or beragmot orange (in
Earl Grey tea
), or rose petals. Among herbs, spearmint or
holy basil
are frequently blended with black tea.
Chai, or spiced tea
, a tradition that originated in India, is also usually made out of black tea, and is one of the most common forms of flavored black tea.
Vanilla black tea
is another common variety.
Because many black teas tend to have a robust, powerful flavor and aroma, they can be combined with strong flavorings which would easily overpower other types of teas. A British favorite is to flavor black tea with black currant, a berry or fruit with a strong, deep flavor. Black tea can also hold its own alongside strong herbs such as lavender. Black tea can also blend well with floral scents, especially the more powerful ones such as rose.
Jasmine tea
is less frequently made with black teas, but examples do exist.
↑Recent Flavored Black Tea Reviews — RSS
62 / 100

The loose tea is a rather broken black tea blend with visible bits of citrus peel and blue cornflower petals. It smells strongly like fresh oranges, but the tea aroma is quite faint. Adding hot water brings out a malty aroma from the tea, but the citrus still predominates.

The bulk of the flavor is citrus. The blend...
Read Full Review
54 / 100

Republic teas usually are on the costly side; however, I grabbed this one on sale at a Dallas Whole Foods. "Value" is based on the normal prices for other Republic teas (retailing upwards of 8-10 bucks for 50-pouch columnar steel tins), and how this tea doesn't pack the punch it should for reputably strong flavors of ...
Read Full Review
70 / 100
This is an Indian black tea flavored with organic coconut, organic marigold/calendula, and coconut and mango flavoring - so it is very tropical in character. It was quite nice with milk and sugar, or with just sugar, sort of dessert like. I bet it would be good on ice as well.
Read Full Review
49 / 100

Here's another case of a tea with multiple marketing personalities across target audiences. RateTea states this product is retired/discontinued, and perhaps it is in the U.S. However, it's still available on amazon.com with an "imported" label, as of this writing (for nearly $12 per 20-ct box!). I got the remainder...
Read Full Review
73 / 100

The foil-sealed tea bags each contain just shy of 2g of tea. The box claims a net weight of 33g in 18 bags, which makes for 1.8g of tea.

The dry tea bag smells strongly of bergamot. It also smells fresher than most other Earl Grey, like freshly cut fruit. This may be the fruitiest-smelling Earl Grey I've tried.

T...
Read Full Review
↑Top Reviewers
Review 42 teas to get on this list!
Advertisement
↑Most-Rated Flavored Black Tea

31
42 Ratings

21
22 Ratings

17
22 Ratings

33
12 Ratings
↑Top-Rated Flavored Black Tea

100
4 Ratings

93
7 Ratings

92
3 Ratings

92
3 Ratings
↑Varieties, Kinds, or Types of Flavored Black Tea