Flavored Black Tea
Last Updated: Mar. 13, 2015
↑About Flavored Black Tea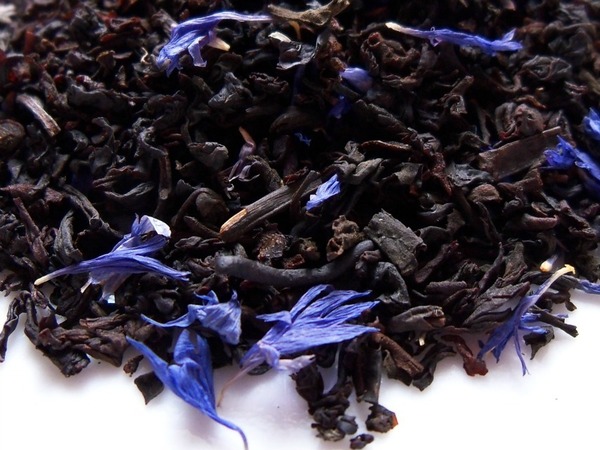 Earl Grey Creme, Loose-Leaf, from Art of Tea, Photo © A Girl With Tea,
CC BY 2.0
.
Flavored black tea
is
black tea
that has been blended, flavored, or scented with herbs, flowers, spices, or other ingredients. Because black tea is the default tea in most western countries, when people in the U.S. refer to flavored tea without specifying the type of tea, they often are talking about flavored black tea.
Virtually all countries that consume black tea have some traditions of blending or flavoring their tea. Flavored black tea blends are especially popular in Western tea cultures, especially in Great Britain, France, and the U.S.
In Western tea culture, common flavorings for black tea are fruit, especially lemon or beragmot orange (in
Earl Grey tea
), or rose petals. Among herbs, spearmint or
holy basil
are frequently blended with black tea.
Chai, or spiced tea
, a tradition that originated in India, is also usually made out of black tea, and is one of the most common forms of flavored black tea.
Vanilla black tea
is another common variety.
Because many black teas tend to have a robust, powerful flavor and aroma, they can be combined with strong flavorings which would easily overpower other types of teas. A British favorite is to flavor black tea with black currant, a berry or fruit with a strong, deep flavor. Black tea can also hold its own alongside strong herbs such as lavender. Black tea can also blend well with floral scents, especially the more powerful ones such as rose.
Jasmine tea
is less frequently made with black teas, but examples do exist.
↑Recent Flavored Black Tea Reviews — RSS
65 / 100

I like this tea. The flavor is quite complex and I'm not sure which flavors are the tea itself and which are "other natural flavors." The malt sweetness of the tea is foremost and the raspberry flavor is unmistakable, but subtle. The tea tastes alternately of Ceylon and Assam, coupling the malt with an almost roasted f...
Read Full Review
68 / 100

The dry tea in the sachets is broken, but in decent-sized pieces. Pieces of hibiscus flower are apparent. The sachets smell like dried raspberries with an additional herbal, leafy scent.

Adding the water intensifies the raspberry. It doesn't quite smell like fresh raspberries, but it doesn't smell artificial, either...
Read Full Review
35 / 100

The plastic sachets of tea are transparent enough to see the tea leaves and some of the flavorings. The leaves are obviously broken, but the pieces are the same size as in the Pure Leaf loose leaf offerings. Looking closely, I can identify pieces of hibiscus and orange peel.

The dry tea smells overwhelmingly of fres...
Read Full Review
75 / 100

How appropriate it is that I opened this box, bought in Kailua and brought to Oklahoma, on the night after a the largest Big Island quake since the 1970s, while Kilauea's East Rift fissure belches steam, acrid fumes and fountains of lava through Leilani Estates. Would Mango Maui prove as smooth and relaxing as a seabr...
Read Full Review
80 / 100

Christmas in a cup. I look forward to this tea every holiday season! Even though there are no rules to drinking it all year long. I love the creamy vanilla taste added to a simple black tea. After brewing, I will add a splash of vanilla creamer or milk to the top. Perfect holiday tea.
Read Full Review
↑Top Reviewers
Review 30 teas to get on this list!
Advertisement
↑Most-Rated Flavored Black Tea

43
34 Ratings

53
21 Ratings

47
19 Ratings

64
9 Ratings
↑Top-Rated Flavored Black Tea

100
4 Ratings

93
4 Ratings

92
4 Ratings
↑Varieties, Kinds, or Types of Flavored Black Tea