Flavored Black Tea
Last Updated: Mar. 13, 2015
↑About Flavored Black Tea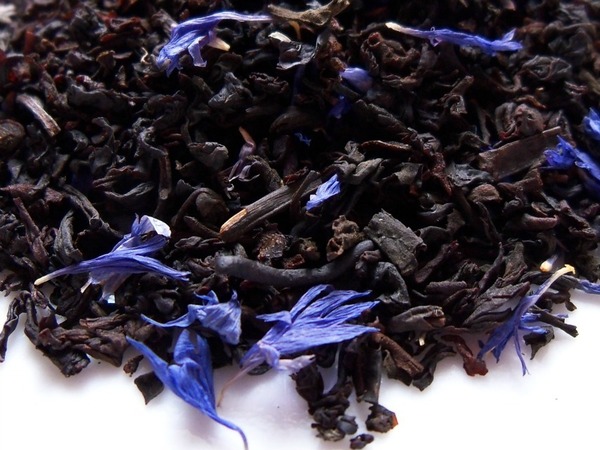 Earl Grey Creme, Loose-Leaf, from Art of Tea, Photo © A Girl With Tea,
CC BY 2.0
.
Flavored black tea
is
black tea
that has been blended, flavored, or scented with herbs, flowers, spices, or other ingredients. Because black tea is the default tea in most western countries, when people in the U.S. refer to flavored tea without specifying the type of tea, they often are talking about flavored black tea.
Virtually all countries that consume black tea have some traditions of blending or flavoring their tea. Flavored black tea blends are especially popular in Western tea cultures, especially in Great Britain, France, and the U.S.
In Western tea culture, common flavorings for black tea are fruit, especially lemon or beragmot orange (in
Earl Grey tea
), or rose petals. Among herbs, spearmint or
holy basil
are frequently blended with black tea.
Chai, or spiced tea
, a tradition that originated in India, is also usually made out of black tea, and is one of the most common forms of flavored black tea.
Vanilla black tea
is another common variety.
Because many black teas tend to have a robust, powerful flavor and aroma, they can be combined with strong flavorings which would easily overpower other types of teas. A British favorite is to flavor black tea with black currant, a berry or fruit with a strong, deep flavor. Black tea can also hold its own alongside strong herbs such as lavender. Black tea can also blend well with floral scents, especially the more powerful ones such as rose.
Jasmine tea
is less frequently made with black teas, but examples do exist.
↑Recent Flavored Black Tea Reviews — RSS
65 / 100
More floral and perfumey than a typical EG. It is not Upton's best but it is a worthwhile tea.
Read Full Review
67 / 100

This is one of the best Earl Greys I've had. The base tea is wonderful and the bergamot is subtle. Note that I'm saying that "subtle" is a positive thing, so if you like Earl Grey with a powerful citrus flavor, then this one might not be what you're looking for.

That said, the tea is extremely mellow for an Assam in...
Read Full Review
62 / 100

Both the dry tea and steeped liquor have a perfumy peach aroma that smells to me like peach Jolly Rancher candy (a discontinued flavor, sadly). There's just enough passion fruit to be detectable, but I bought this particular flavor for the passion fruit and am a bit disappointed that it isn't stronger.

The fruit fla...
Read Full Review
77 / 100

A local Middle Eastern market had a gift pack of this tea along with a free Ahmad tea mug for $4, so I couldn't pass it up. I decided to try it alongside the loose leaf Special Blend. One thing that I'll note is that, though I assume they're intended to be the same tea, the packaging on the bagged tea doesn't include t...
Read Full Review
61 / 100

I don't see a point in proactively obtaining this tea, especially for money. Here's another offering I got at no cost (the best way), thanks to its being available in a tea box at a meeting, at a Holiday Inn Express. I'll rate "value" based on the prices I usually see for Bigelow teas in-store.

The best part of ...
Read Full Review
↑Top Reviewers
Review 31 teas to get on this list!
Advertisement
↑Most-Rated Flavored Black Tea

27
37 Ratings

23
21 Ratings

75
21 Ratings

22
11 Ratings
↑Top-Rated Flavored Black Tea

100
4 Ratings

98
3 Ratings

98
4 Ratings

98
7 Ratings
↑Varieties, Kinds, or Types of Flavored Black Tea