Flavored Black Tea
Last Updated: Mar. 13, 2015
↑About Flavored Black Tea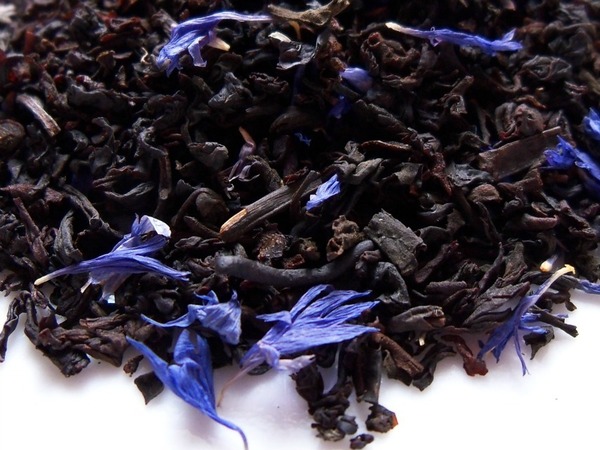 Earl Grey Creme, Loose-Leaf, from Art of Tea, Photo © A Girl With Tea,
CC BY 2.0
.
Flavored black tea
is
black tea
that has been blended, flavored, or scented with herbs, flowers, spices, or other ingredients. Because black tea is the default tea in most western countries, when people in the U.S. refer to flavored tea without specifying the type of tea, they often are talking about flavored black tea.
Virtually all countries that consume black tea have some traditions of blending or flavoring their tea. Flavored black tea blends are especially popular in Western tea cultures, especially in Great Britain, France, and the U.S.
In Western tea culture, common flavorings for black tea are fruit, especially lemon or beragmot orange (in
Earl Grey tea
), or rose petals. Among herbs, spearmint or
holy basil
are frequently blended with black tea.
Chai, or spiced tea
, a tradition that originated in India, is also usually made out of black tea, and is one of the most common forms of flavored black tea.
Vanilla black tea
is another common variety.
Because many black teas tend to have a robust, powerful flavor and aroma, they can be combined with strong flavorings which would easily overpower other types of teas. A British favorite is to flavor black tea with black currant, a berry or fruit with a strong, deep flavor. Black tea can also hold its own alongside strong herbs such as lavender. Black tea can also blend well with floral scents, especially the more powerful ones such as rose.
Jasmine tea
is less frequently made with black teas, but examples do exist.
↑Recent Flavored Black Tea Reviews — RSS
72 / 100

One of my co-workers has been quaffing this tea with devoted fervor for a few months since I introduced him to drinking any tea. In turn, he gave me some of this. Knowing how much Harney tea tins cost even at Target, I wouldn't have bought this on my own, but it's not bad to try for free. I based the value on the kn...
Read Full Review
80 / 100

This tea is pretty good for bagged tea -- more balanced than the herbal apple cinnamon tea. This is a solid tea when needing the convenience of a bag. I taste a bit of licorice, which I'm not a big fan of, but it isn't dominant. The cinnamon flavor is pretty nice.
Read Full Review
69 / 100

My wife is trying to cut back caffeine intake, and had me include this offering in the latest virtual "Murchie's run" that we do a time or two per year. And being a big fan of both happy marriages and the $CAD---->$USD exchange rates the last few years, I did not object.

Now that I've tried the tea, I'm glad that I...
Read Full Review
86 / 100

Prep: 200F, 5min

Aroma: Maple, brown sugar, chai spice. This is a nice smelling tea! 8/10

Flavor: This is a very good one. The maple is pronounced but not aggressive, the sweet and spicy plays fantastically. Even more so, the aftertaste is really inviting for another sip. 9/10

Body: Full. One of the fullest...
Read Full Review
72 / 100

Prep: 200F, 5min

Aroma: You really almost smell butter cream icing. It's a nice note but it's not what I typically associate with red velvet cake. 7/10

Flavor: This also has a cake batter / icing type note. It's pretty nice. 7/10

Body: Fairly full. It's a nice compliment to the cake type drink. 8/10...
Read Full Review
↑Top Reviewers
Review 42 teas to get on this list!
Advertisement
↑Most-Rated Flavored Black Tea

31
42 Ratings

21
22 Ratings

17
22 Ratings

33
12 Ratings
↑Top-Rated Flavored Black Tea

100
4 Ratings

93
7 Ratings

92
3 Ratings

92
3 Ratings
↑Varieties, Kinds, or Types of Flavored Black Tea