Flavored Black Tea
Last Updated: Mar. 13, 2015
↑About Flavored Black Tea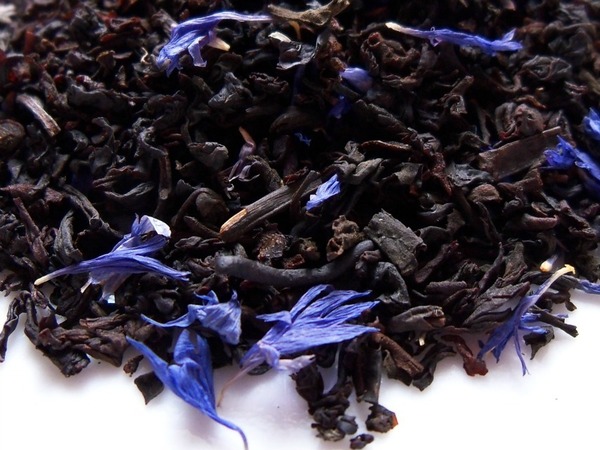 Earl Grey Creme, Loose-Leaf, from Art of Tea, Photo © A Girl With Tea,
CC BY 2.0
.
Flavored black tea
is
black tea
that has been blended, flavored, or scented with herbs, flowers, spices, or other ingredients. Because black tea is the default tea in most western countries, when people in the U.S. refer to flavored tea without specifying the type of tea, they often are talking about flavored black tea.
Virtually all countries that consume black tea have some traditions of blending or flavoring their tea. Flavored black tea blends are especially popular in Western tea cultures, especially in Great Britain, France, and the U.S.
In Western tea culture, common flavorings for black tea are fruit, especially lemon or beragmot orange (in
Earl Grey tea
), or rose petals. Among herbs, spearmint or
holy basil
are frequently blended with black tea.
Chai, or spiced tea
, a tradition that originated in India, is also usually made out of black tea, and is one of the most common forms of flavored black tea.
Vanilla black tea
is another common variety.
Because many black teas tend to have a robust, powerful flavor and aroma, they can be combined with strong flavorings which would easily overpower other types of teas. A British favorite is to flavor black tea with black currant, a berry or fruit with a strong, deep flavor. Black tea can also hold its own alongside strong herbs such as lavender. Black tea can also blend well with floral scents, especially the more powerful ones such as rose.
Jasmine tea
is less frequently made with black teas, but examples do exist.
↑Recent Flavored Black Tea Reviews — RSS
58 / 100

This blend has some potential, but is far from my favorite flavored black tea. The first and biggest turnoff was the dry-bag aroma, which reminded me of cheap incense—specifically, the sort employed to smoke-bomb a room fast, in order to mask pot usage. This is the second tea that has given off that cheap-incense v...
Read Full Review
64 / 100

Basilur is creative in the packaging and marketing of their teas. This is part of an impressively elaborate gimmick: the second in a multi-volume series of well-decorated "books"—each a metal tin about the size and shape of a small hardback book—containing a plastic bag full of loose tea that gets folded and some...
Read Full Review
68 / 100

I think that this is the first time I will have said (or written) this, but I actually prefer the teabag form of this tea. The balance of flavors is off in this. I've tried four different ways of brewing it, changing both the times and the amount of tea, but nothing felt quite right.

Using 2 1/2 tsp for 2 min using...
Read Full Review
88 / 100

Now this was an unexpected treat! Rarely (if ever) have I had the loose and bagged version of a tea from the same company, at the same time, from the same order. Not only that, they're rather different (how?), but both delicious. I specifically had ordered the EG loose mainly for my wife, and the EG bags came in a v...
Read Full Review
85 / 100

This is only the second tea by Bigelow that I've tried (and both, I've tried in the last two days). I've been, overall, impressed by Bigelow. I admit that after being quite disappointed by other American brands, I gravitated towards those from the UK. I assumed that they'd be better able to formulate a good cup of tea,...
Read Full Review
↑Top Reviewers
Review 40 teas to get on this list!
Advertisement
↑Most-Rated Flavored Black Tea

37
38 Ratings

13
22 Ratings

40
21 Ratings

33
12 Ratings
↑Top-Rated Flavored Black Tea

100
4 Ratings

93
7 Ratings

92
3 Ratings

92
3 Ratings

90
3 Ratings
↑Varieties, Kinds, or Types of Flavored Black Tea