Flavored Black Tea
Last Updated: Mar. 13, 2015
↑About Flavored Black Tea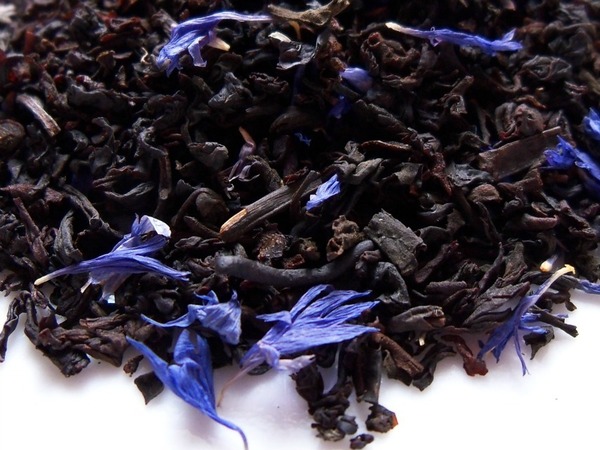 Earl Grey Creme, Loose-Leaf, from Art of Tea, Photo © A Girl With Tea,
CC BY 2.0
.
Flavored black tea
is
black tea
that has been blended, flavored, or scented with herbs, flowers, spices, or other ingredients. Because black tea is the default tea in most western countries, when people in the U.S. refer to flavored tea without specifying the type of tea, they often are talking about flavored black tea.
Virtually all countries that consume black tea have some traditions of blending or flavoring their tea. Flavored black tea blends are especially popular in Western tea cultures, especially in Great Britain, France, and the U.S.
In Western tea culture, common flavorings for black tea are fruit, especially lemon or beragmot orange (in
Earl Grey tea
), or rose petals. Among herbs, spearmint or
holy basil
are frequently blended with black tea.
Chai, or spiced tea
, a tradition that originated in India, is also usually made out of black tea, and is one of the most common forms of flavored black tea.
Vanilla black tea
is another common variety.
Because many black teas tend to have a robust, powerful flavor and aroma, they can be combined with strong flavorings which would easily overpower other types of teas. A British favorite is to flavor black tea with black currant, a berry or fruit with a strong, deep flavor. Black tea can also hold its own alongside strong herbs such as lavender. Black tea can also blend well with floral scents, especially the more powerful ones such as rose.
Jasmine tea
is less frequently made with black teas, but examples do exist.
↑Recent Flavored Black Tea Reviews — RSS
67 / 100

This is quite a tasty and well-conceived blend, novel yet nice in both aroma and flavor, holding its own in those departments with any herbal/black bagged combination out there. However, I wish it were stronger, more befitting its name.
The rectangular, stringless tea bags are small, about half the volume of Celest...
Read Full Review
85 / 100

I actually like this one. It isn't as good as loose-leaf tea would be, but for a tea bag it's nice. I brewed the water to 205°F and let the bag steep under one of those Primula hats for several minutes. Both black tea and peach were present in the strong flavor, but it didn't go bitter. Usually, black tea of fannings ...
Read Full Review
92 / 100

This is the second loose-leaf Earl Grey I've had from Murchie's, and an outstanding example of the type, especially for someone like me who likes a bold, assertive tea. It is made from Assam, Keemun and Yunnan, and you bet the Assam asserts itself boldly in all phases of taste and aroma. Upon opening the bag, the dry...
Read Full Review
72 / 100

Here's another in Celestial's fairly recent run of new black-tea blends. For a mass-marketed brand commonly available in retail stores, this rendition holds its own, but better quality can be had.

The dry aroma (especially when opening the sack or pouch in which the bags are packaged) may be the best part. This is...
Read Full Review
35 / 100

It smells ok because of the lavender, however for me it kind of reminds me of soap which I understand there can be cultural differences with this. Not everyone would associate that with soap. The thing that ruins this tea though is the taste. It's not that interesting and it's actually quite bitter. It's just not...
Read Full Review
↑Top Reviewers
Review 43 teas to get on this list!
Advertisement
↑Most-Rated Flavored Black Tea

28
43 Ratings

17
22 Ratings

21
22 Ratings

33
12 Ratings
↑Top-Rated Flavored Black Tea

100
4 Ratings

93
7 Ratings

92
3 Ratings
↑Varieties, Kinds, or Types of Flavored Black Tea