Flavored Black Tea
Last Updated: Mar. 13, 2015
↑About Flavored Black Tea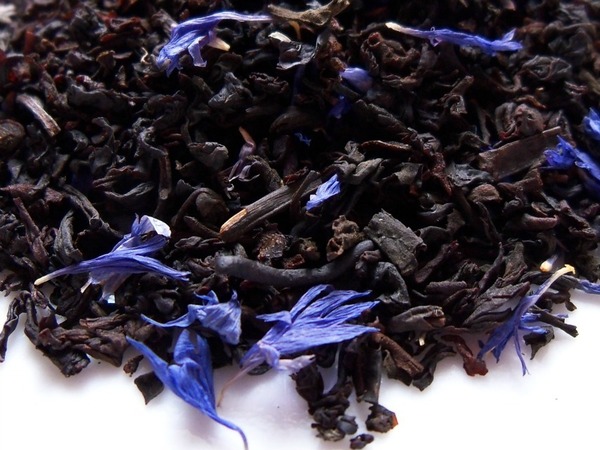 Earl Grey Creme, Loose-Leaf, from Art of Tea, Photo © A Girl With Tea,
CC BY 2.0
.
Flavored black tea
is
black tea
that has been blended, flavored, or scented with herbs, flowers, spices, or other ingredients. Because black tea is the default tea in most western countries, when people in the U.S. refer to flavored tea without specifying the type of tea, they often are talking about flavored black tea.
Virtually all countries that consume black tea have some traditions of blending or flavoring their tea. Flavored black tea blends are especially popular in Western tea cultures, especially in Great Britain, France, and the U.S.
In Western tea culture, common flavorings for black tea are fruit, especially lemon or beragmot orange (in
Earl Grey tea
), or rose petals. Among herbs, spearmint or
holy basil
are frequently blended with black tea.
Chai, or spiced tea
, a tradition that originated in India, is also usually made out of black tea, and is one of the most common forms of flavored black tea.
Vanilla black tea
is another common variety.
Because many black teas tend to have a robust, powerful flavor and aroma, they can be combined with strong flavorings which would easily overpower other types of teas. A British favorite is to flavor black tea with black currant, a berry or fruit with a strong, deep flavor. Black tea can also hold its own alongside strong herbs such as lavender. Black tea can also blend well with floral scents, especially the more powerful ones such as rose.
Jasmine tea
is less frequently made with black teas, but examples do exist.
↑Recent Flavored Black Tea Reviews — RSS
88 / 100

We gleefully had sniffed demo leaves of Murchie's Earl Grey in their Victoria store before, but since had brought home and ordered only the tea bags of the cream version (Earl Grey Cream). My wife is a bigtime EG drinker—probably half her total tea consumption—and wanted some loose-leaf tea as part of our annual f...
Read Full Review
90 / 100

Are you a big fan of Candy Cane Lane? If so, you'll probably love this offering too. It's basically the same, but with one major and two minor changes to the ingredients list that don't modify the aroma or flavor much:
1. Caffeinated black tea (no type/origin specified) is subbed for CCL's decaf green,
2. A littl...
Read Full Review
63 / 100

The dry teabag smells like a spiced cake, like carrot cake or gingerbread. The spice is predominantly cinnamon (mellow "Ceylon" cinnamon rather than the hotter cassia), but there's something else there, too, like nutmeg or ginger.

Interestingly, the instructions say to only steep for two minutes. I'm ignoring their ...
Read Full Review
81 / 100

This was among the better bagged, fruit-flavored black teas I've had. Raspberry teas are uncommon in my experience, so I figured to try some that I saw on a hotel tray in Gillette, Wyoming. Their water ain't the greatest, so I drank one there and also took a bag home. Upon ripping open the foil-lined pouch (s.o.p. f...
Read Full Review
90 / 100

My favorite Earl Grey. Being a person who likes things on the strong side, I love the double bergamot. It is not overwhelming at all.
Read Full Review
↑Top Reviewers
Review 36 teas to get on this list!
Advertisement
↑Most-Rated Flavored Black Tea

37
38 Ratings

37
21 Ratings

40
21 Ratings

70
11 Ratings
↑Top-Rated Flavored Black Tea

100
4 Ratings

93
7 Ratings

92
3 Ratings

92
3 Ratings

90
4 Ratings
↑Varieties, Kinds, or Types of Flavored Black Tea