Flavored Black Tea
Last Updated: Mar. 13, 2015
↑About Flavored Black Tea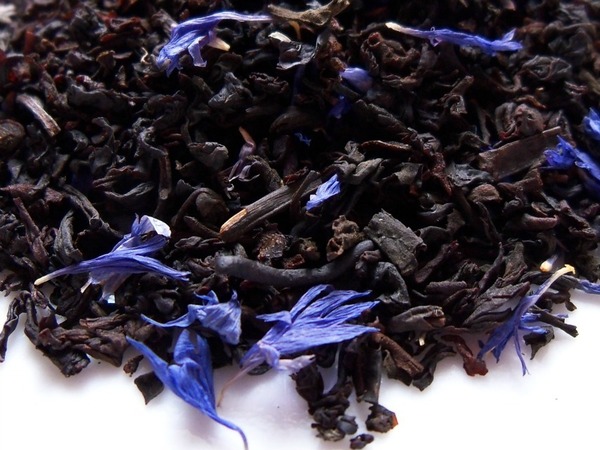 Earl Grey Creme, Loose-Leaf, from Art of Tea, Photo © A Girl With Tea,
CC BY 2.0
.
Flavored black tea
is
black tea
that has been blended, flavored, or scented with herbs, flowers, spices, or other ingredients. Because black tea is the default tea in most western countries, when people in the U.S. refer to flavored tea without specifying the type of tea, they often are talking about flavored black tea.
Virtually all countries that consume black tea have some traditions of blending or flavoring their tea. Flavored black tea blends are especially popular in Western tea cultures, especially in Great Britain, France, and the U.S.
In Western tea culture, common flavorings for black tea are fruit, especially lemon or beragmot orange (in
Earl Grey tea
), or rose petals. Among herbs, spearmint or
holy basil
are frequently blended with black tea.
Chai, or spiced tea
, a tradition that originated in India, is also usually made out of black tea, and is one of the most common forms of flavored black tea.
Vanilla black tea
is another common variety.
Because many black teas tend to have a robust, powerful flavor and aroma, they can be combined with strong flavorings which would easily overpower other types of teas. A British favorite is to flavor black tea with black currant, a berry or fruit with a strong, deep flavor. Black tea can also hold its own alongside strong herbs such as lavender. Black tea can also blend well with floral scents, especially the more powerful ones such as rose.
Jasmine tea
is less frequently made with black teas, but examples do exist.
↑Recent Flavored Black Tea Reviews — RSS
75 / 100
I enjoyed this tea. This tea has a nice light yellowish amber color. Mild in taste with a nice hint of bergamot. Does not linger on the tongue. Milk, cream, or sugar would probably over power this tea.
Read Full Review
70 / 100
A special holiday season release from Upton. Now here is a new concept - a "New England Chai." This has a mellow black tea base and is spruced up with vanilla and other spices - I could make out some cardomom and what I thought was allspice but appears to be clove. It is pleasantly spicy and has a nice aroma, but Up...
Read Full Review
80 / 100
Let me start by saying that I generally don't like flavored teas at all. Most of them taste artificial to me, the rest don't taste like tea and because I love the taste of tea, I'm left dissatisfied by them. But, as you can see, I gave this 80/100, so I was quite pleased with it. I was surprised not simply because of m...
Read Full Review
85 / 100

This smells and tastes like some halfway point between Bigelow Earl Grey and Twinings Earl Grey. With Bigelow, the bergamot note is strong and pointed and the tea has a more earthy taste. With Twinings, the bergamot note is more gentle and the tea has a more woody taste. With Harney & Sons Earl Grey, the bergamot note ...
Read Full Review
58 / 100

This blend has some potential, but is far from my favorite flavored black tea. The first and biggest turnoff was the dry-bag aroma, which reminded me of cheap incense—specifically, the sort employed to smoke-bomb a room fast, in order to mask pot usage. This is the second tea that has given off that cheap-incense v...
Read Full Review
↑Top Reviewers
Review 40 teas to get on this list!
Advertisement
↑Most-Rated Flavored Black Tea

29
38 Ratings

13
22 Ratings

40
21 Ratings

33
12 Ratings
↑Top-Rated Flavored Black Tea

100
4 Ratings

93
7 Ratings

92
3 Ratings

92
3 Ratings

90
4 Ratings
↑Varieties, Kinds, or Types of Flavored Black Tea