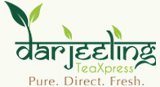 Most Reviewed By:
No one has reviewed any teas from this company yet!
Search DarjeelingTeaXpress's teas:
DarjeelingTeaXpress – CLOSED


Web: www.darjeelingteaxpress.com
Last Updated: Jul. 25, 2016
DarjeelingTeaXpress was a tea company, based in Darjeeling, India, that specialized in Darjeeling tea. The company shipped tea directly from Darjeeling, in order to ensure greater freshness.

DarjeelingTeaXpress closed as of 2014, and their website was redirecting people to the new tea company Teabox.
Teas From DarjeelingTeaXpress
The following is a selection of the 6 teas from DarjeelingTeaXpress in our database.
You can also add a new tea. Please search or browse this company's teas first, to avoid adding duplicates.