Darjeeling First Flush
Updated: Mar. 14, 2014
About Darjeeling First Flush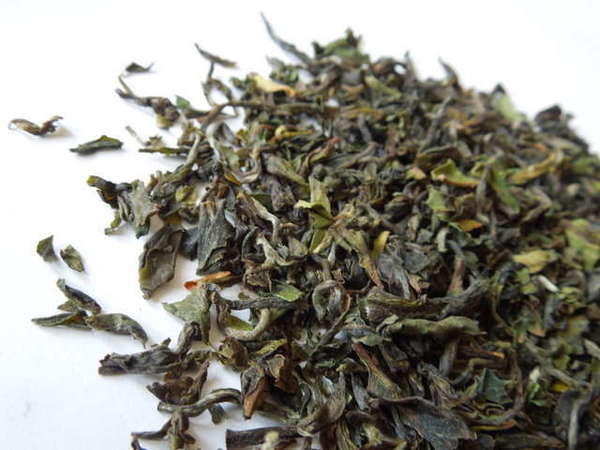 First flush Darjeeling tea often has a greener color, sometimes even as green as some green teas. Photo by Alex Zorach.
Darjeeling first flush
or
first flush Darjeeling
tea designates
Darjeeling tea
that has been harvested at a specific time, immediately following spring rains.
Although technically classified as a
black tea
, first flush Darjeeling tea has often a lighter, often greenish color and can be much milder than most black teas. Many first flush Darjeeling teas are low in bitterness, but relatively high in
astringency
, and can have considerable natural sweetness.
They often have a pronounced floral aroma as well, and some have a "muscatel" aroma, suggesting muscat grapes. In many respects, these teas more closely resemble greener
oolong teas
in color, flavor, and aroma because the
oxidation
is less complete than in most black teas. However, they are usually considered distinct from proper
Darjeeling oolongs
.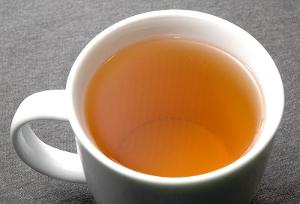 A brewed cup of first flush Darjeeling. Photo by David J. Fred, licensed under
CC BY-SA 2.5
.
First flush Darjeeling is considered a highly desirable tea, and can be very expensive, although the range of prices is broad. Broken-leaf, single-estate first flush teas can sometimes be less expensive than whole-leaf, mixed-flush, blended Darjeeling. Because the qualities of each tea depend on the climate conditions of the particular year of harvest, the batches can vary considerably from year to year.
Brewing first flush teas
In contrast to darker black teas, which most companies recommend brewing with boiling water, some companies recommend brewing first flush Darjeeling teas, especially lighter batches, with water that has cooled somewhat from boiling, around 180°-190°F. Whether or not this is necessary can vary hugely from one tea to the next.
Niraj Lama of
Happy Earth Tea
, explains that high grades of Darjeeling first flush work exceptionally well with cold brewing, which he explains on a blog post on
cold brewing Darjeeling
.
Best Darjeeling First Flush
The notion of the "best" Darjeeling First Flush is subjective, because different people have different tastes. We present the most often-rated and highest-rated teas in this category, and allow you to draw your own conclusions.
Most Often-Rated Teas
Top-Rated Teas