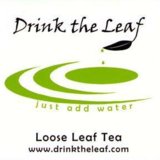 Most Reviewed By:
No one has reviewed any teas from this company yet!
Search Drink The Leaf's teas:
Drink The Leaf – CLOSED


Last Updated: Jan. 2, 2014
Drink The Leaf was a tea company, founded by Dan Ritzenthaler, that sold only loose teas. The company closed on June 28th, 2013.

Drink The Leaf sold teas both by mail-order through the internet, and at the Napa Farmer's Market in the Napa Valley, CA. The company focused on carrying a small number of high-quality teas, and their selection included green tea, oolong tea, black tea, pu-erh tea, and herbal teas. Some of their teas were purchased as certified organic teas, although the company was not certified to handle and package these teas as organic under their own brand name.

Drink The Leaf's website, which is no longer up, featured information about tea, including information about different styles and varieties of tea, complete with brewing instructions. The website also had a tea blog. In addition to selling tea, the company sold a small amount of teaware, including teapots and tea infusers.
Teas From Drink The Leaf
The following is a selection of the 33 teas from Drink The Leaf in our database.
You can also add a new tea. Please search or browse this company's teas first, to avoid adding duplicates.