Snow Buds
Updated: May. 1, 2014
About Snow Buds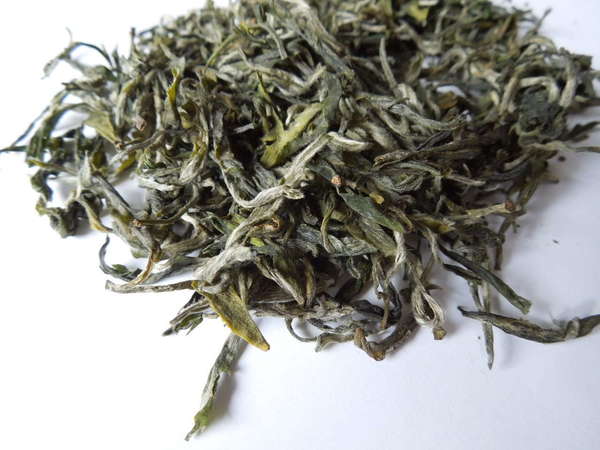 Loose-leaf snow buds from
Arbor Teas
, showing the downy white hairs on the buds, and the curled shape of the leaf. Photo by Alex Zorach.
Snow buds
, or
xue ya
(雪牙) in Chinese, is a relatively new type of tea, sharing characteristics of both
white tea
and
green tea
, and alternatively classified in both categories by different retailers. We classify it as a white tea as a rather arbitrary choice, because our category of white tea has fewer varieties listed in it.
According to
Rishi Tea
, this variety was developed in the 1980's by blending some techniques from green tea and white tea production.[1] It is usually described as having a delicate aroma; the flavor shares attributes in common with Chinese green teas, and lighter white teas.
Like
silver needle
, snow buds consists mostly of buds, which have a downy appearance. The tea does contain some larger leaf though, which has a bolder green color. Compared to silver needle, the leaf tends to be more curled and wiry.
Other teas named xue ya or snow buds
Both the names "xue ya" and "snow buds" can also refer to a type of
yellow tea
. They can also refer to several types of green teas, including ones from Sichuan, Zhejiang, and Guizhou provinces.
Best Snow Buds
The notion of the "best" Snow Buds is subjective, because different people have different tastes. We present the most often-rated and highest-rated teas in this category, and allow you to draw your own conclusions.
Most Often-Rated Teas

2 Ratings

1 Rating

1 Rating
Top-Rated Teas
We need at least 3 ratings for a tea to calculate a percentile ranking. You can help us out by rating more teas of this style.
Examples of Snow Buds
The following are examples of the 10 selections of Snow Buds in our database.