Oriental Beauty
Wikipedia: Dong_Fang_Mei_Ren_tea | Teaviews: bai-hao-tea
Updated: Mar. 13, 2014
About Oriental Beauty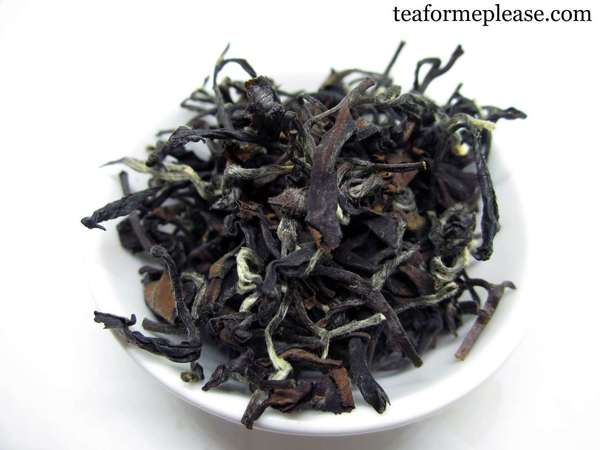 Loose-Leaf Bai Hao (Oriental Beauty) from Tillerman Tea, Photo ©
Nicole Martin (Tea for Me Please)
, Copyright, All Rights Reserved
Dong fang mei ren
(東方美人), usually translated as
oriental beauty
is a well-known style of
oolong tea
. It is also commonly known as
bai hao oolong
, and less commonly,
white pekoe
, or
amber dragon
. While this style of tea has many names, it is nonetheless a well-defined style. It tends to have a dark color, and a smooth flavor, with little bitterness.
Oriental beauty is a
tippy
tea, containing a greater portion of tips (buds) and thus having a higher caffeine content. The term "white pekoe" refers to the white hairs evident on some of the leaves, although overall this is a darker oolong more similar to a black tea.
Oriental beauty oolong shares certain characteristics of aroma and overall qualities in common with some
Darjeeling black teas
. This owes to the fact that the production of oriental beauty involves an insect, called
chaxiaoluyechan
(茶小绿叶蝉 or 茶小緑葉蟬), eating the leaves of the tea plant; the plant then manufactures a chemical defense which contributes to the unique grape-like aroma of this style of tea.
Best Oriental Beauty
The notion of the "best" Oriental Beauty is subjective, because different people have different tastes. We present the most often-rated and highest-rated teas in this category, and allow you to draw your own conclusions.
Most Often-Rated Teas
Top-Rated Teas
We need at least 3 ratings for a tea to calculate a percentile ranking. You can help us out by rating more teas of this style.