Oriental Beauty
Wikipedia: Dong_Fang_Mei_Ren_tea | Teaviews: bai-hao-tea
Last Updated: Mar. 13, 2014
↑About Oriental Beauty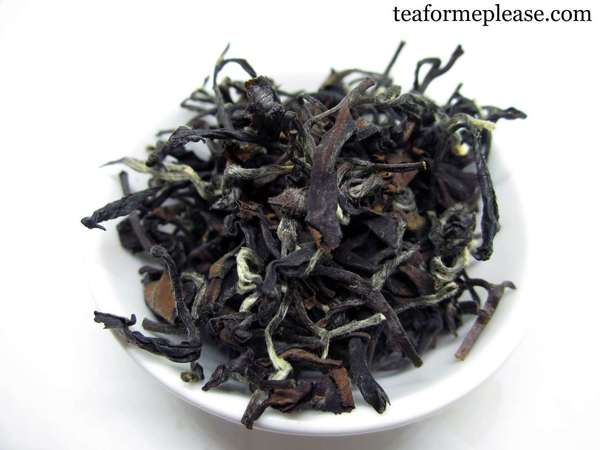 Loose-Leaf Bai Hao (Oriental Beauty) from Tillerman Tea, Photo ©
Nicole Martin (Tea for Me Please)
, Copyright, All Rights Reserved
Dong fang mei ren
(東方美人), usually translated as
oriental beauty
is a well-known style of
oolong tea
. It is also commonly known as
bai hao oolong
, and less commonly,
white pekoe
, or
amber dragon
. While this style of tea has many names, it is nonetheless a well-defined style. It tends to have a dark color, and a smooth flavor, with little bitterness.
Oriental beauty is a
tippy
tea, containing a greater portion of tips (buds) and thus having a higher caffeine content. The term "white pekoe" refers to the white hairs evident on some of the leaves, although overall this is a darker oolong more similar to a black tea.
Oriental beauty oolong shares certain characteristics of aroma and overall qualities in common with some
Darjeeling black teas
. This owes to the fact that the production of oriental beauty involves an insect, called
chaxiaoluyechan
(茶小绿叶蝉 or 茶小緑葉蟬), eating the leaves of the tea plant; the plant then manufactures a chemical defense which contributes to the unique grape-like aroma of this style of tea.
↑Recent Oriental Beauty Reviews — RSS
40 / 100

This gets some good reviews on Upton's website and sells for an above average price, but it didn't do much for me. The aroma is pleasant enough, but the flavor is bland and weak. I can't recommend this one.
Read Full Review
90 / 100

Method: 2 tsp, 8 oz, 195 degrees, 4 minutes, Forlife mug strainer & Dr. Who mug

Dry Leaf Aroma: fruit, floral, a little hint of seaweed

Brewing Aroma: sweetness and raisins, other non-specific fruit

Flavor: Yum. This has a lightly fruity taste, and is mildly sweet. This one made me smile. It has a tiny tinge o...
Read Full Review
73 / 100

Definitely my favorite bai hao (oriental beauty) oolong yet. This is not a type of oolong I generally like, but I found this to be an atypical example of its style.

Significantly roasty aroma, and flavor is bolder, although less smooth.

I am curious...is this a competition winner because it was bolder in flavor ...
Read Full Review
43 / 100

This tea has an overwhelming honey-like aroma that I find a bit repulsive. I don't like the flavor of honey much, though. I brewed it for 10 minutes to make it strong enough, and the flavor was still pretty subtle and watery-tasting, but it's okay. It's interesting. I don't usually like oolongs much, so I probably like...
Read Full Review
50 / 100

I think Arbor Teas' description of this tea is spot-on: Velvety-smooth and sweet, almost suggestive of marmalade. I would not have guessed that this example is not from Taiwan--it tasted very similar to the Taiwanese Oriental Beauty oolongs.

Dry leaf has little aroma.

Brews a rich, dark colored cup, very smooth ...
Read Full Review
↑Top Reviewers
Review 2 teas to get on this list!
Advertisement
↑Most-Rated Oriental Beauty

2 Ratings

1 Rating
↑Top-Rated Oriental Beauty
We need at least 3 ratings for a tea to calculate a percentile ranking. You can help us out by rating more teas of this style.