Photo of Brewed Cup of Zingiber Ginger Coconut Rooibos Tea from Teavana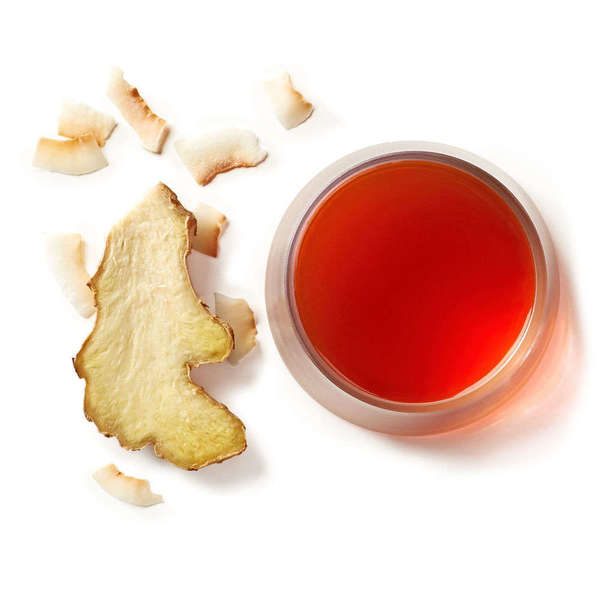 View Full Resolution
This rather striking, minimalist photo shows the bright red infusion of Teavana's Zingiber Coconut Rooibos Tea, alongside a razor-thin slice of ginger root, sliced lengthwise, and a few pieces of shredded coconut.

This was one of the most artistic and atypical photos in Teavana's collection; it stood out in its creative composition, from the choice of elements to feature, the cup (with a clean and modern look), and the color contrast.

The color, interestingly, contrasts the red color imparted by the rooibos base, in the brewed cup, with the two principle flavor ingredients of ginger and coconut. The ginger-coconut flavor pairing is common in some South and Southeast Asian cuisine, and these flavors blend well, which may have been a factor in this being one of the more popular or highest-rated blends in the flavored rooibos category on our site.

Look how different this photo is from the picture of the loose-leaf itself, which has a more earthy, yet busy aesthetic.
Photo by

RateTea Editor
Joined Sep. 1st, 2009.
Photographer Credit
© Teavana
Used Under Fair Use
More pictures of this tea


View All 2