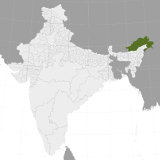 Most Reviewed By:

Arunachal Pradesh, India
Wikipedia: Arunachal_Pradesh | Official Government Website: arunachalpradesh.nic.in
Updated: Mar. 11, 2014
About Arunachal Pradesh, India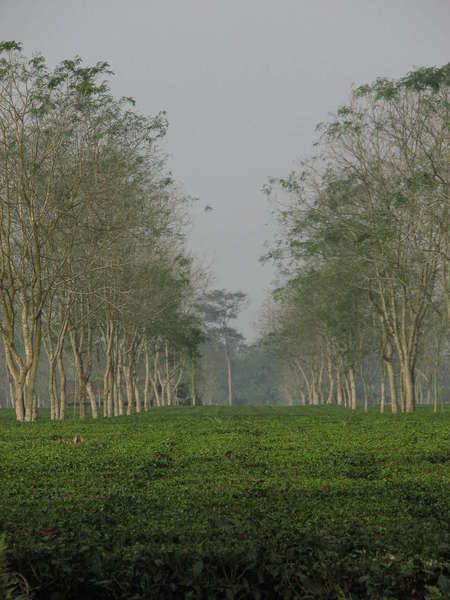 Tea Growing in Lohit District, Arunachal Pradesh, © Rohit Naniwadekar,
CC BY-SA 3.0
.
Arunachal Pradesh
is the northeasternmost state in India. The word "Pradesh" is Hindi for "region". Arunachal Pradesh borders Assam to the south, but is surrounded by Chinese-controlled Tibet on most sides. China disputes the border, claiming part of the region.
This state covers a diverse region, spanning a wide range of altitudes. The higher altitudes reach into tundra and alpine climates, and the lower elevations have subtropical climates with the strongly seasonal precipitation patterns common in the broader region: wet summers and dry winters. Most of the region is extremely sparsely populated, and it has the lowest population density of any Indian state.
Arunachal Pradesh is an important agricultural region, and agriculture and forestry make up the bulk of the region's economy. Tea is only a small portion of the agricultural economy here.
The region is not nearly as well-known in tea production as other nearby regions such as Assam or Darjeeling, Arunachal Pradesh still produces teas, mostly in the region bordering Assam. Often when it is discussed as a tea producing region, it is discussed alongside Assam.
Donyi-Polo is one of the named tea gardens located here.
Styles of Tea Produced in Arunachal Pradesh, India
This is a selection, not an exhaustive listing, of the styles of tea most commonly produced in Arunachal Pradesh, India.
Best Arunachal Pradesh Teas
The notion of the "best" Arunachal Pradesh teas is subjective, because different people have different tastes. We present the most often-rated and highest-rated teas produced in Arunachal Pradesh, India, and allow you to draw your own conclusions.
Top-Rated Arunachal Pradesh Teas
We need at least 3 ratings for a tea to calculate a percentile ranking. You can help us out by rating more teas of this style.