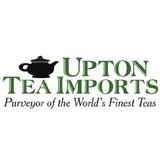 (800) 234-8327
Most Reviewed By:

Search Upton Tea Imports's teas:
Upton Tea Imports



Web: www.uptontea.com
Last Updated: Oct. 31, 2013
Upton Tea Imports is a mail-order tea company, founded in 1989, and headquartered in Holliston, MA. Upton originally was located nearby in Hopkinton, MA. Upton sells only loose teas, and sells many different types of tea, including herbal teas, and sells teas from many different regions. Upton has a wide range of prices on its teas, ranging from bulk teas for $17/kg to a rare tea selling for over $25 for 10g. Upton carries a number of organic teas, certified by Baystate Organic Certifiers, as well as a few fair trade certified teas. Many of their organic teas are comparable in price to corresponding non-organic counterparts.

Upton publishes the Upton Tea Quarterly, a mail-order catalog and newsletter which also contains educational and historical information about tea. Past editions of the Upton Tea Quarterly are available on Upton's website, going back through 1998. In addition to tea, Upton also sells a few teapots and tea-related accessories.

In order to ensure freshness, Upton tea packages tea only when it is ordered, marks the date of packing, and personalizes the labels on each package of tea ordered.
Most Often-Rated Teas
Top-Rated Teas
You can also add a new tea. Please search or browse this company's teas first, to avoid adding duplicates.