White Tea
Wikipedia: White_tea | Teaviews: white-tea
Last Updated: Mar. 16, 2015
↑About White Tea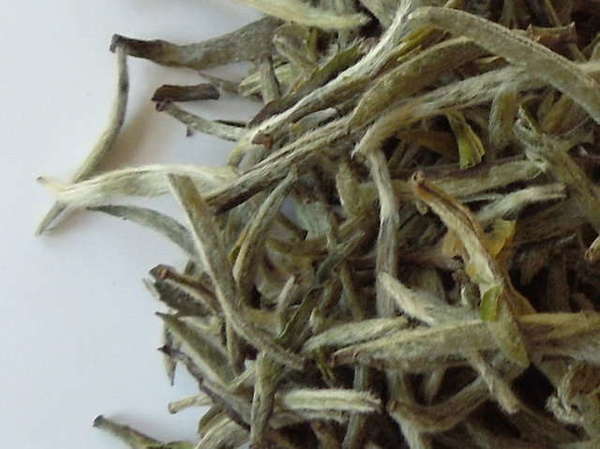 Silver needle or bai hao yinzhen is a white tea consisting exclusively of
tips or leaf buds
.
White tea
, called
baicha
(白茶) in Chinese, is a type of tea that is produced by letting the leaves wither and wilt, then drying them. Unlike
green tea
, white tea is not heated to kill the enzymes that cause
oxidation
.
Although this means that white tea is less processed than green tea, the lack of heating allows some oxidation to occur, creating a slightly darker color than most green teas, and less of the vibrant green color.
Different definitions of white tea
There is no universally accepted definition of white tea; the classification of teas as either white or green can be subjective, especially for intermediate types of tea such as
snow buds (xue ya)
. Sometimes, white teas are classified as a sub-type of green tea, since most white teas are mostly unoxidized, but we believe that classifying them in different categories is more accurate because their production process is distinct, and because they are often more oxidized than typical green tea.
Some organizations, including some tea companies, and the
Tea Association of the U.S.
[1], define white tea so as to only include teas including leaf tips or buds, which excludes most of the darkest-colored white teas; we do not use this definition since these teas are still minimally processed like other white teas.
Flavor and aroma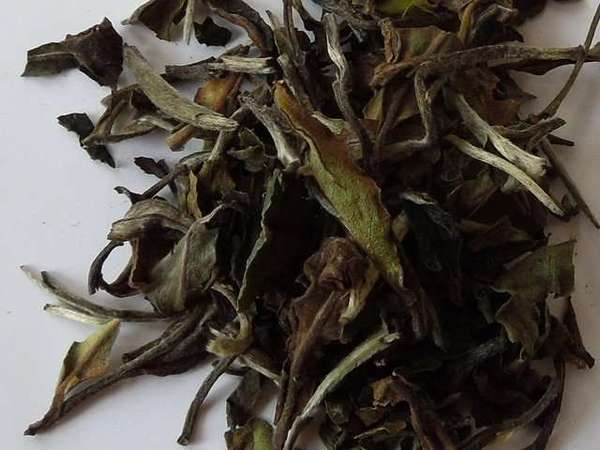 Some white teas, like this large-leaf tea from India, have a darker color, reflecting more oxidation of the leaf.
White tea is often described as having a very subtle and delicate aroma, but this is not always true. White teas are quite diverse, with some styles, like
shou mei
being rich and dark, often described as similar to
oolong
.
Lighter white teas have aromatic notes, like melon, that are uncommon in other types of teas. White teas often lack the grassy characteristics of green teas, and they lack both the toasty character of pan-fired or baked green teas, as well as the vegetal characteristics of steamed teas. Darker white teas often have aromas resembling autumn leaves.
The flavor and aromas of white teas are particularly diverse if you look at types outside the historical centers of production in Fujian province.
Origins and production
White tea originated in
China
, and most of the world's white tea is produced there, a large portion of it in
Fujian province
, particularly, in the northern parts, including
Fuding
and
Zhenghe
. However, in recent years, due to the surging popularity of white tea, white teas have become available from numreous other regions, including
India
,
Sri Lanka (Ceylon)
,
Kenya
, and
Malawi
.
Some of these teas emulate traditional Chinese styles, especially silver needle, and sometimes white peony. Others, however, are novel, fitting into the broader traditions and production methods of white tea but taking on a character of their own.
Caffeine content of white tea: myths and reality
Many websites claim that white tea contains less caffeine than black or green teas. This is a widespread myth; the
caffeine content
of white teas, like other teas, varies greatly from one tea to the next. White teas with a large portion of buds, such as
silver needle
, tend to have more caffeine than those with a larger portion of mature leaves, as the young tips are highest in caffeine. As white teas, particularly those made exclusively of tips, are very mild in flavor, they can also be brewed very strongly, resulting in a very high caffeine content of the brewed cup.
↑Recent White Tea Reviews — RSS
68 / 100

Cup at home, made from a sachet included in the tea company's Advent Tea Calendar (2020) and containing a mixture of leaves of white tea and lemongrass, as well as elderflower and pieces of dried blueberries - all of them organic and sprinkled with flavouring. Pours clear peach yellow (against white china) with no sedi...
Read Full Review
76 / 100
Prep: 205F, 5min, 4tsp for 16oz (as per instructions but lowered 212 to 205).

When Teavana made this variety, it was one of the first teas that I truly loved. This is meant to be a replacement for their discontinued line, I think.

Aroma: The nose really shows off the spice of the tea with some pungent cinnamon....
Read Full Review
78 / 100
Prep: 175F, 3 minutes, 2 heaping teaspoons in 16oz

Appearance: Transparent pink, quite bright.

Aroma: There is a mild mix of strawberry and raspberry. I keep searching for the basil notes but I can't find them.

Flavor: The white tea base is very mild and allows a delicate strawberry flavor to take the stage...
Read Full Review
70 / 100
I haven't had a lot of positive experiences with White2Tea brand tea, so far. I really didn't like their Hot Brandy mix of white and black teas (it seemed like a bad idea after thinking about it because of the very different way the two age and the fact that they often use different temperatures for brewing). The Night...
Read Full Review
50 / 100
This expensive white tea from Vietnam offers little that is new imo. It is very mild, with a pleasant white peach taste. The aroma is its most impressive feature, and it made me think of fruit salad, flowers, and woods. The second infusion was more flavorful than the first. A white tea enthusiast might find somethi...
Read Full Review
↑Top Reviewers
Review 6 teas to get on this list!
Advertisement
↑Most-Rated White Tea

32
4 Ratings
↑Top-Rated White Tea

83
3 Ratings
↑Varieties, Kinds, or Types of White Tea