Yellow Tea
Wikipedia: Yellow_tea | Teaviews: yellow-tea
Last Updated: Jul. 24, 2017
↑About Yellow Tea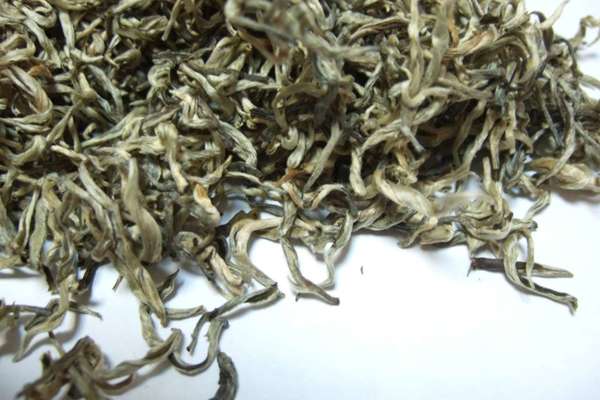 A yellow tea from
Hunan province
. Photo by Whiteness (Wikimedia Commons), © Whiteness (Wikimedia Commons),
CC BY-SA 4.0
Yellow tea
, Chinese
huangcha
(黃茶), is a class of teas usually considered distinct from green, black, white, and oolong teas, although much less well-known in comparison to these types. Sometimes yellow teas are classified as a subcategory of green teas, but we classify them in a category of their own due to the fact that their production process differs somewhat from green teas, and involves a slight
oxidation
. Sometimes,
xue ya or snow buds
, which RateTea classifies as a white tea, is classified as a yellow tea.
Jun Shan Silver Needle
from
Earthbound Tea
The production process for yellow teas is similar to that of green teas, but for yellow teas, there is an addition step in which the leaves are allowed to sit while damp, turning them yellow. Chemically, this is an oxidation process, like the process that would change tea to black tea, but because the leaves are not bruised and yellowing period is brief, the resulting oxidation is slight. Although yellow teas are an ancient style of tea, some companies, including
Rishi Tea
, sell newly developed styles of yellow tea.
Many yellow teas are produced only in small batches and tend to be expensive. Most yellow tea is
tippy tea
, which contributes to its high price and limited supply. Yellow teas are produced almost exclusively in China, although there have been isolated experiments with producing yellow teas in other regions. Goomtee estate in
Darjeeling, India
produced a
yellow tea in 2009, sold through Thunderbolt tea
, which to our knowledge was the only yellow tea produced outside China that was widely available.
Russia
has also produced its own yellow tea, called
Krasnodar gold
.
↑Recent Yellow Tea Reviews — RSS
95 / 100

The first yellow tea I have ever tried and I am quite impressed. As soon as I got the dosage right (certainly higher than the recommended 11g/liter), I found a very interesting flavor profile (it was not that interesting with a lower dosage). It is somehow reminiscent of some Oolongs or First Flush Darjeelings, but mor...
Read Full Review
72 / 100

Half-litre pot at home, made from inch-long thin handrolled leaves - they look like tiny sticks. Pours clear light straw (against white china) with no sediment. Clear aroma of tea (yellow, to be sure, but the scent is not very different from that of green or white), with a faint touch of peach. Delicate bitter flavour ...
Read Full Review
50 / 100

Prep – 4.1 grams in 18 ounces 175° F. water for 4 minutes. Added 2 ounces ice. No sugar. No milk.
Aroma – Slight (2/5)
Flavor – A very flavorful yellow tea (5/5), with a vegetal taste, but not a grassy taste like green teas.
Value – $53 for a 6 ounce bag = $8.83 per ounce – low value, but a rare tea (3...
Read Full Review
45 / 100

Yellow tea! I was turned on by the possibility of trying a new variety of tea, one that I had not heard of before. But this was nothing groundbreaking - it seemed to fall in between the green and oolong styles, leaning toward oolong. It was all right, but there were no revelations here. Overpriced imo.
Read Full Review
50 / 100

I drank this tea in the Unami Maison de Thé in Lille. It was served prepared in a small teapot. This means it was made exactly as it should, though I didn't get to see any leaves.

My first impression was an intensely nutty and earthy aroma. The flavour is nutty too, but not as strong as expensive. It reminds me of ...
Read Full Review
↑Top Reviewers
Review 2 teas to get on this list!
Advertisement
↑Most-Rated Yellow Tea

1 Rating

1 Rating

1 Rating

1 Rating
↑Top-Rated Yellow Tea
We need at least 3 ratings for a tea to calculate a percentile ranking. You can help us out by rating more teas of this style.
↑Varieties, Kinds, or Types of Yellow Tea