Yellow Tea
Wikipedia: Yellow_tea | Teaviews: yellow-tea
Updated: Jul. 24, 2017
About Yellow Tea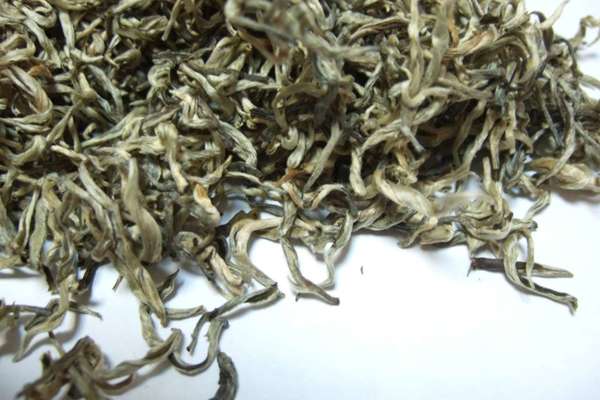 A yellow tea from
Hunan province
. Photo by Whiteness (Wikimedia Commons), © Whiteness (Wikimedia Commons),
CC BY-SA 4.0
Yellow tea
, Chinese
huangcha
(黃茶), is a class of teas usually considered distinct from green, black, white, and oolong teas, although much less well-known in comparison to these types. Sometimes yellow teas are classified as a subcategory of green teas, but we classify them in a category of their own due to the fact that their production process differs somewhat from green teas, and involves a slight
oxidation
. Sometimes,
xue ya or snow buds
, which RateTea classifies as a white tea, is classified as a yellow tea.
Jun Shan Silver Needle
from
Earthbound Tea
The production process for yellow teas is similar to that of green teas, but for yellow teas, there is an addition step in which the leaves are allowed to sit while damp, turning them yellow. Chemically, this is an oxidation process, like the process that would change tea to black tea, but because the leaves are not bruised and yellowing period is brief, the resulting oxidation is slight. Although yellow teas are an ancient style of tea, some companies, including
Rishi Tea
, sell newly developed styles of yellow tea.
Many yellow teas are produced only in small batches and tend to be expensive. Most yellow tea is
tippy tea
, which contributes to its high price and limited supply. Yellow teas are produced almost exclusively in China, although there have been isolated experiments with producing yellow teas in other regions. Goomtee estate in
Darjeeling, India
produced a
yellow tea in 2009, sold through Thunderbolt tea
, which to our knowledge was the only yellow tea produced outside China that was widely available.
Russia
has also produced its own yellow tea, called
Krasnodar gold
.
Varieties, Kinds, or Types of Yellow Tea
Best Yellow Tea
The notion of the "best" Yellow Tea is subjective, because different people have different tastes. We present the most often-rated and highest-rated teas in this category, and allow you to draw your own conclusions.
Most Often-Rated Teas
Top-Rated Teas
We need at least 3 ratings for a tea to calculate a percentile ranking. You can help us out by rating more teas of this style.