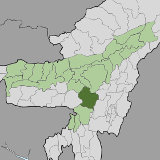 Dima Hasao, Assam, India
Wikipedia: Dima Hasao district
Updated: Oct. 7, 2010
About Dima Hasao, Assam, India
Dima Hasao
is a district in Assam, India. Contrasting with most of Assam, it is hilly and has a higher altitude. It is the least populated district of Assam, and has one of the highest poverty rates in India. The primarily language in the region is the
Dimasa language
.
The district shares a small part of its border to the northeast with
Karbi Anglong
, and is bordered to the south by
Cachar
.
Kopili estate, a tea garden, is situated in Dima Hasao and is one of the highest-altitude tea gardens in Assam, contrasting with most of the other tea growing areas in Assam, which are at low elevations. The higher elevation results in the teas produced in this estate having a unique character to them. This estate's teas are often referred to as
Kopili teas
.
Styles of Tea Produced in Dima Hasao, Assam, India
This is a selection, not an exhaustive listing, of the styles of tea most commonly produced in Dima Hasao, Assam, India.